At Balmers GM, we supply a variety of new and used groundcare machinery from renowned brands such as John Deere, Wessex and Timberwolf.
We have put together a short buyer's guide to help you explore some of the best commercial groundcare machinery we have to offer.
Which commercial mower is the best?
As experts in our field, people often ask our opinion on the best machinery. Answering this question can be challenging since individual requirements differ, and each piece of groundcare machinery is tailored for specific applications.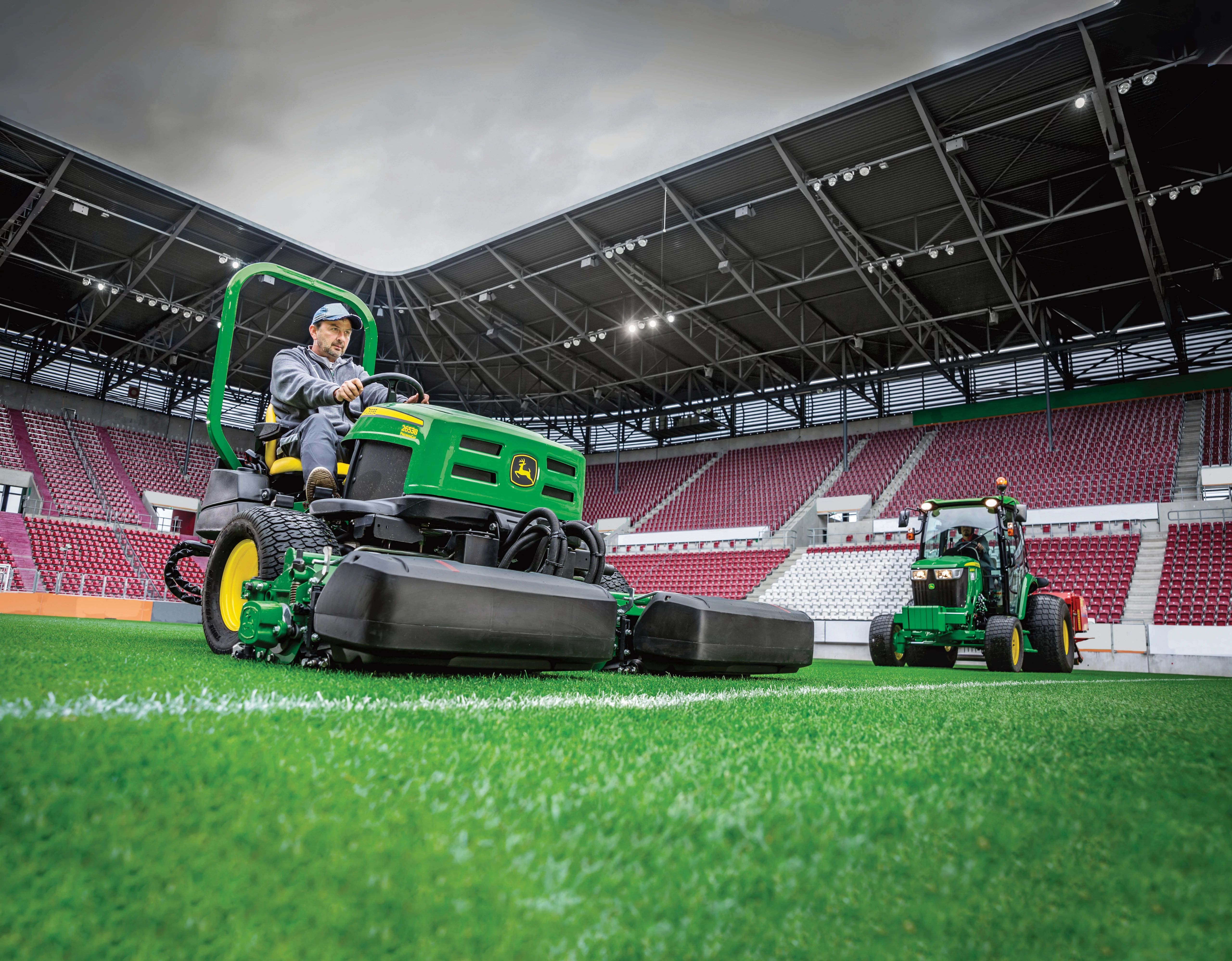 Image: John Deere 2653B and compact tractor working on a sports turf application
John Deere Groundcare machinery
Every tractor and mower in the John Deere groundcare lineup is designed for challenging tasks, offering impressive features suitable for a wide range of applications. Here are our top picks from our selection of John Deere groundcare machinery:
Commercial zero-turn mowers:

In need of a unit capable of making tight turns? The

Z994R

provides a quick and easy cut. With a powerful engine and high-capacity deck, it allows for incredible manoeuvrability in every application. 

Diesel mowing tractors

:

The

X949

sets the benchmark for diesel mowing tractors with its superior safety and convenience features. It comes with power steering and ample horsepower, guaranteeing outstanding performance. 

Compact utility tractors:

If you're in search of a versatile option that is larger in size, compact utility tractors make an excellent all-around choice.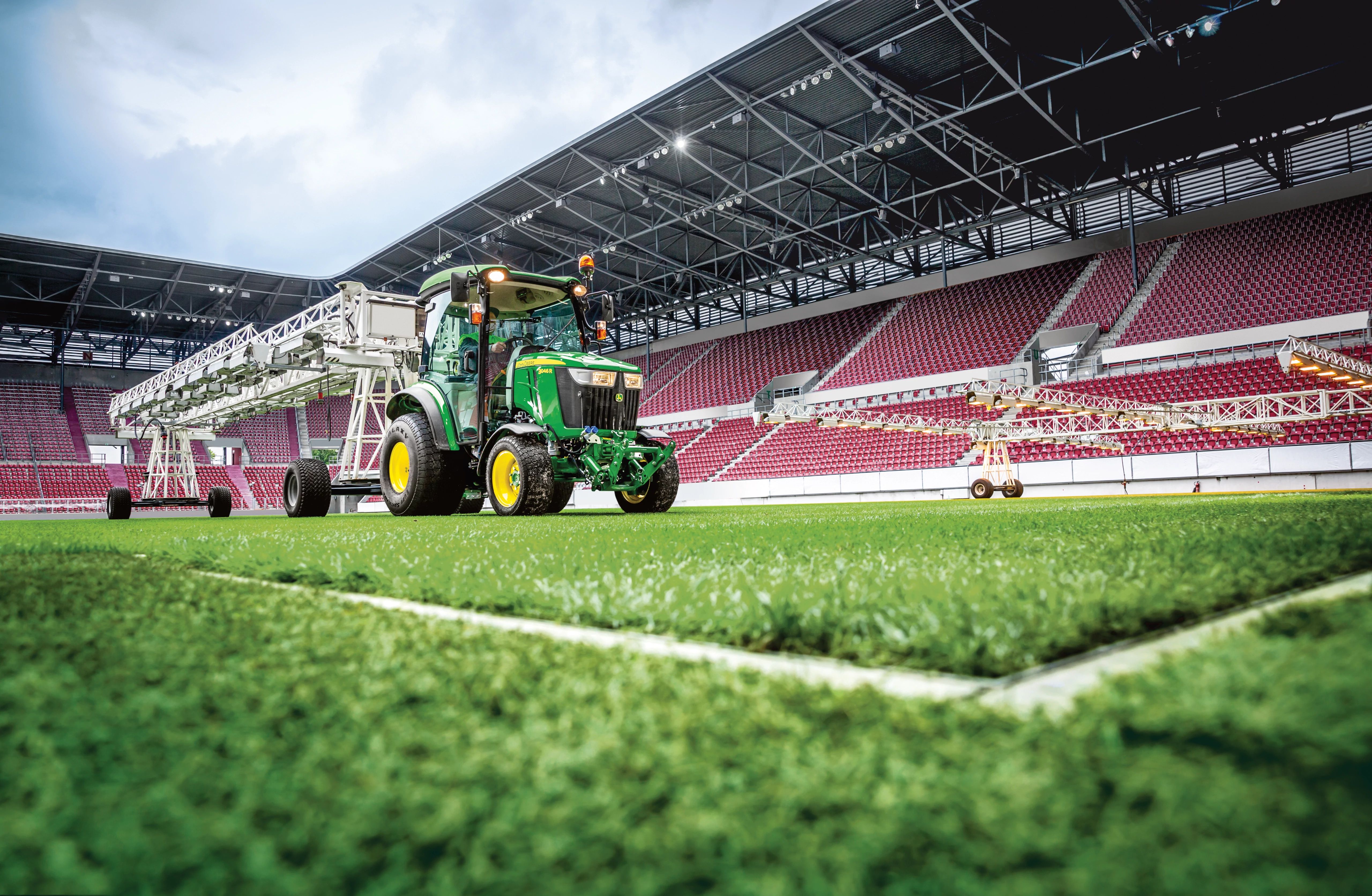 Which compact utility tractors are recommended? 
If you are in search of a compact tractor that seamlessly blends control and comfort, the 4R series stands out as the perfect recommendation.
The

4066R

model comes with an array of intelligent features that make it easy to work all day without getting tired. Perfect for towing heavy loads or enduring the shock impacts required for loader work with its sturdy chassis. 

Looking for comfort in all weather conditions? The 4052R Comfortguard cab is fully sealed and designed to keep the warmth in and the cold out, making it the perfect choice for those winter ground maintenance tasks.
Product Specifications:
| MODEL | ENGINE | MAX. SPEED | TRANS. HYDRO | LIFT CAPACITY | TOWING CAPACITY | WEIGHT ROPS / CAB |
| --- | --- | --- | --- | --- | --- | --- |
| 4066R | 65hp | 30 km/h (19 mph) | Two Pedal      E-Hydro | 1,134kg | 2,460kg | - / 2,120kg |
| 4052R | 50.8hp | 30 km/h (19 mph) | Two Pedal      E-Hydro | 1,134kg | 2,460kg | - / 2,120kg |
Are tractor attachments needed? 
For certain groundcare tasks, you may require tractor attachments for ease of completion. We stock a variety of groundcare machinery and compact tractor attachments, including the renowned Wessex Countryline range.
Our top pick from this range is the ever-popular Wessex tipping trailers. Available in 3 sizes, these hydraulic tipping trailers are ideal for hauling a variety of materials. 
When it comes to our overall trailer offerings, we have two new recommendations to add to our lineup - The Towmate RAM general-purpose trailer and the Towmate RHINO, plant trailer. 
Are Hustler commercial mowers recommended? 
Hustler is a brand known for innovation and top-quality mowers. With a variety of Hustler mowers in stock, from walk-behind to ride-on, we are sure to have something to suit almost any task. Our top picks for commercial machinery from Hustler are:
Hustler Super S stand-on mower

. The perfect choice when dealing with tight spaces, the Super S features a compact stance and operator-friendly controls. With its heavy-duty fabricated frame, this mower provides unmatched durability, offering years of effortless running. 

If you are searching for the perfect walk-behind mower, the

Hustler Trimstar

is a top choice for professionals, featuring easy-to-learn steering, low vibration and excellent stability, making it ideal for commercial use.
Which rolling machine is best? 
Rolling and mowing complement each other perfectly, working together to improve surface smoothness and uniformity while addressing imperfections. When it comes to choosing the best roller, our top recommendation goes to Tru-Turf.
Manufacturers of the world's leading greens, sports and turf rollers, you won't be disappointed with the performance of Tru-Turf machinery. Our Tru-Turf top picks include: 
Tru-Turf RB48 golf greens roller

. Perfect for those who are on a tight budget but not willing to compromise on quality, the RB48 roller rolls a 48-inch swath in a single pass. Superb balance and lightweight steering make this roller easy to use, even on the most challenging greens. 

If you are looking to maximise your productivity, the

RB70 super wide golf greens roller

possesses an industry-leading 70" wide rolling swath, allowing you to roll at speed. The patented tri-rollers and contour drive roller ensure smooth movement on challenging surfaces without leaving crease marks.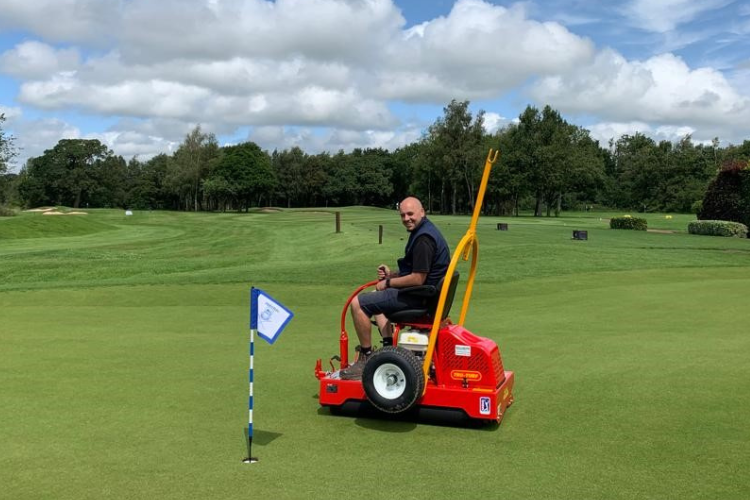 Which wood chipper is the best? 
Although we can't give a definitive answer to this question, we do have a solid recommendation when it comes to wood-chipping machinery - Timberwolf. 
Specialists in the manufacture of commercial wood chippers, Timberwolf machinery is tried and tested within the industry. From towable to tracked, Timberwolf can satisfy a range of wood-chipping needs. 
Part of the towable machinery range from Timberwolf, the

TW160PH

wood chipper is small but mighty! Perfect for those just starting in the industry, this wood chipper is lightweight, powerful and reliable. 

If the job takes you off-road, the tracked wood chippers from Timberwolf are up for the challenge! The

TW230VTR

is among the tracked machines available and stands in a league of its own. Bigger, stronger and faster than anything else available in its class, this tracked hydraulic wood chipper will get you to the most remote locations quickly. 
We are official distributors of Timberwolf wood chippers and stock a variety of different models and specifications to suit individual needs.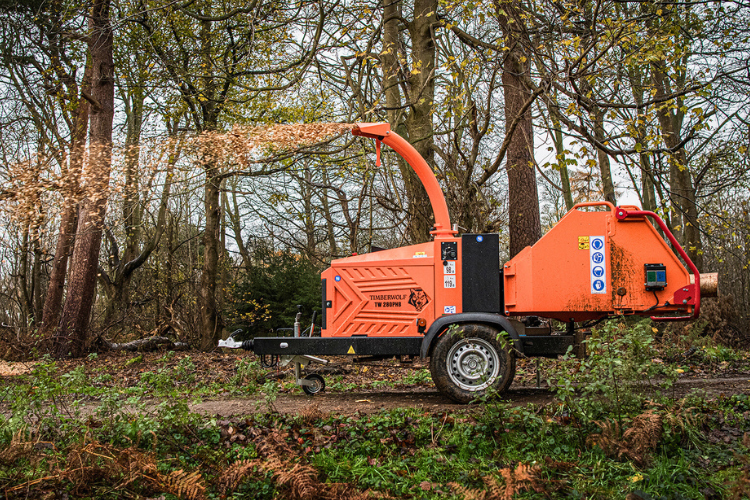 How can Balmers GM help? 
When it comes to groundcare machinery, we have grown to become one of the largest dedicated turf machinery dealers in the UK. Our commitment to excellence, unmatched expertise, and a vast selection of premium equipment make us the go-to destination for all of your groundcare machinery needs.
At Balmers, we stock a broad range of brands and models that are suitable for just about any task. Whether it's a large or small area requiring maintenance, we are confident that we have the perfect commercial machinery for you.
Unsure if you want to purchase new machinery?
Choosing between new or used can be a tough decision. But, with an extensive range of both new and used commercial groundcare machinery available, we have something for everyone.
Please feel free to contact us for more information.
https://www.balmersgm.com/contact
Wakefield - 01924 679400
Burnley - 01282 453900