After you have had a tree removed, you will inevitably be left with a tree stump, deeply rooted into the ground. Not only will a remaining stump be an eyesore for years to come, but it also can be an obstacle on your lawn, and even has the potential for pesky suckering growth which will need to be dealt with periodically. 
While stump grinding is not always necessary, many people will opt for it at the same time as having their trees cut down. Stump grinders will chew up, or grind, the tree stump well below ground level, ensuring that there is no lingering eyesore and no potential for future suckering growth. This method also allows the property owner to either have a complete, unobstructed lawn or will allow them to use the area where the tree once stood as a planting bed.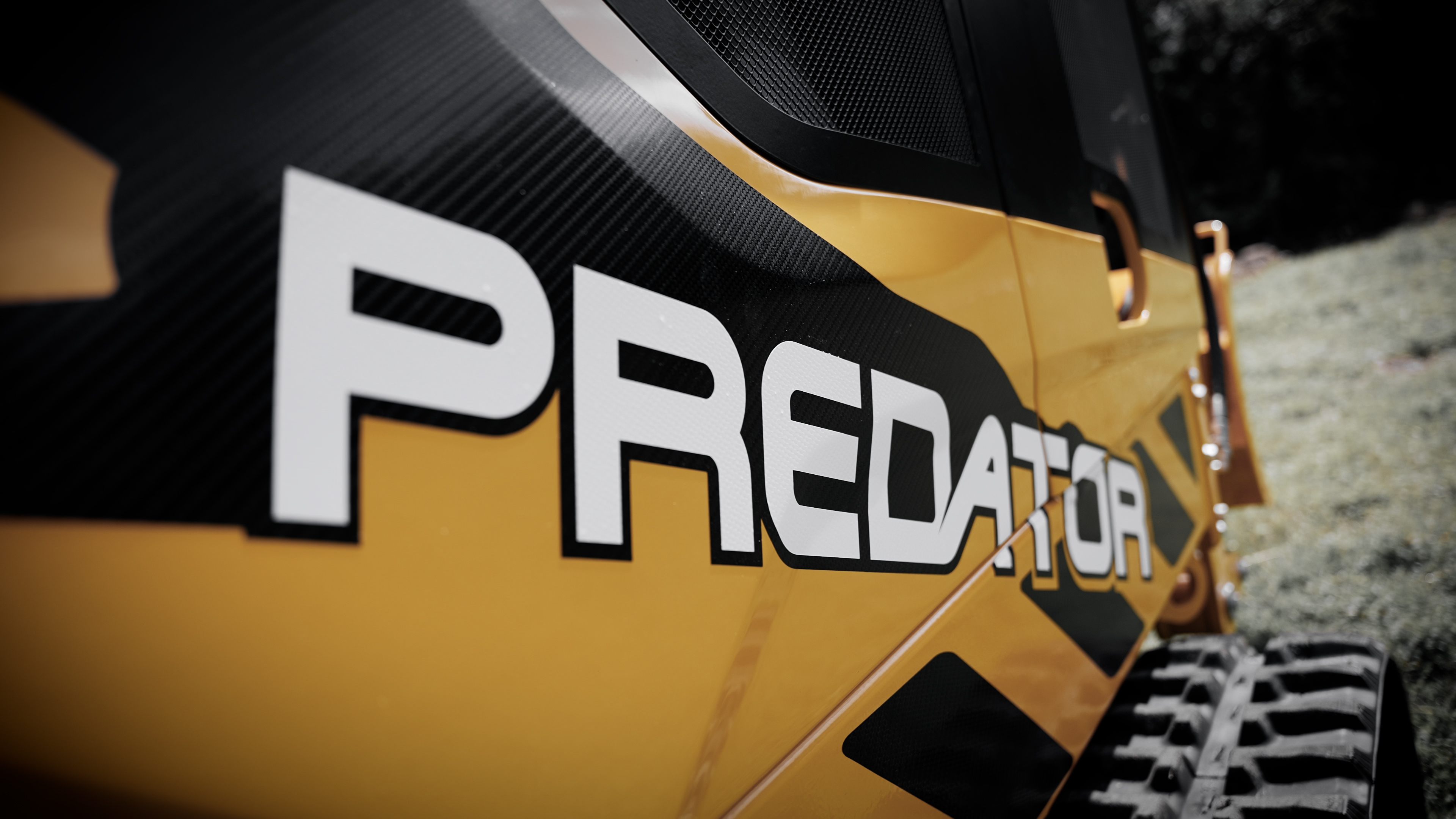 Here at Balmers GM, we stock a range of high performance and narrow access stump grinders from Predator, these cutting edge machines are compact, highly effective, and ensure that outstanding productivity is all but guaranteed.

Take a look at all the Predator Stump Grinders we have on offer.
Who needs a stump grinder?
Predator stump grinders are designed to make the operator's life as easy as possible, ideally suited to the narrow access conditions that we find across the UK, they effectively and efficiently remove tree stumps in the toughest of conditions.
From tracked machinery to more portable models, at Balmers we supply Predator machines to suit any requirements, which are sure to make your business maximise its profitability.
Arborists - Typically an arborist will maintain trees for the benefit of public safety or for the health of the tree, but on the occasions that a tree needs to be removed, having the ability to remove the stump provides an extra stream of income.
Plant Hire Companies - There is a demand for stump removal, and therefore there is a demand for stump removal equipment, make sure you tap into the narrow access stump removal market.
Local Authorities - Local authorities will have to deal with a whole host of different tasks in their area, so ensuring their teams are equipped with the best and most efficient stump removal equipment is essential.
Estate Management - On large estates, with plenty of groundcare and general maintenance jobs to complete, having a quick and efficient stump removal tool is needed to ensure all tasks can be completed promptly with minimal delays.
Enquire about our stump grinders: Contact | Balmers GM Ltd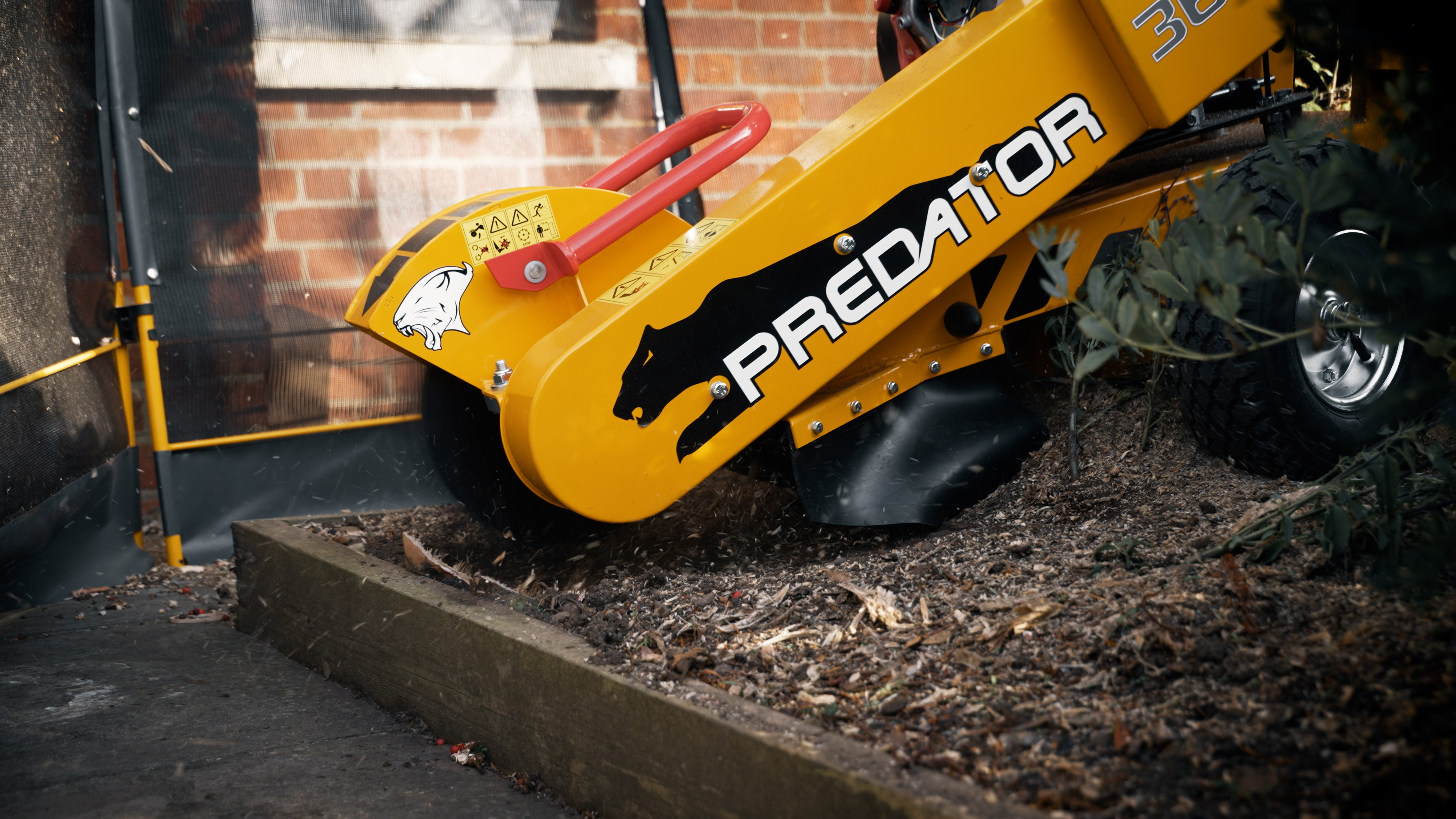 Image: The Predator 360 narrow access stump grinder
The Predator stump grinder range
The Predator 360 Stump Grinder - If you are looking for something simple and compact whilst delivering exceptional results then this is the machine for you. At a mere 26 inches wide, you'll be able to navigate even the tightest access passages making it perfect for residential use.
A central pivot allows for 14 inches of cutting depth, 20 inches of cutting height, and 32 inches of cutting swing. Whilst its fold-over handles coupled with the lifting handles and eyes ensure that it is easy to transport from job to job.
The Predator 460 Stump Grinder  - At 30 inches wide, the 460 is the bigger brother of the 360, it is powerful enough to handle virtually any stump, no matter the size of the wood, whilst the innovative central pivot design helps to lower user fatigue to ensure you can work for longer.
Unlike the 360, which has a petrol engine, the 460 uses a hybrid electric drive to ensure quiet operation. It has 15 inches of cutting depth, 24 inches of cutting height, and 39 inches of cutting swing.
The Predator 38X Stump Grinder - Again only 26 inches wide and boasting an impressive 38hp engine, the 38X is a fantastic, compact and tracked unit, and is probably the most productive compact commercial stump grinder available.
Ideal for smaller jobs, and with plenty of performance to enable it to tackle the larger jobs too. If you are looking for a low maintenance, high-performance piece of equipment that looks as good as it performs then look no further. It has an impressive cutting depth of 18 inches, along with 30 inches of cutting height and 54 inches of swing.
The Predator 38RX Stump Grinder - The 38RX has the same cutting depth, height and swing as the 38X, with the addition of an onboard CPU and industry-leading remote control. This allows the operators to control it without having to stand at the rear of the machine, and even maintain a safe distance when navigating difficult terrain.
Coming fully programmable, this unit is ideal for hire fleets and individual operators alike. It really is the ultimate refined, powerful machine.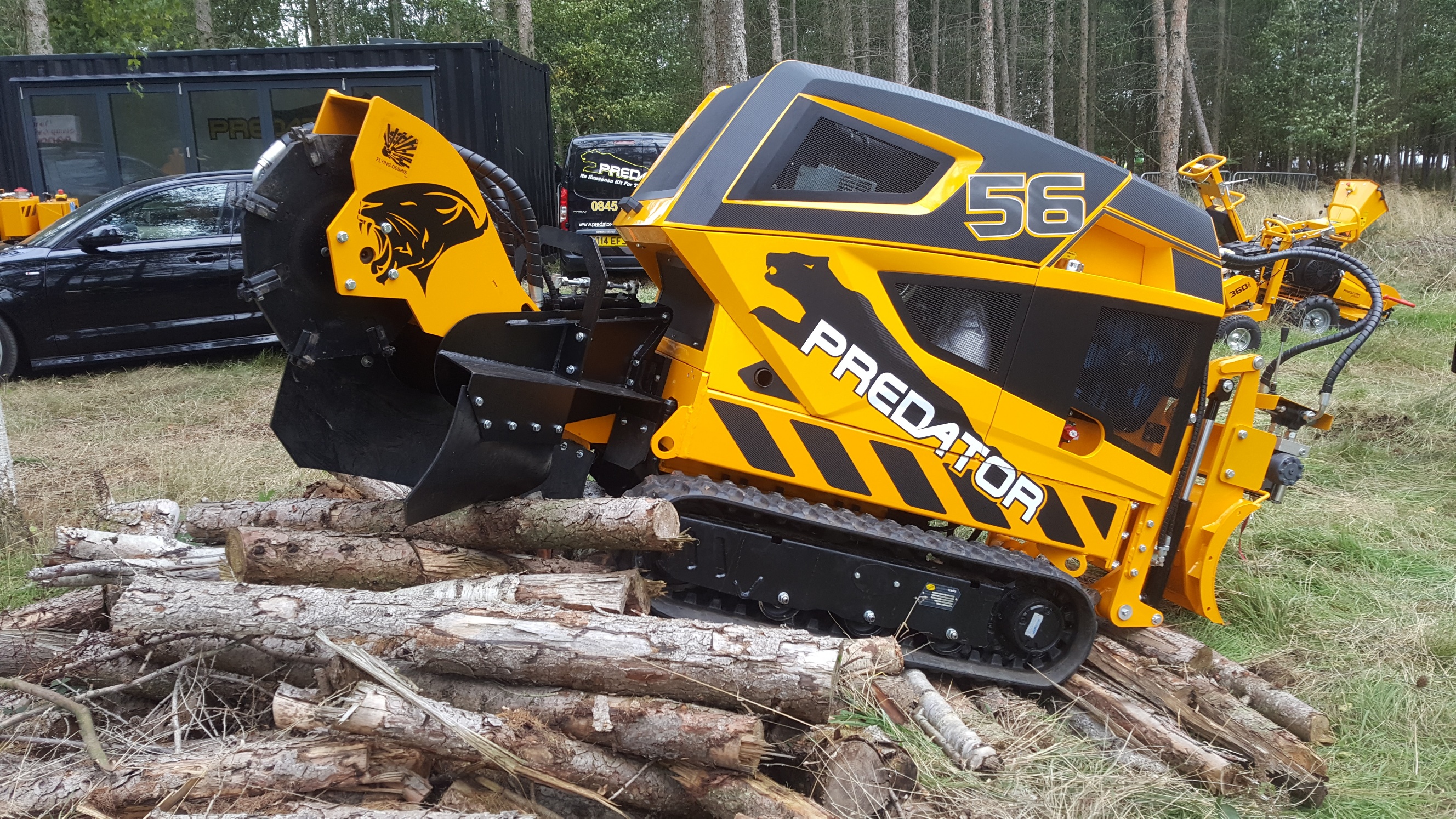 Image: The mighty Predator 56RX at work
The Predator 56RX Stump Grinder - The ultimate residential and commercial stump grinder. Specifically designed for high performance and incredible durability and versatility, this compact, diesel-powered stump grinder is the most versatile model on the market.
If fast results are needed, whether that be on commercial sites or residential gardens, you cannot go wrong with this 31-inch wide unit that comes with radio controls, a tow bar, and a dozer blade as standard, while it also boasts a rear hydraulic PTO for a variety of other attachments.
Whatever your stump removal requirements, at Balmers GM, we have a Predator Stump Grinder to get you through your daily grind.

Contact us to discuss your requirements. Contact | Balmers GM Ltd