Looking to get your lawn in tip-top shape for the summer?
Lawn scarifying is your go-to. If you find that you have a mossy or thatch-covered lawn, scarifying helps give your lawn the refresh it needs by breaking up the moss and letting light and air reach the grass.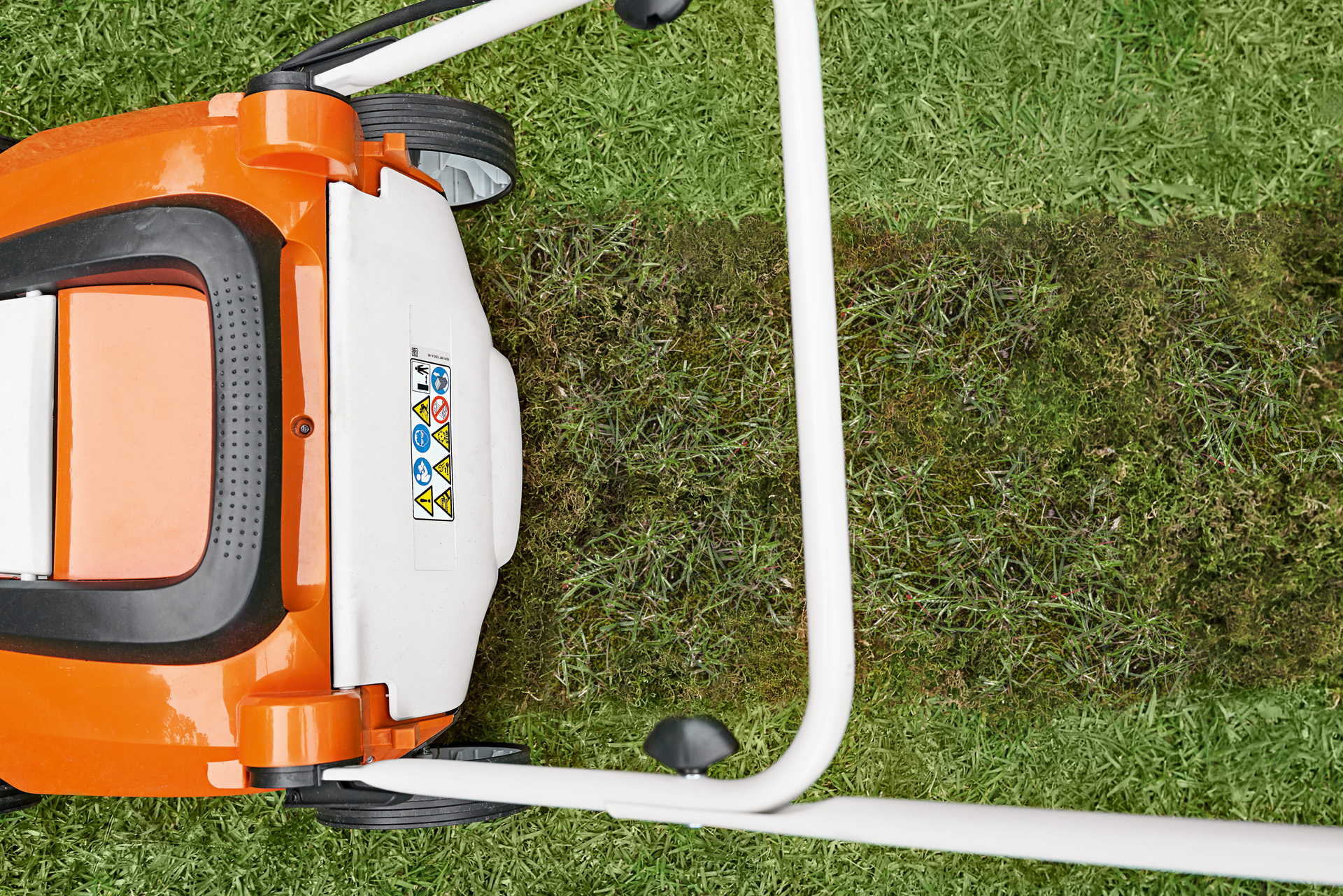 How often should you scarify your lawn?
When it comes to frequency, you don't need to scarify your lawn every week. We would recommend carrying it out once or twice a year - but make sure you don't do it at the peak of summer.
The exact time to scarify your lawn depends on factors such as location and weather, but the best time is when the turf growth is at its most prolific - this would normally be in the autumn or late spring.
How to use a lawn scarifier
Firstly you will need to ensure that any debris from the lawn is removed and moss killer is applied - this should be done a few weeks before you intend to use a lawn scarifier. 
When it comes to scarifying, there are several ways to achieve the desired outcome and your option will depend on the size of your lawn. The simplest way is to use a spring-tined rake, and rake the moss or thatch out.
Lawn scarifying tools
To make life easier, STIHL provides a range of lawn scarifying tools and mechanical options. 
STIHL RLA 240 battery / cordless scarifier
For smaller, more irregular lawns we would recommend the STIHL RLA 240 battery-powered scarifier. 
Part of the Stihl AK System, this scarifier is powered by a 36v lithium-ion battery which makes it possible to maintain your lawn cordlessly and enjoy full freedom of movement when guiding the scarifier – without any worry of cables getting in your way or emissions! Here at Balmers GM, we also stock a petrol version - the STIHL RL 240 petrol scarifier. 
STIHL RL 540 petrol scarifier
If your lawn is on the bigger side, the STIHL RL 540 scarifier has sturdy, fixed blades that help you to break up any moss or thatch quickly and easily.
The Stihl RL 540 petrol lawn scarifier improves the lawn quality and is ideal for scarifying medium-sized and large lawns up to 2,000 m². The scarifying unit can be conveniently set to the required working depth on the handlebar and thanks to the working width of 38 cm and the easy-running wheels with special tread, you have all the manoeuvrability and agility you need to scarify effectively.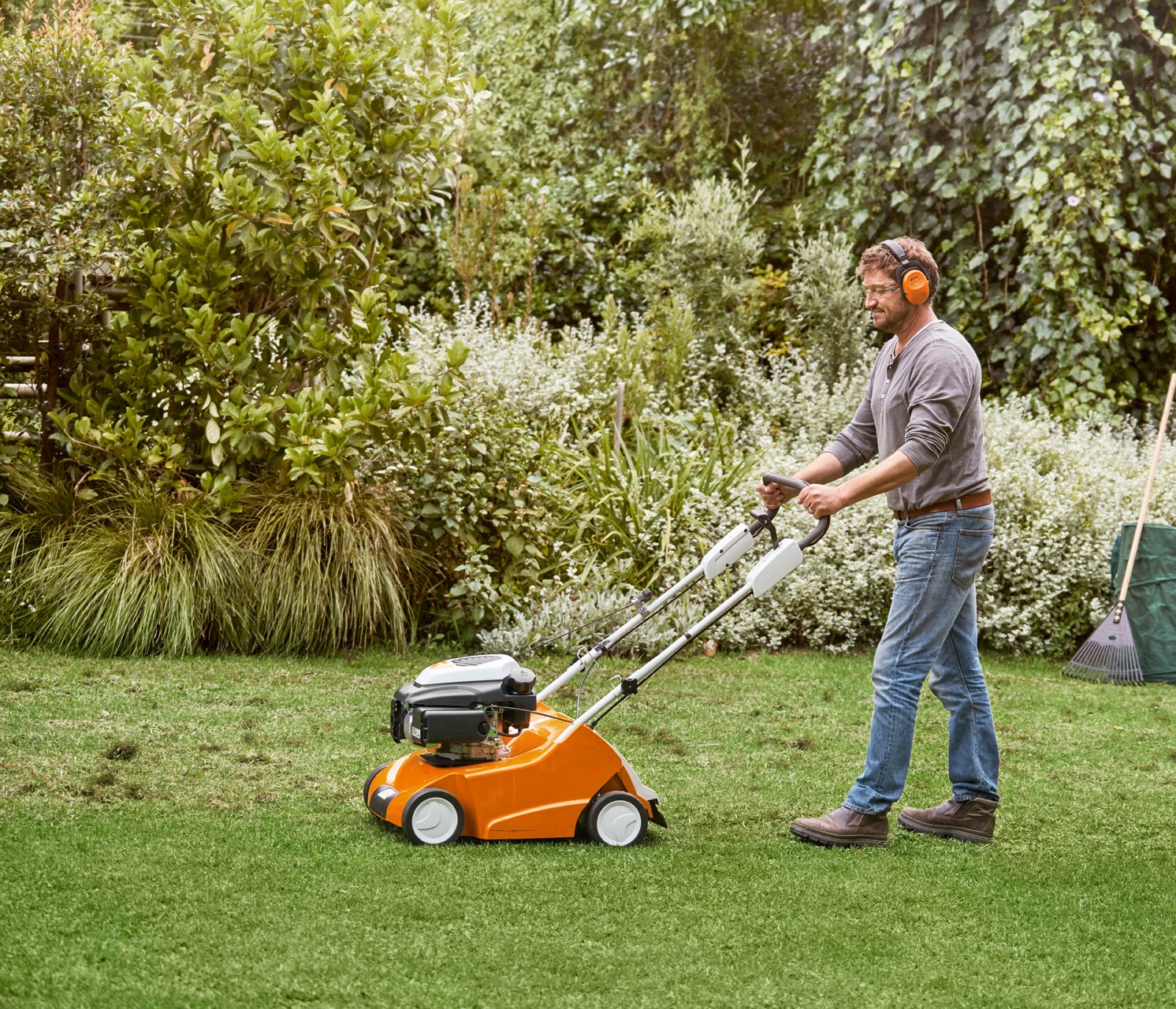 Why you should scarify your lawn
Of course, there are many benefits to scarifying your lawn. Some of which include:
Removing moss and dead weeds

Reduction of future moss problems

Refreshes the lawn

Allows water to reach the soil

One of the most beneficial lawn treatments
Lawn treatment after scarifying
Afterwards, many people ask why their lawn looks terrible after scarifying. The answer to this is simple - your garden won't be looking its best immediately after scarifying. Once your lawn has had some time to recover we would recommend going over your lawn with a lawnmower to pick up any dead grass or moss - just ensure the setting isn't too low!
Next, you can apply garden fertilizer to help your lawn recover quickly. Using grass seed with a mixture of some fine compost and sharp sand protects them while they germinate. Once done, your lawn should be back in shape in approximately a week!
To view all of our lawn scarifying tools make sure to visit our online shop or pop into one of our Burnley or Wakefield showrooms!