Balmers GM would like to offer a warm welcome to Rob Taylor who has joined the Sales Team as Area Sales Representative covering the Lancashire and West Yorkshire areas.
Rob is a ground-care veteran with over 20 years working within the Golf & Turf industry, and brings with him a wealth of knowledge and experience to his new post at Balmers GM.
Involved with bringing Rob to the Sales Team at Balmers GM was Andrew Meeks – Commercial Sales Manager who said "We're really pleased that Rob decided to join us here at Balmers GM, Rob is highly thought of within the industry and is a great addition to Team Balmers. Rob's proven track record in ground-care machinery sales speaks for itself and more importantly he's an all-round top bloke! - We're looking forward to working with Rob for many years to come".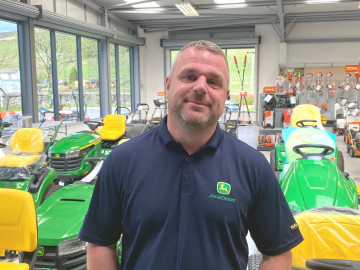 We recently caught up with Rob to find out a little more about his career within the ground-care industry so far.....
How long have you been working in the ground-care industry and how did it all start?
My career began 22 years ago back in 1999 when I finished school - I had always wanted to have an active job and to work outdoors originally, and my mind was set on climbing pylons, however I didn't manage to secure that apprenticeship, and was offered two alternatives; Rolls Royce Engineering or GreenKeeping through Myerscough College, so I went with the latter.... and the rest they say is history!
How did you find the transition from Green Keeper to Area Sales Representative?
There were no issues, and it was quite a smooth transition. My greenkeeping experience certainly helps when speaking to customers because my knowledge of the products comes from many years of operating the machinery myself, so I can always give credible and sound advice to customers to help them choose the best machine for their needs.
What is your favourite product (so far) of the John Deere golf and turf machinery range?
I have to say I've always been impressed by the John Deere kit in general, but at the moment the 2750E-Hybrid greens mower is up there as one of my favourites - as an ex-greenkeeper I particularly appreciate how quickly and easy it is to set up the units for the HOC and setting the cylinders to bottom blades and the contouring of the machine is fantastic.
I've also recently been out on my first demo with the John Deere 1580 Terrain Cut commercial front mower and was blown away by the power, robustness and more importantly - operator comfort, very important when you're working with any commercial mower for a period of time.
Finally, tell us an interesting fact about yourself?
At the grand old age of 37 years, I ate my first egg last week!