Power, performance & agility from John Deere's ZTrak range
Turn-on-the-spot performance meets unmatched comfort and ease of use; the agile ZTrak commercial mower range from John Deere simply delivers a great finish faster.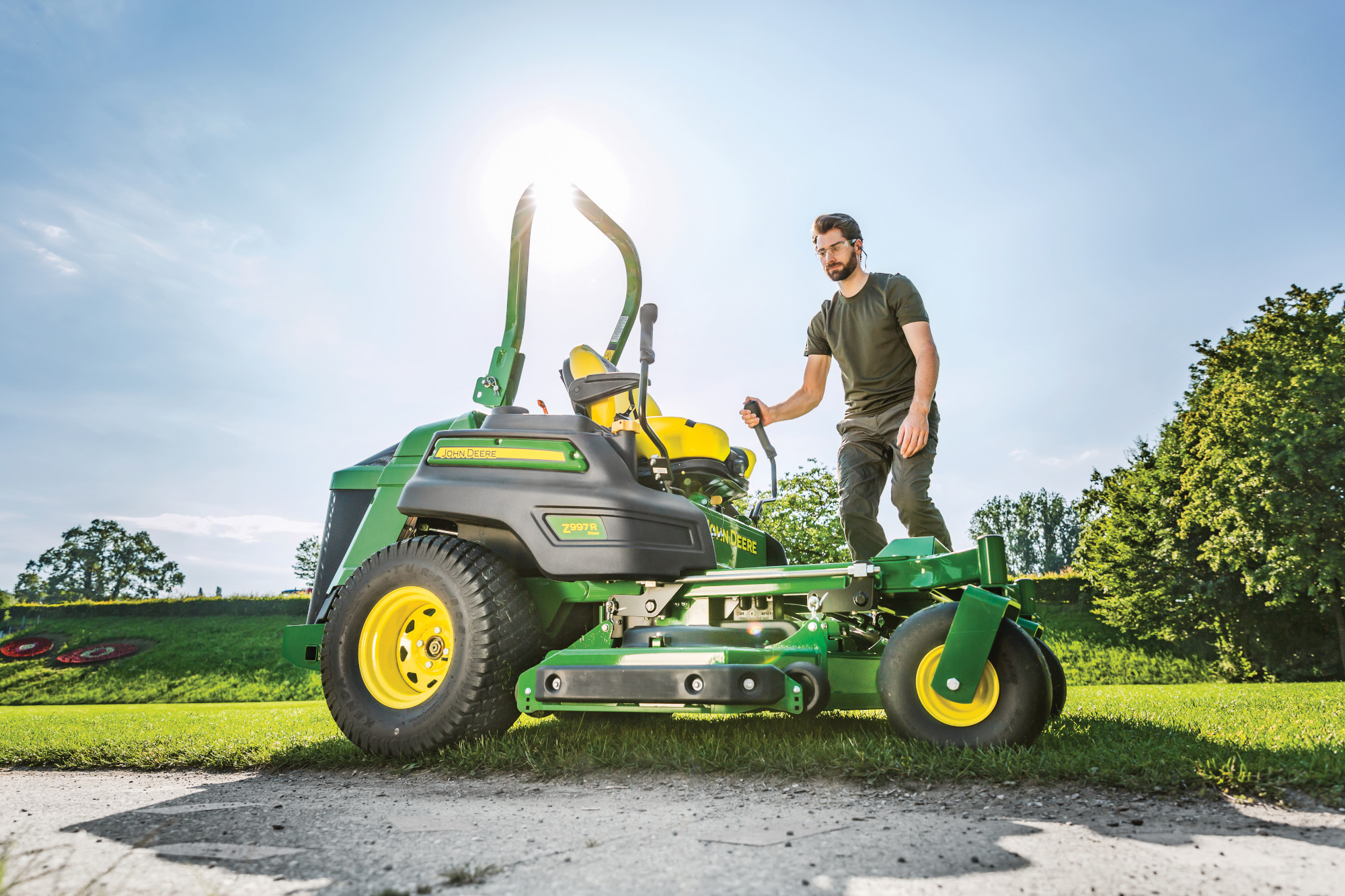 Image: John Deere's top-of-the-range commercial mower - Z997R 
A high output yet compact solution for groundscare professionals, zero-turn commercial mowers are ideal for restricted spaces and based on a robust, heavy-duty frame including a roll over protection structure. 
High-guage steel rotary cutting decks feature a deep mowing chamber designed to handle more grass for increased capacity. This increases airflow so that a quality cut can be achieved  even when mowing at maximum speed. 
VIDEO: Watch the John Deere ZTrak 994R commercial mower in action with airless radial tyres
Of the four ZTrak models in the John Deere commercial range, the Z740R is the petrol powered entry level machine for commercial operations, with an 8.6mph forward speed and a maximum mowing width of 137cm, and side discharge. 
Controls, including n automatic motion-control lever / parking brake system are easy to find and use. Padded grip levers offer unmatched control, with the main operating switches located on the right-hand console. An easy-to-use soft touch panel for features including indicator lights are just a fingertip away. 
Operators looking for more power, speed and capacity will favour the Z994R or Z997R commercial mowers.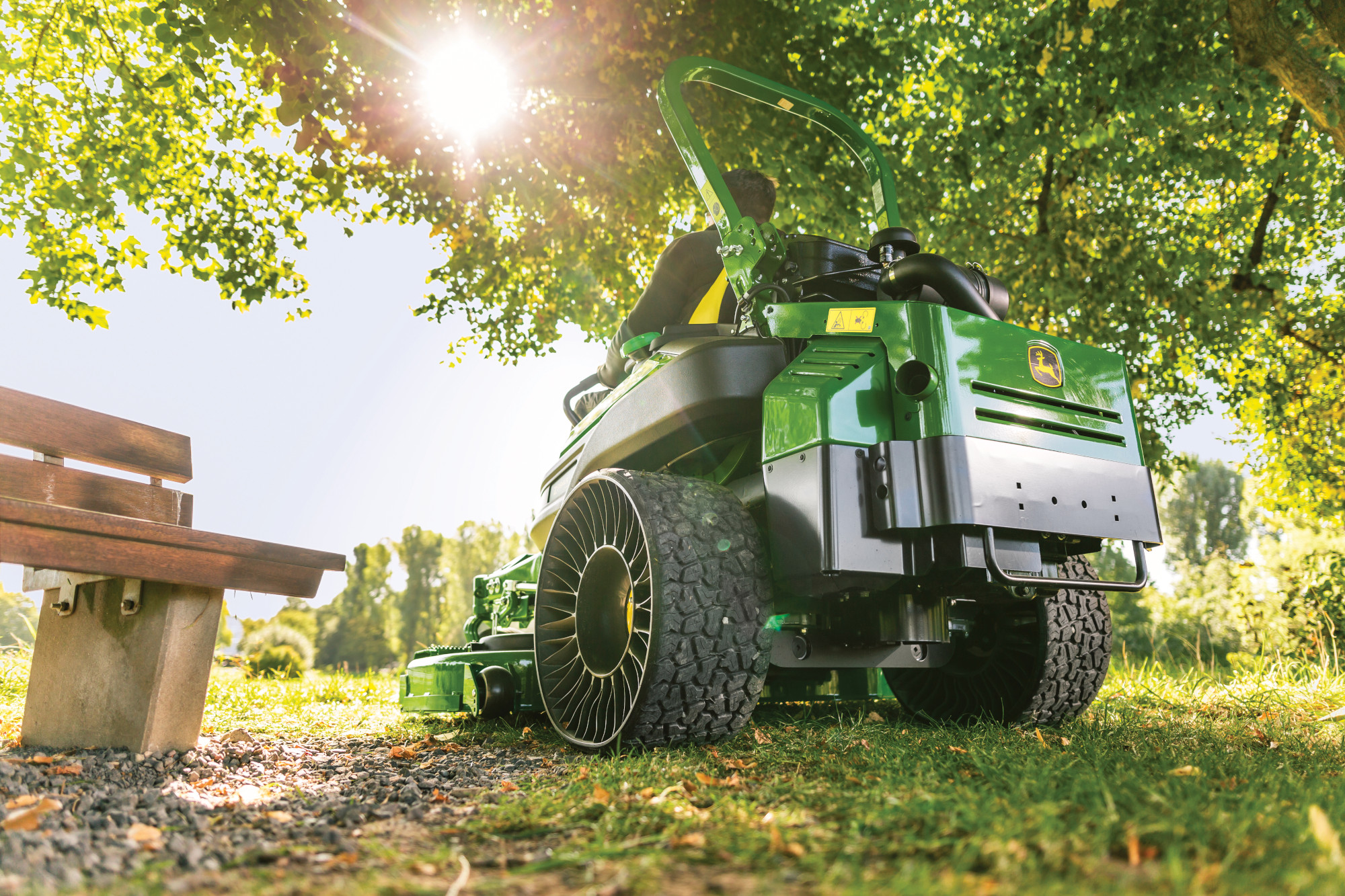 These diesel commercial mowers offer 24.7hp and 37.hp respectively , with the largest model facilitating a cutting width of up to 183cm with side or rear discharge options, compared to 152cm on the smaller of the two. The 7-iron Pro side-discharge deck can be converted to mulching. 
Michelin X Tweel turf airless radial tyres are immune to sharp objects, gliding smoothly over obstacles, and lasting three times longer than conventional pneumatic tyres.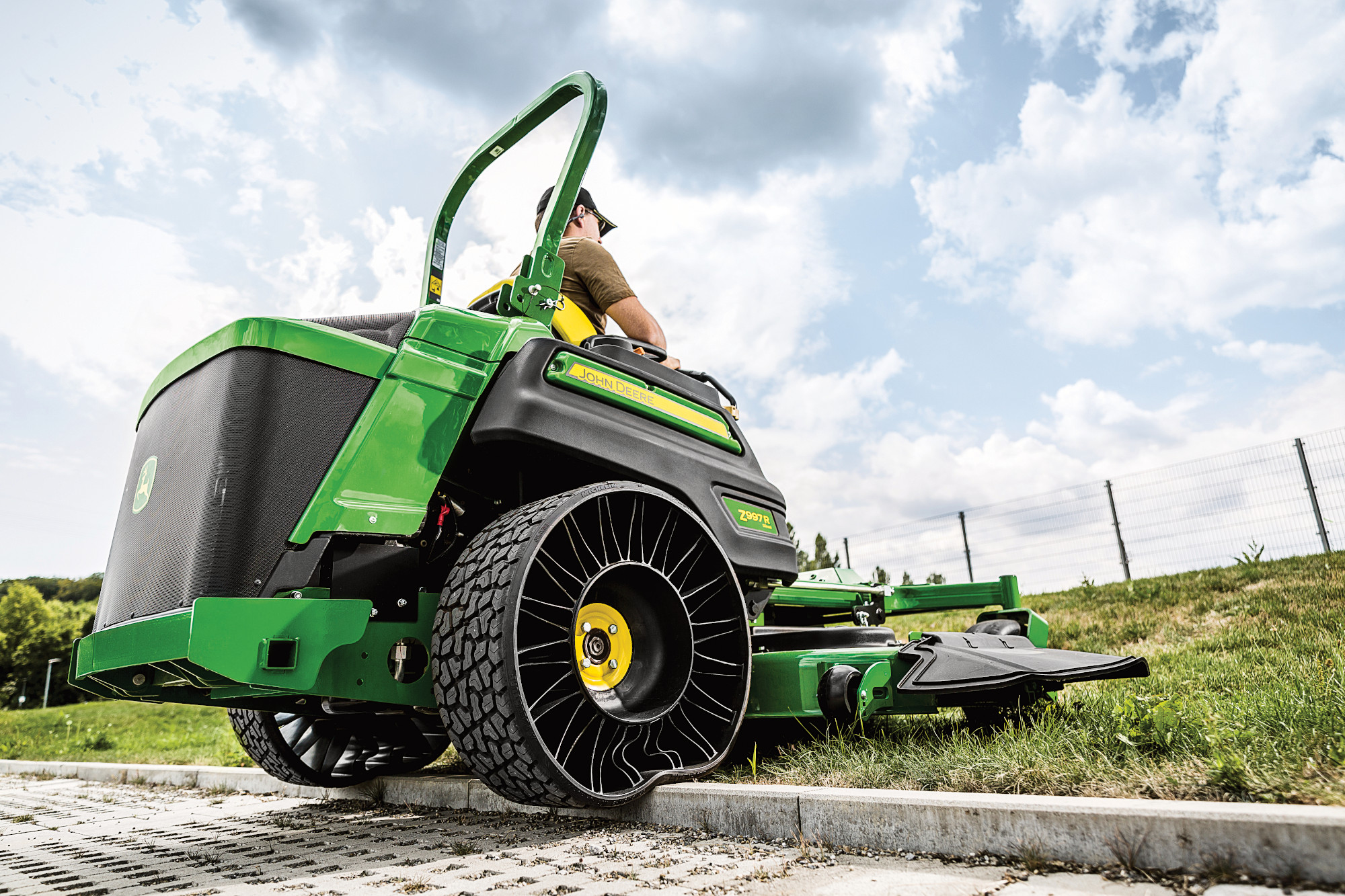 Image: John Deere;s ZTrak 997R commercial mower with Michelin airless radial tyres
Servicing is a breeze too - key components are easily accessible under the bonnet, and on the Z997R the seat tips for easy access to the hydraulic system. The foot platform tips for access to the deck spindles. 
John Deere's four ZTrak commercial mowing models are available at Balmers GM Ltd.