Are you a proud owner of a Stihl AP System battery-powered tool?
Whether you have a full fleet of machines or just one tool, you're going to want to get the best out of your investment in cordless technology.
Did you know that Stihl have a range of essential accessories for AP System tools from storage solutions to carrying systems. So if you're a professional user or a private user with a large area of land to look after, there's a Stihl accessory here for you.
Stihl Carrying Bag for Batteries & Charger
Are you a solo gardener that regularly needs to transport batteries around? If so, you're going to want to make sure they are well protected and safely transported.
Stihl's fabric carrying bag can safely store 2 AP System (or AK System) batteries and a Stihl charger, meaning you can easily transport them from job to job. The carrying bag comes with a crossbody satchel strap too, so if you have your hands full with tools, you can carry your batteries comfortably over or across your shoulders.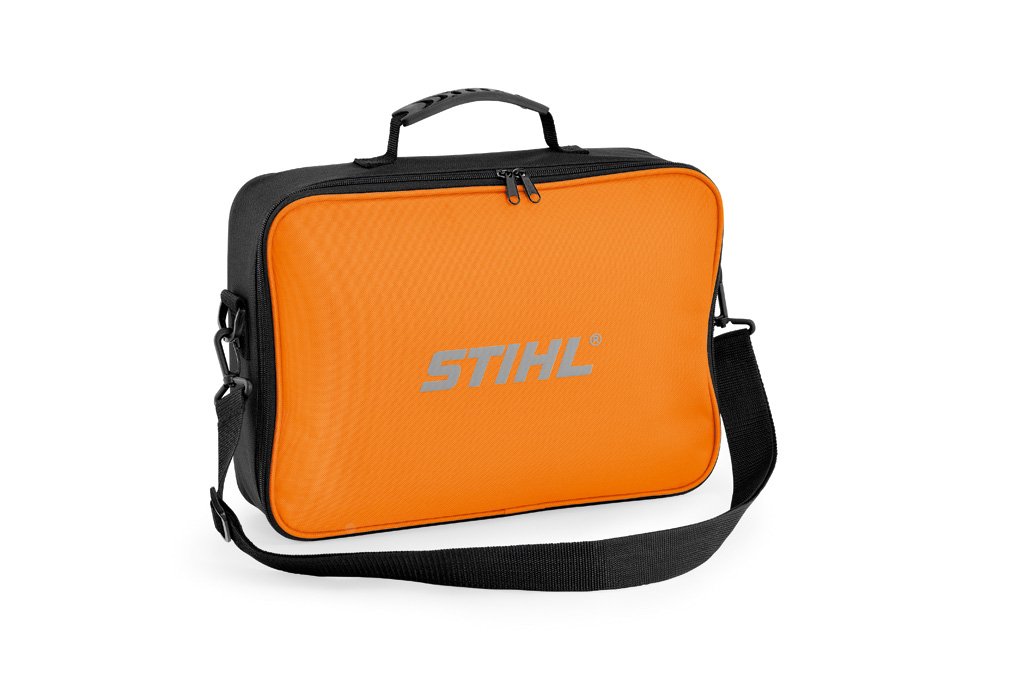 Stihl Battery Carrier
New for 2022 is Stihl's battery carrier.
This simple but effective storage solution lets you move up to six Stihl AP batteries efficiently to and from your van and is great if you work with others as part of a landscaping team. You can easily transport yours and your colleague's batteries to the worksite and get started right away, without having to worry about going back and forth to the van to grab another battery.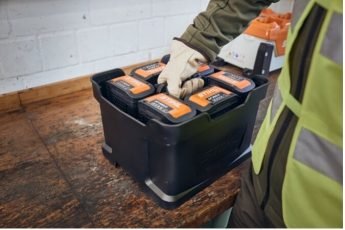 Stihl Battery Storage Boxes
Battery storage boxes are a popular choice amongst private users, landscape gardeners and professionals everywhere.
There are currently three versions available and all three are compatible with Sortimo L-BOXX and the Sortimo Globelyst in-vehicle system.
Battery Storage Box - Small
Stihl's smallest storage box can store up to 4x AP System batteries or 2x AP System batteries and 1x STIHL battery charger. The dimensions of the box are 45 x 37.4 x 17 cm.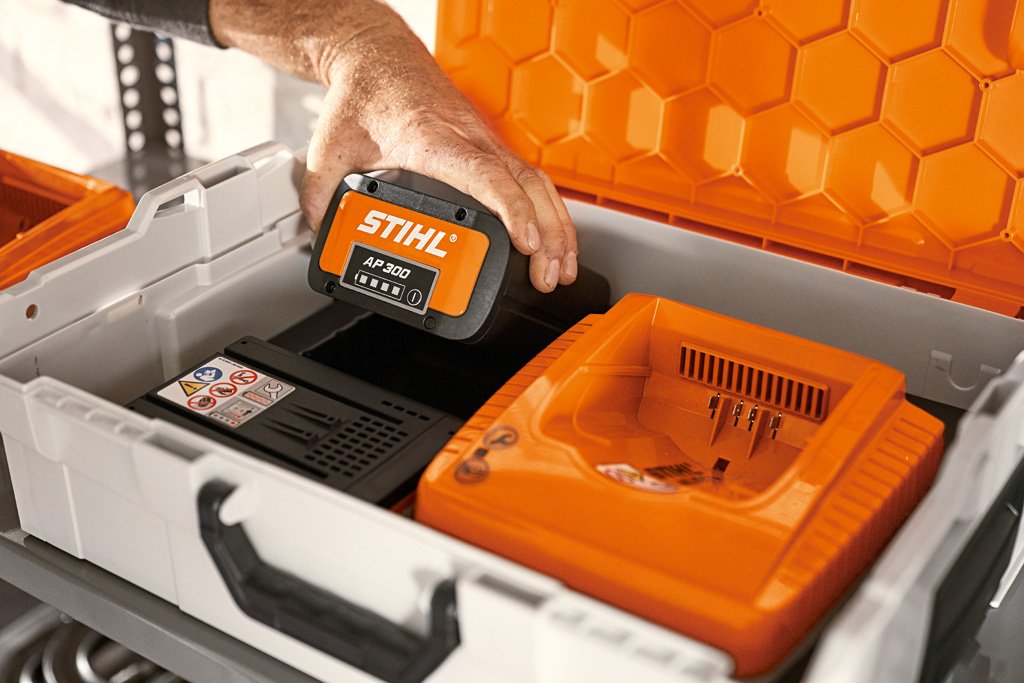 Battery Storage Box - Medium
This storage box comes with an anti-slip mat inside and can store even more accessories, plus Stihl AP and AR L batteries, as well as chargers. The dimensions of the box are 45 x 37.4 x 27 cm.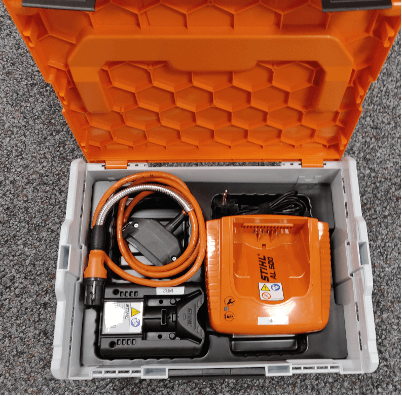 Battery Storage Box - Large
Similar to the medium storage box, but just that little bit bigger. This box comes with an anti-slip mat inside and can store a huge amount of accessories, plus AP and AR L batteries, as well as chargers. The dimensions of the box are 45 x 37.4 x 37 cm.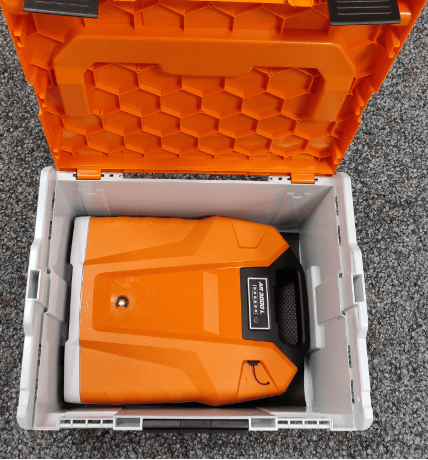 These sturdy boxes don't just have to be used for storing batteries though. They're ideal for storing personal protective equipment (PPE), cleaning materials or even hand tools. All Stihl battery boxes can be clipped together and can be fitted with a padlock, making them a secure option for your van or workshop.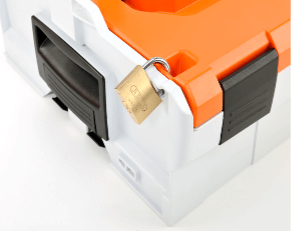 Stihl AP System Battery Belt & AP System Holster With Connecting Cable
Some of STihl's AP System tools have a socket for connecting an AR L backpack battery to them, but did you know you can also use a Stihl AP battery in these cordless machines?
With the battery belt and holster combination you can slot an AP battery into the holster and plug the connecting cable into the back of your AP System cordless machine, such as the STIHL HSA 94, FSA 130 or KMA 130 R. It means you don't have to carry the weight of the AR L backpack battery around and instead can manage the weight across your waist.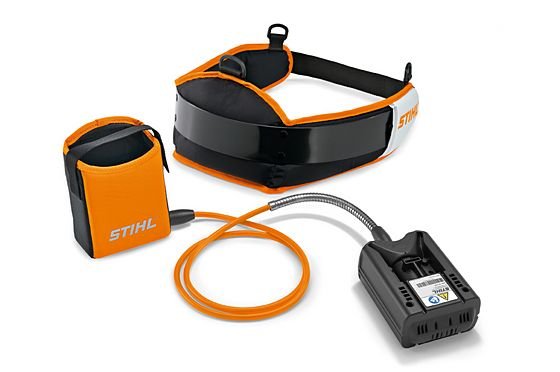 Comfort Carrying System for The STIHL BGA 200 Cordless Leaf Blower
If you have the BGA 200 battery-powered leaf blower, you'll notice an orange hook by the handle where you can attach a harness to hang the blower across your body. This orange hook can be removed and replaced with a fastening clip that makes working even easier thanks to the comfort carrying system.
The comfort carrying system lets you hook the fastening clip you've attached to the BGA 200 cordless leaf blower into a slot on the carrying system so you can control the leaf blower from the second handle that sits above the speed control. This mode is ideal for cleaning and clearing large areas of leaves in a more comfortable way compared to the handheld mode, which is more suited to clearing tight and narrow areas.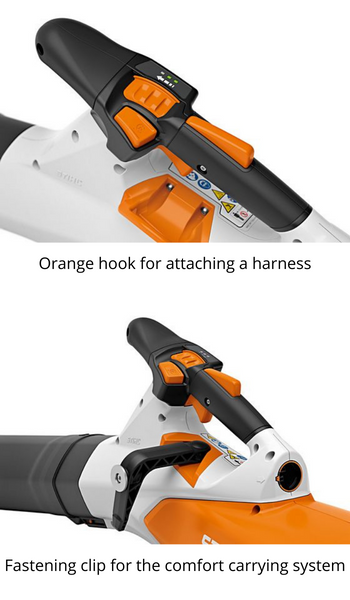 It's available individually or as part of a set with the BGA 200 leaf blower. Please note that the comfort carrying system can only be fitted to the belt of an AR L carrying system and will not fit onto a battery belt and harness.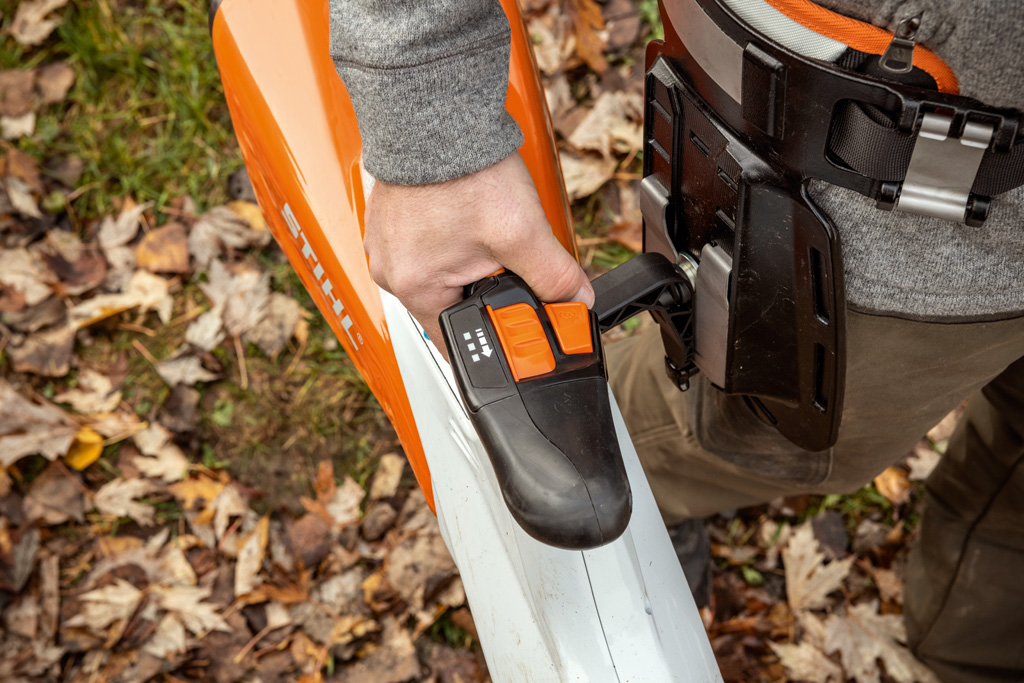 STIHL AL 301-4 Multiple Battery Charger
Another new product for 2022 is the Stihl AL 301-4 multiple battery charger.
Designed for charging up to four AP batteries or AR L backpack batteries consecutively, it's ideal for landscape gardeners, councils or teams looking to charge multiple batteries at the end of the working day in readiness for the next. Best of all, the charger will automatically switch off when the charging is complete so you can charge your batteries overnight without having to worry about using too much electricity.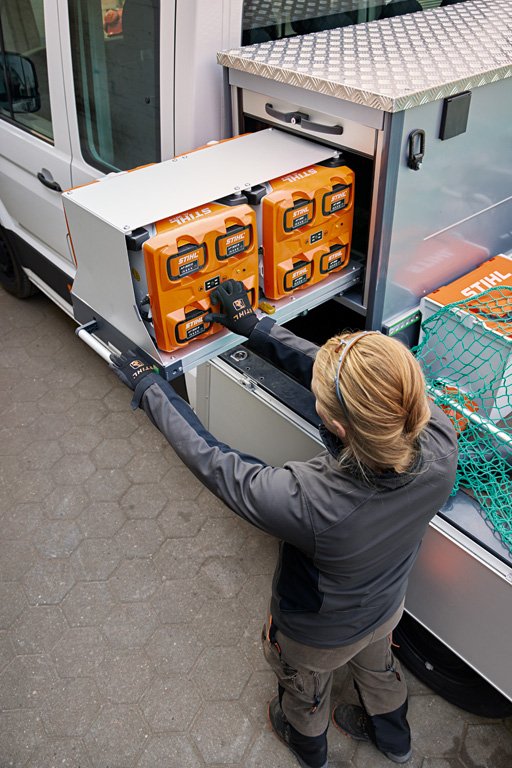 Like Stihl's other AL chargers, you can secure this charger to a wall or shelf or install it in your vehicle to charge whilst on the go (an inverter must be used and the engine must be running. Charging speed may reduce depending on the inverter specification).
Stihl Smart Connector 2 A
On selected AP System cordless tools you may have noticed a protective cover that is screwed in place. This can be removed and replaced with a Stihl Smart Connector 2 A, which is designed to slot into the machine to collect key information on the tool's usage times, operating speed and location.
It's all part of Stihl Connected – a digital fleet management platform which will help you work smarter. Find out more about this clever technology here. If you need assistance on setting up STIHL connected, find out more here.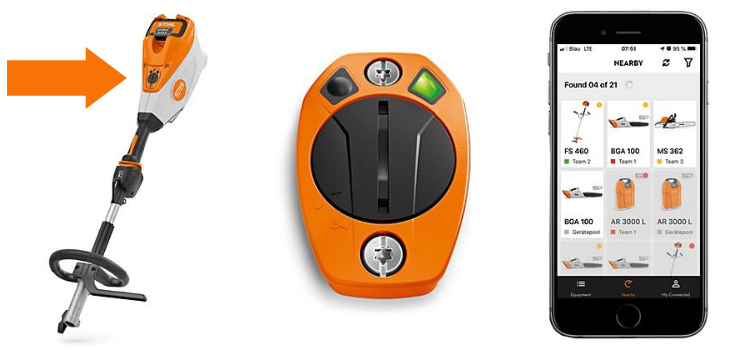 Currently, the STIHL Smart Connector 2 A can be used with the following machines:
HLA 135 cordless long-reach hedge trimmer
HTA 135 pole pruner
KMA 135 R cordless KombiEngine
FSA 135 R brushcutter
FSA 135 battery-powered brushcutter
RGA 140 brushcutter
HSA 94 R battery-powered hedge trimmer
HSA 94 T hedge trimmer
MSA 300 cordless chainsaw
Which Stihl AP System accessory interests you the most? Head over to our online store to view the range HERE!