Sprayers are a handy accessory for a variety of applications in your home garden, around your allotment, or even for cleaning your car.

They're designed for treating plants, spraying cleaning liquids and precisely distributing pesticides and fertilisers across these areas – making them perfect for a wide variety of applications.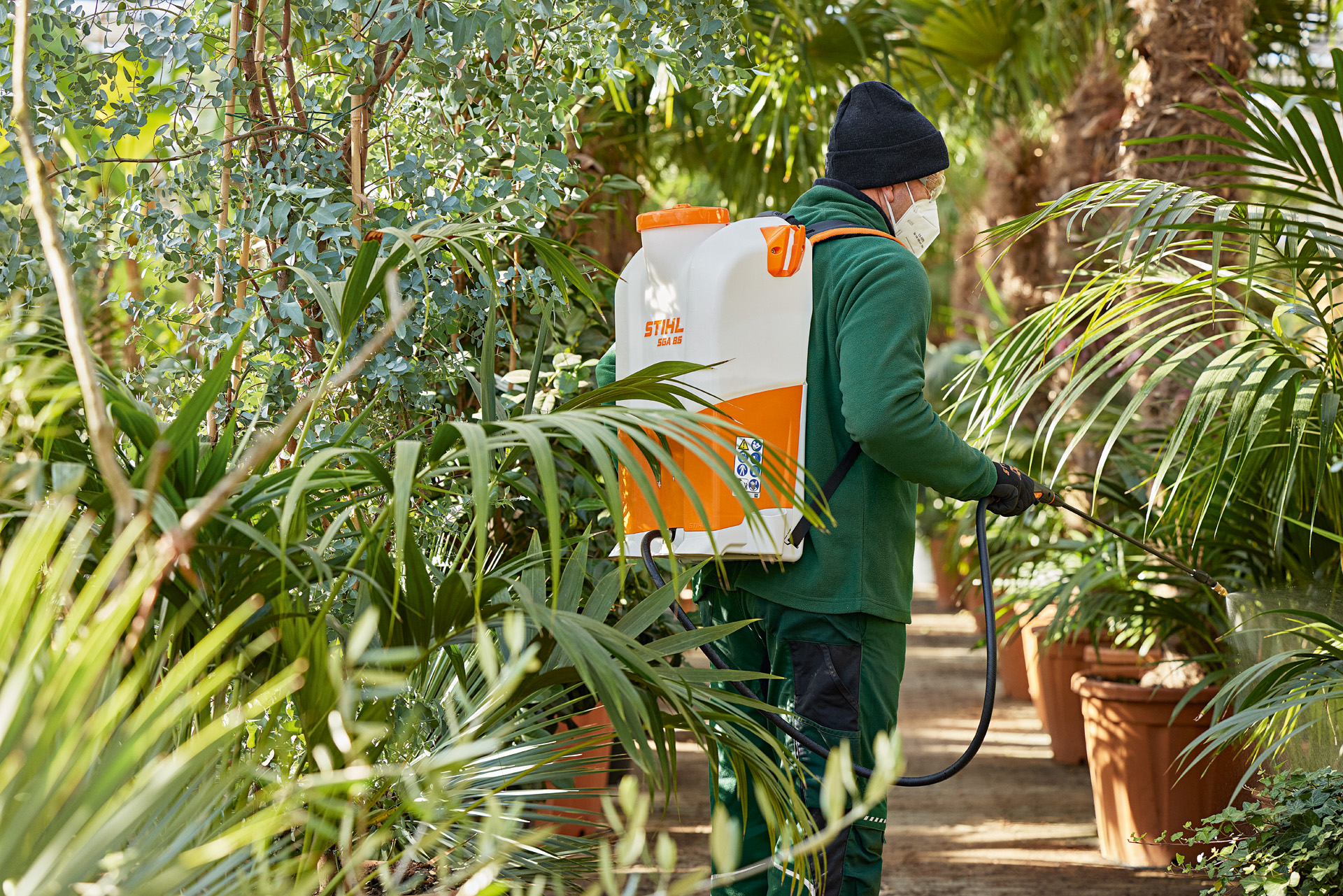 Battery powered sprayers
The SGA 85 is Stihl's first cordless sprayer and is part of the STIHL AP System. It has a high operating pressure with a large volume flow to cover a wide range of spraying applications.  

A powerful battery-powered pump delivers excellent spraying performance up to 6 bar pressure, making it ideal for applying herbicides, pesticides and fungicides. When compared to a traditional, manual sprayer, the SGA 85 makes tasks more manageable as you can maintain consistent, accurate pressure throughout spraying. With numerous spraying nozzles with multiple angle options, wide spray bars, and other accessories in the Stihl sprayer range, the SGA 85 fits a wide range of uses and applications.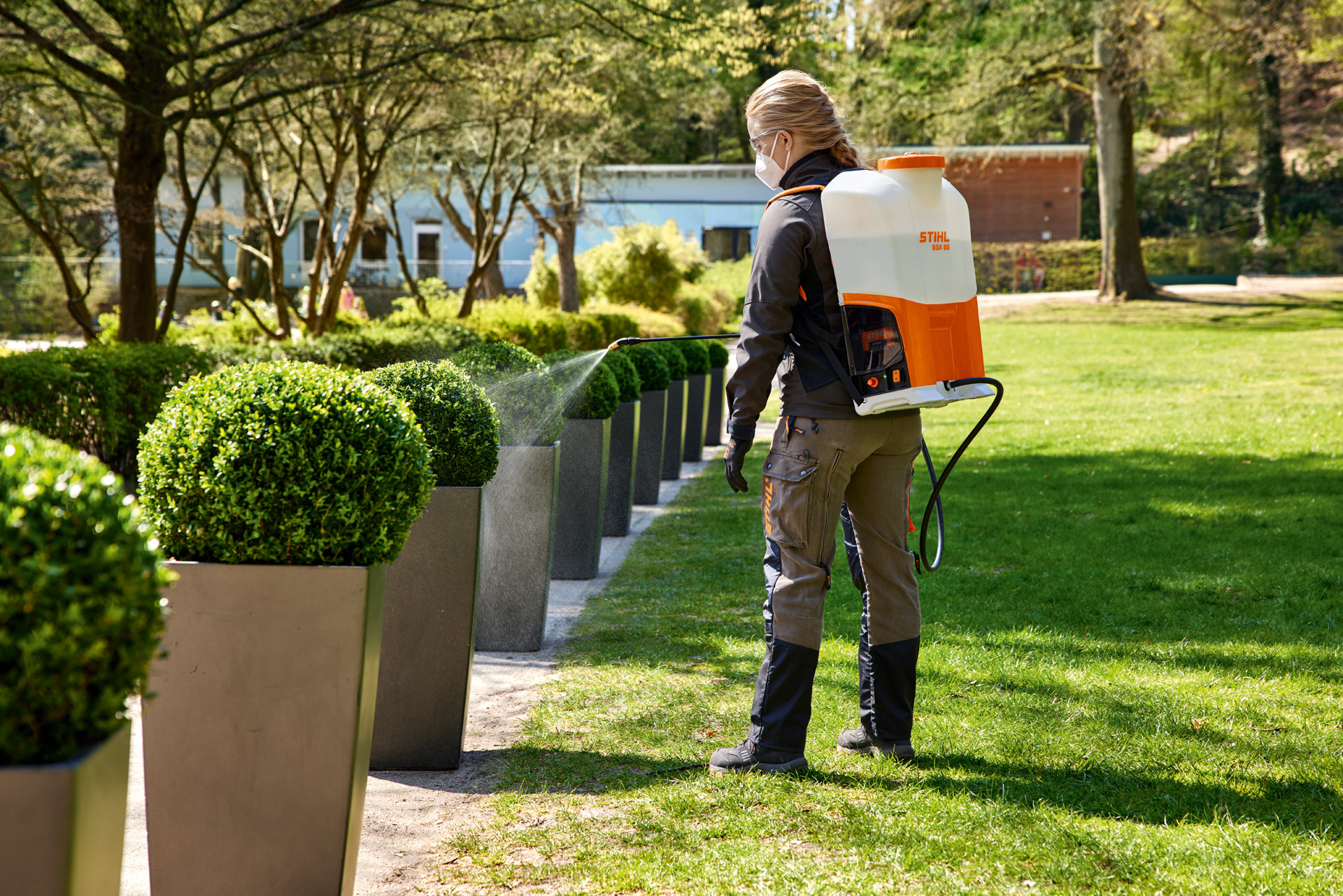 The SGA 85 has a capacity of 17 litres of liquid and, with the full standard cone nozzle, can deliver 1.7 litres of liquid per minute.  As you move from task to task, you can easily change the pump pressure between 1 and 6 bar without removing the backpack, and this can be checked at a glance using the pressure gauge mounted on the spray lance.  With wide, padded straps and back pads, plus a chest strap, it's comfortable to wear for long periods treating crops and plants. The addition of a carrying handle on top also makes it convenient to transport when not worn on the back.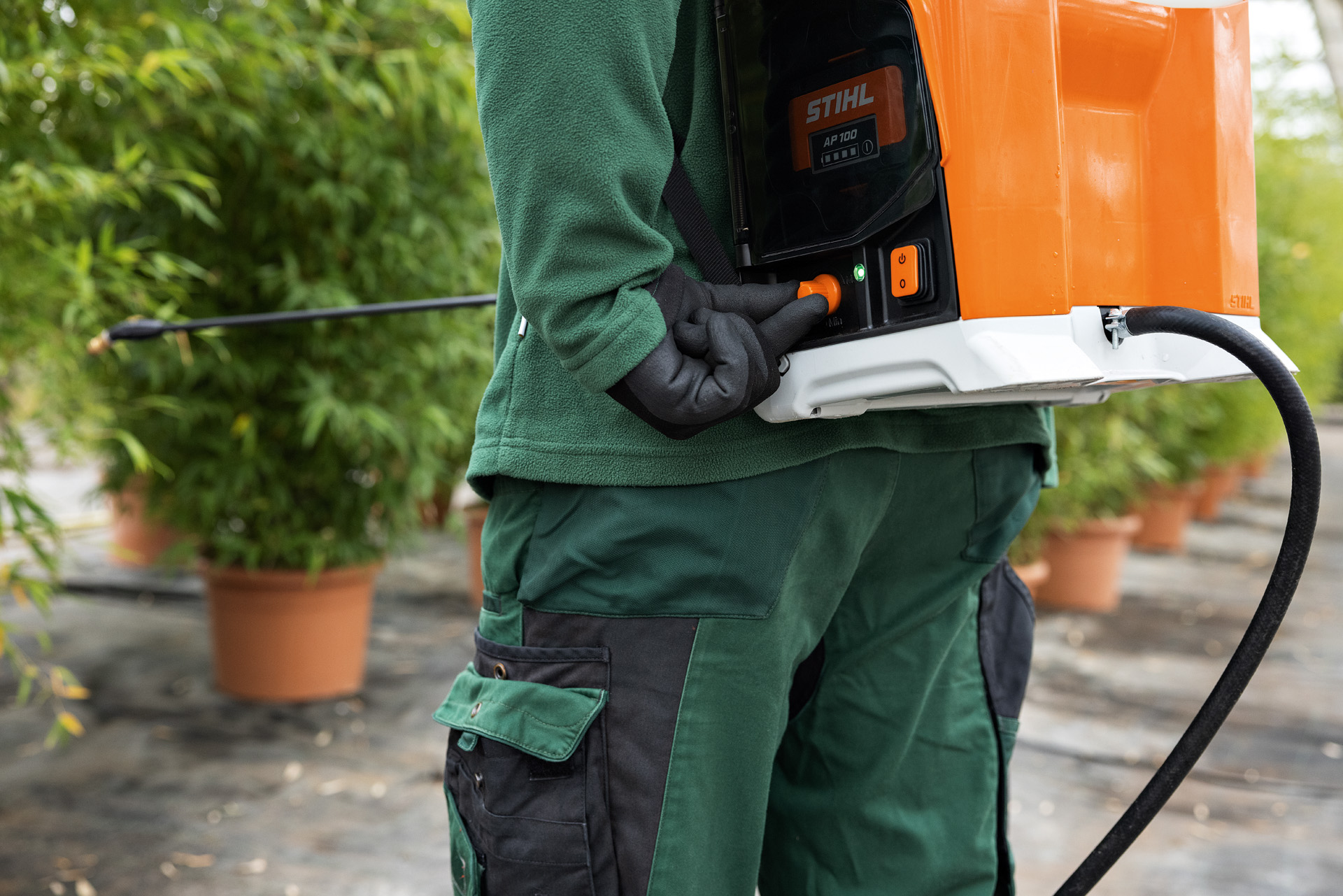 The SGA 85 can be used with any AP System battery, and with the recommended AP 200 battery the working time is 1000 minutes, and the weight of the tool with the battery is 7.5 kgs (before filling).  
Manual Sprayers
The SG 11 and SG 11 PLUS sprayers are easy-to-use, manually operated handheld sprayers. They're able to distribute water or liquid pesticides and feeds across your plants or crops. 

The SG 11 PLUS has the bonus of a special seal on the container, which optimises it for using with cleaning agents. It has a higher pH rating, meaning it can be used to distribute solvents in the pH range 7-14, such as vehicle shampoo, degreaser or STIHL's universal cleaner. The sprayers have a transparent tank with a capacity of 1.5 litres, and there is a level indicator on the container, so you don't overfill it.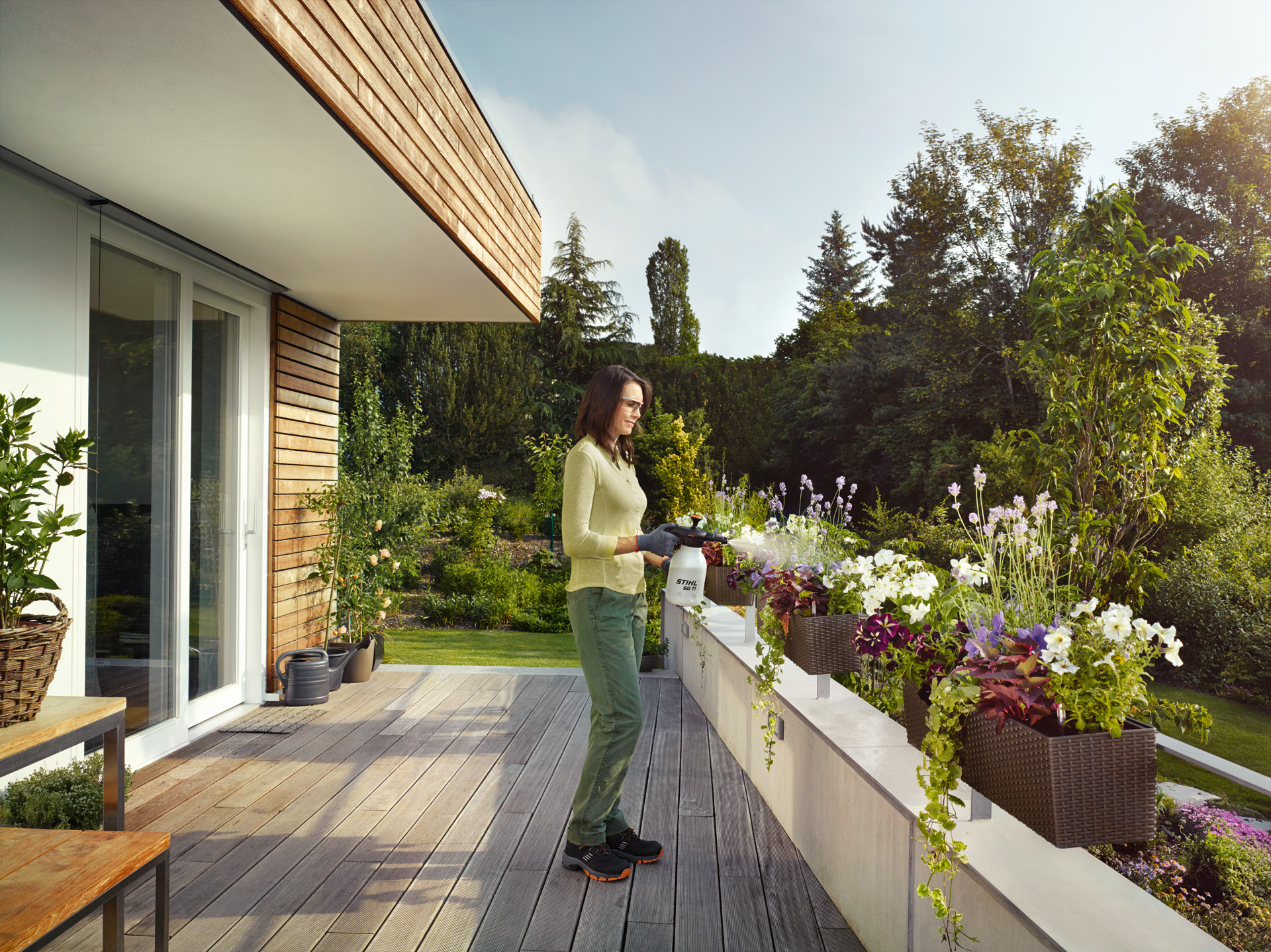 The SG 31 sprayer is a manual sprayer that is ideal for distributing water or other liquids and chemicals in your garden, your allotment, in a fruit & vegetable patch or in horticulture.  You can either carry this sprayer over your shoulder if you're on the move across the garden and need to spray lots of different areas, such as plants and flowerbeds. Or if you're focused on one area, such as a fruit and vegetable patch, you can place the sprayer on a level surface on the ground and spray away. The SG 31 has a 5 litre transparent tank with a level indicator on the container, so you can make sure you don't overfill it too.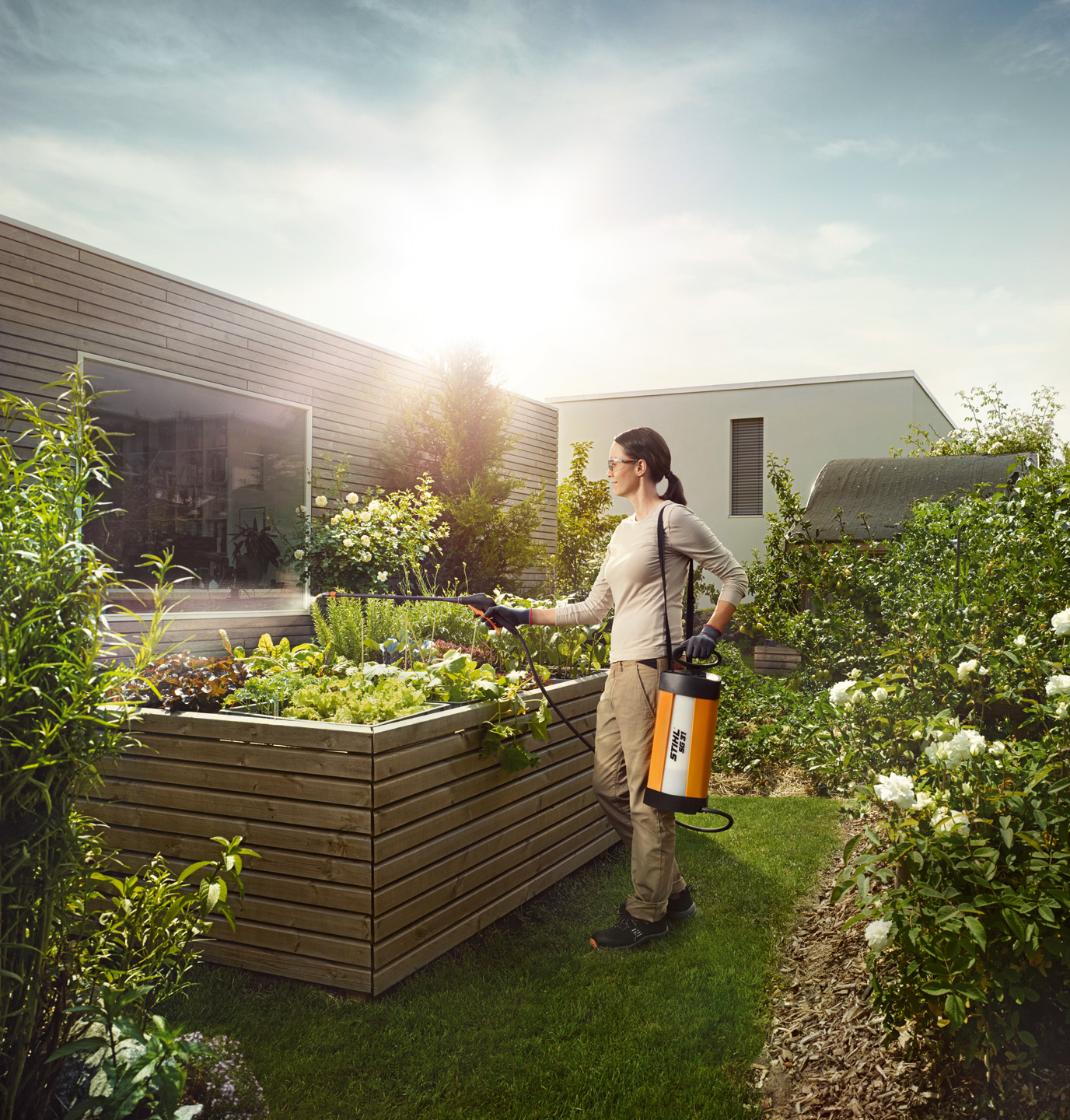 The SG 51 and SG 71 are manual sprayers that are worn on your back and designed for distributing water or other liquids and chemicals across environments. Thanks to the shoulder straps of theses sprayers, they are comfortable to use through long working periods – making them ideal for professional applications. The SG 51 has a 12 litre capacity and the SG 71 has a 18 litre capacity.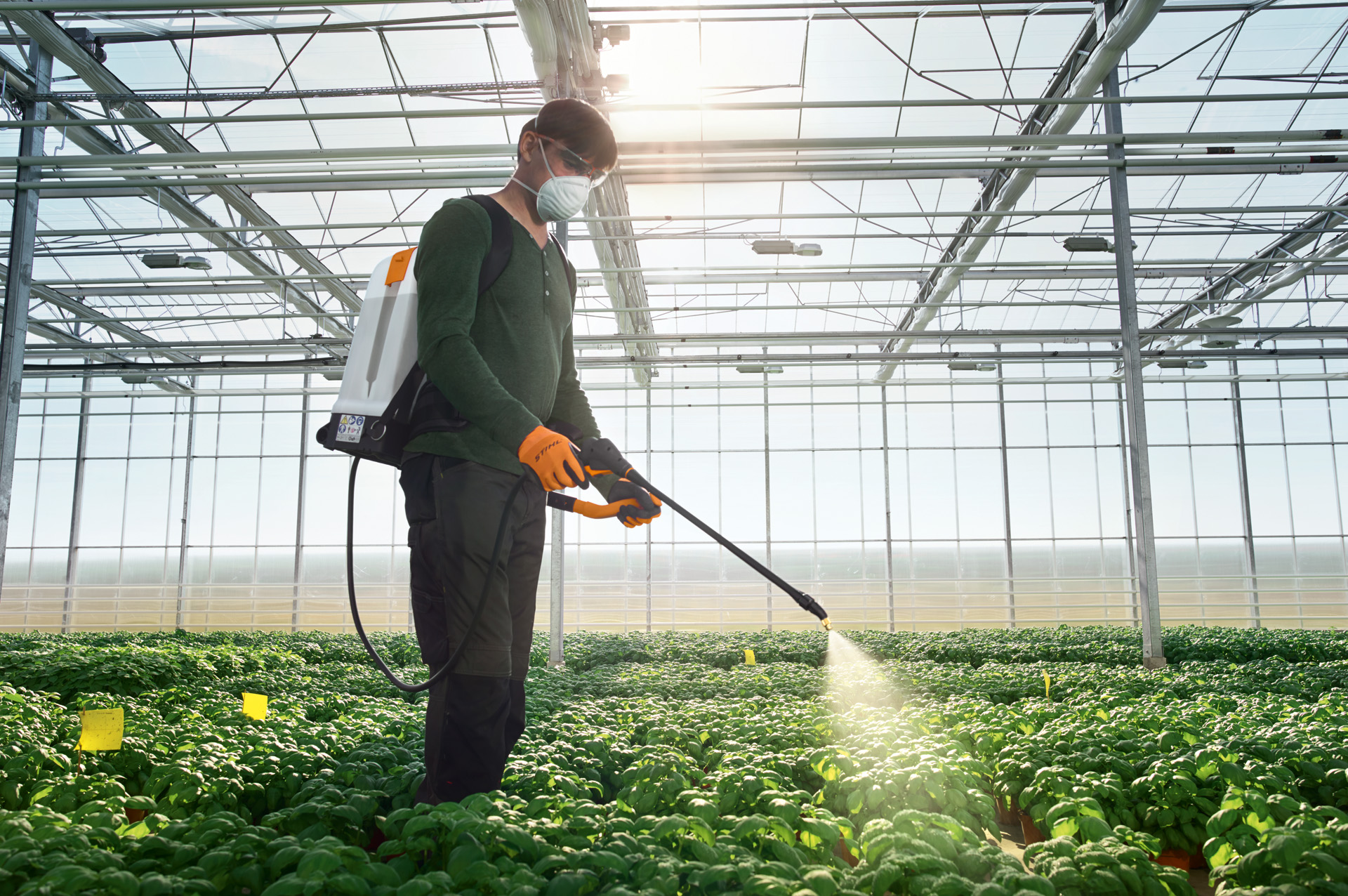 When using our sprayers you should always be wearing snug-fitting clothing, safety gloves, sturdy boots and safety goggles. If you are spraying chemicals or cleaning agents, you will need to wear impermeable coveralls as well. And remember to always refer to the owner's manual before use and check local regulations before using any chemicals.