As the Autumn leaves are well and truly falling and the weather's turning colder, there's still time to carry out some garden maintenance to have your lawn & garden looking fantastic in the New Year.
We've put together this handy guide as to what and when you should be treating your garden to in the Autumn months!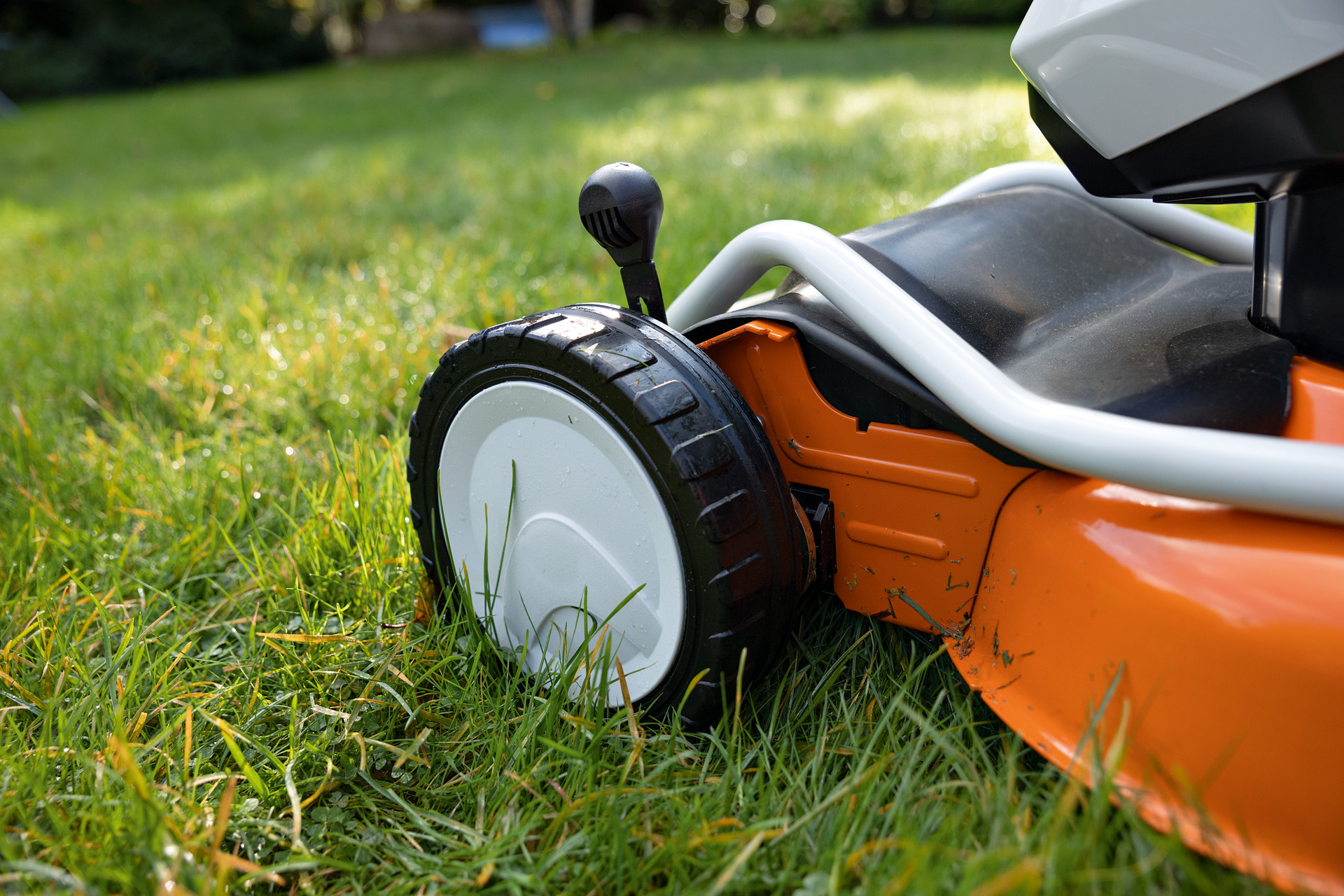 Don't stop mowing!
Our number one lawn care tip for right now is simple: don't stop mowing! 
Many assume you need to stop mowing the lawn towards the end of autumn. If your lawn is getting enough light, and the weather stays above 5°C, it will carry on growing and it will benefit from an occasional cutting. 
Lawn Scarification
Over the Summer your lawn will have developed thatch - although a small amount of thatch is natural and good, however too much thatch can starve the grass roots leaving it looking tired and damaged.
The scarification process is best described as raking of the lawn. Of course this can be done by hand, but it's far more convenient to use a machine to do all the hard graft for you, just like the Stihl RL 540 petrol lawn scarifier or the Stihl RLA 240 battery scarifier, which is part of the Stihl AK range of cordless machinery.
It's main purpose is to remove thatch and moss from the lawn which is caused by dead leaves and debris that has accumulated over time, but there are also other associated benefits to this process.
All scarifying machinery contain a series of sharp, tungsten blades which rotate at a high speed to slice into the lawn in a vertical manner. The depth of this can be adjusted to remove as much or as little thatch as required, enabling you to tailor to process to your individual lawn.
Use a lawn scarifyer now to help revitalise your lawn and get it looking healthy once more. It's also a fantastic treatment to help combat snow mould ahead of winter.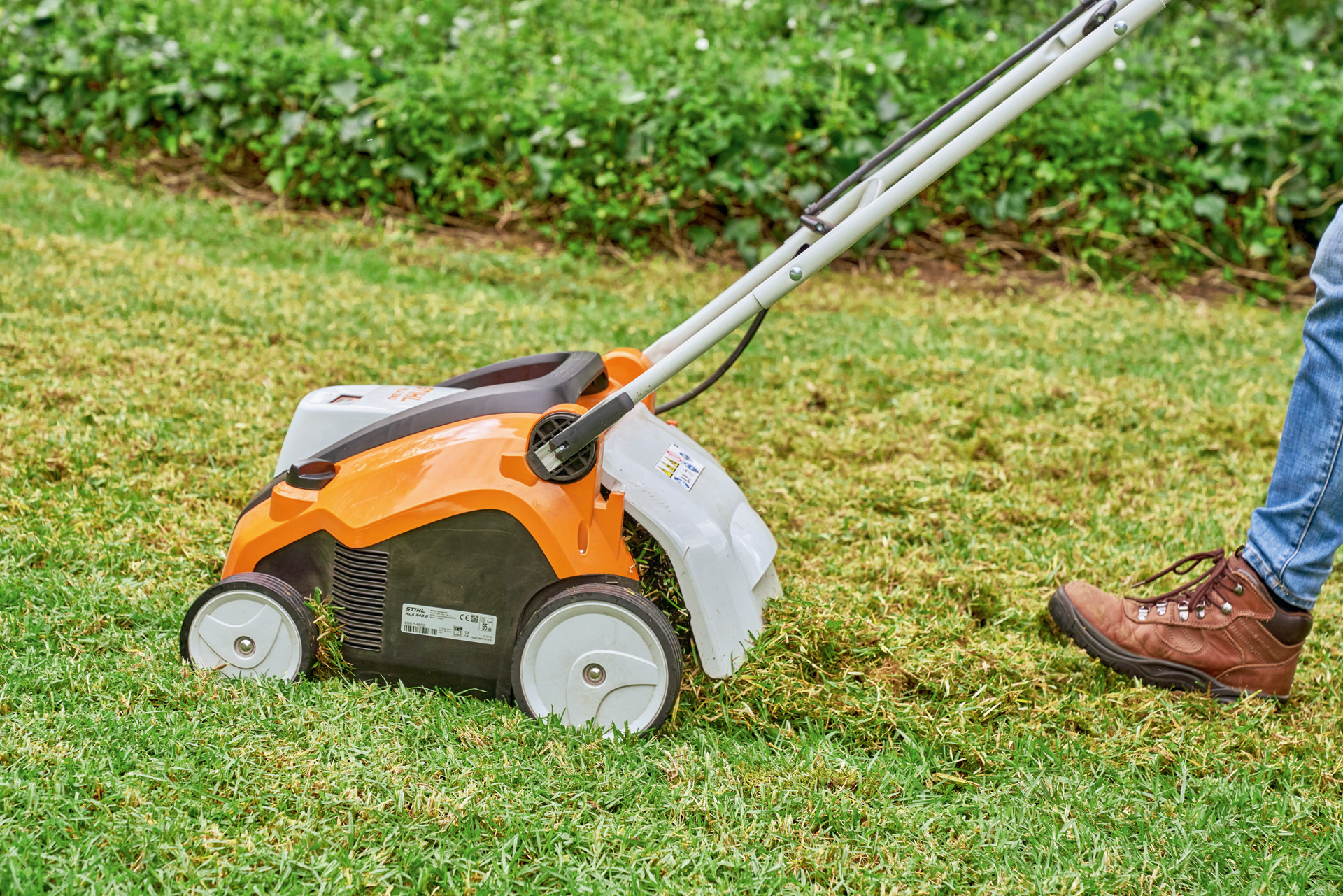 Image: The Stihl RLA 240 battery scarifier in action
Aeration
For your lawn to thrive and develop into the lush, green landscape that you dream of, the soil has to be able to absorb water, air and fertiliser. A good air circulation to the roots is absolutely essential for grass health.
However, there are a few things that can occur which make it impossible for the lawn to do well… Over time, the soil in your lawn compacts and the particles compress together. This can stop grass from growing and cause your lawn to become waterlogged as the water has nowhere to drain. Larger particles of earth clump together and block the roots from doing their job. Compacted earth can also increase the likelihood of moss and weed infestation.
Aeration is the most effective way of allowing water, air and nutrients to penetrate the grass root and help to alleviate soil compaction. There are two main types of aeration; hollow tine and spiking.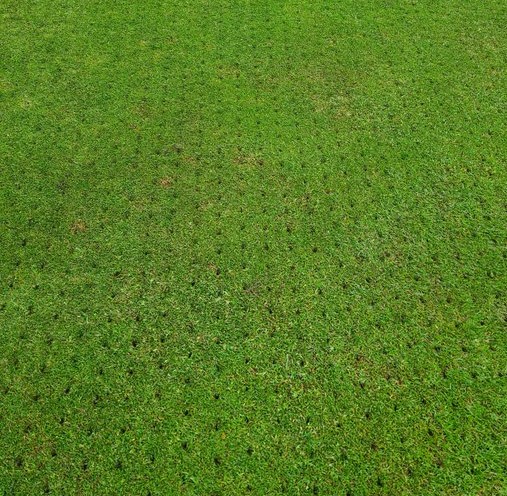 Image: A recently aerated lawn using 'the spiking' method
Overseeding
Overseeding, sometimes known as re-seeding, is one of the quickest and most effective ways to rejuvenate your lawn where grass seed is added to the lawn to replenish the old grass and fill in any bare patches.
Ideally overseeding is always carried out in conjunction with either scarification or aeration and is not just about improving the appearance of your lawn, it will also improve your lawn's quality; increasing shade and drought tolerance whilst also improving your lawns resistance to diseases.