Introducing the Greenmech Chipper range
Greenmech chippers are a British-based manufacturer, who supply high-quality petrol wood chippers and diesel wood chippers to professionals across the globe.
Their innovative products and ever-evolving designs are the reason that they've been at the forefront of the industry for over 40 years, with revolutionary designs and constant developments.
Here, we'll be looking at 3 models of Greenmech chippers available here at Balmers GM: the Greenmech CS100 petrol chipper, the EVO 165D and the EVO 205D diesel wood chippers.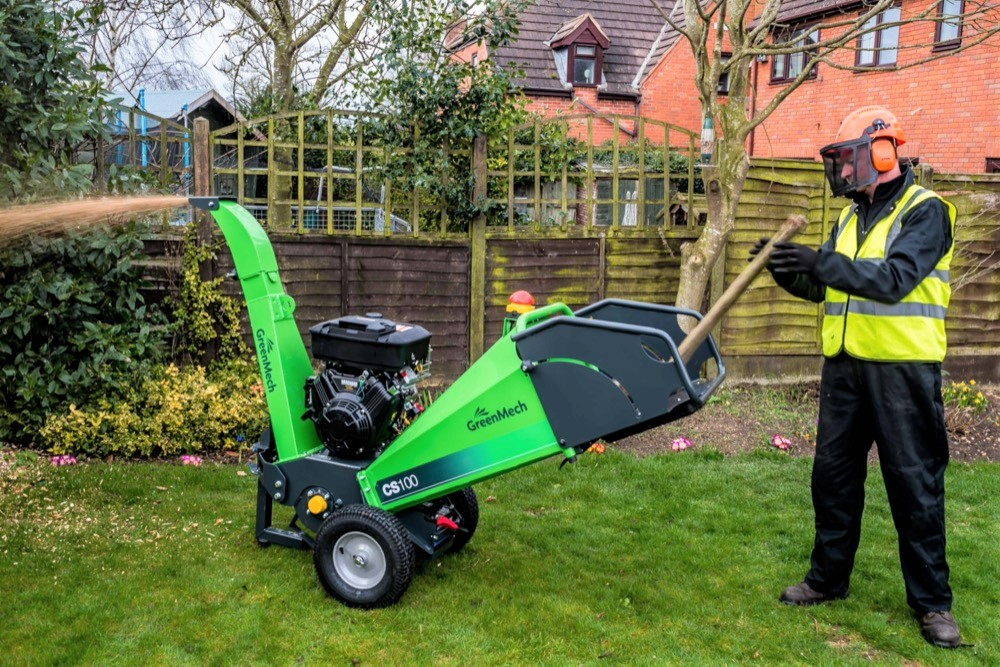 Image: The Greenmech CS 100 narrow access petrol 4" wood chipper at work
The Greenmech CS100 Petrol Chipper
If you're on the lookout for a powerful and effective petrol wood chipper, that offers excellent value for money, then look no further than the Greenmech CS100 petrol chipper. It is the perfect solution for the professional gardener, landscaper or even the domestic user who finds themselves operating in and moving through tight, confined spaces. At 760 mm wide, it will easily pass through narrow passages alongside homes or properties.
Easy to move

Ideal for on the spot chipping

Compact

Straight cutting blades

A capacity of 100 mm
The adjustable discharge chute adjustable deflector means the operator can chip in the required direction, while the wide infeed chute tapers down to allow bushy materials to be inputted with ease. The long-life, reversible blades can be re-sharpened when required and work with this 18hp engine to make this a great option when you're looking for a compact petrol wood chipper.
Shop here: Greenmech CS100 Chipper — Balmers GM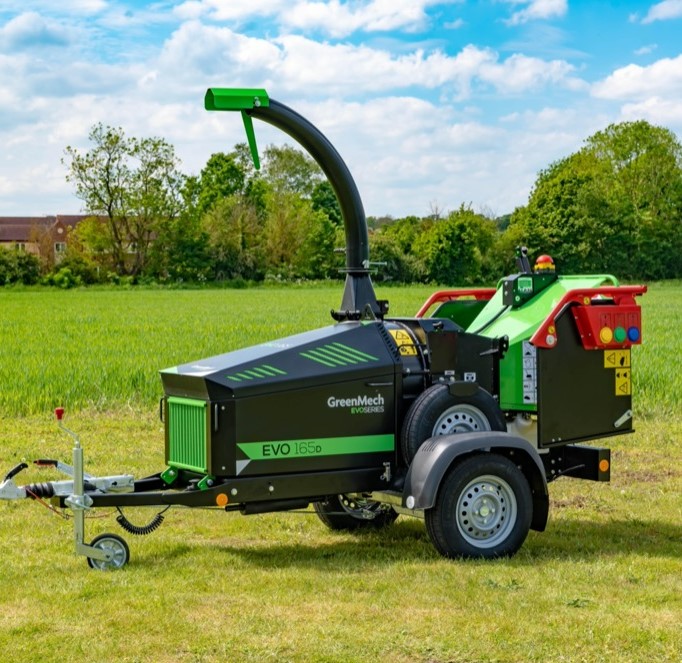 Image: The powerful and aggressive Greenmech EVO 165D 6.5" wood chipper - a popular machine for the professional arborist
The Greenmech EVO 165D Diesel Chipper
The Greenmech EVO 165D diesel chipper is the latest evolution of Greenmech chippers, they've listened to the demands and the needs of the industry, and have answered them in style. This machine will deliver exactly what you're looking for, with its aggressive performance and new and improved 165 mm chipping capacity.
Higher torque

More aggressive bite

Increased input

A capacity of 165 mm

A flywheel that is heavy duty

A robust disc blade system
The wide infeed chute allows for bushy and brushy material to pass through with ease, while the infeed system itself will self manage, maintaining the required infeed rate through the processor without the risk of blocking or stalling. Additionally, the Stage 5 diesel engine ensures that useable power is matched to the required operational needs, meaning that it is more economic with its fuel consumption.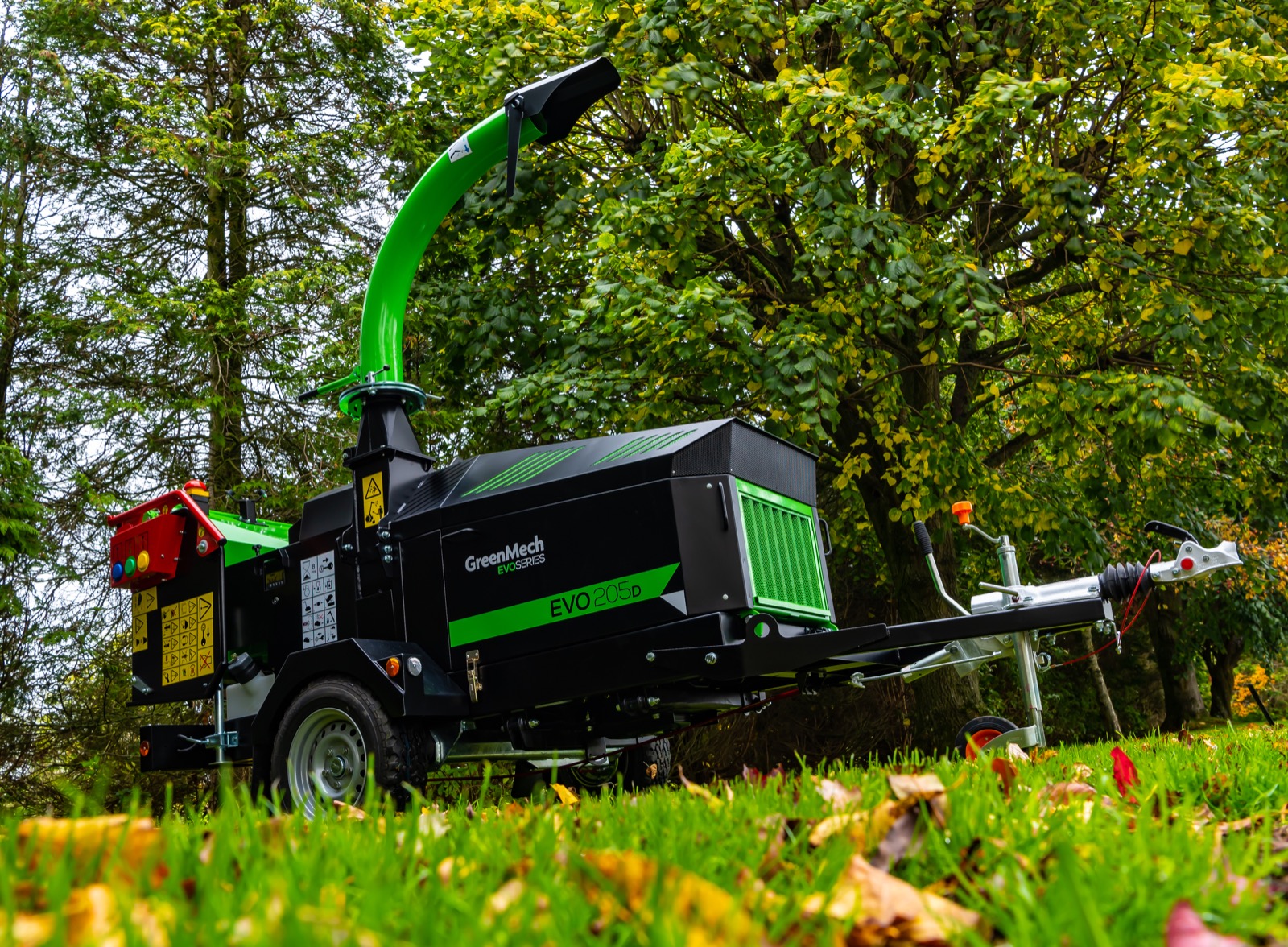 Image: The EVO 205D represents everything that's evolutionary in an 8 inch chipper.
The Greenmech EVO 205D Diesel Chipper
We've saved the biggest and the best diesel wood chipper for last… Introducing the EVO 205D, which represents everything that is innovative and evolutionary in 8-inch chippers.
Aggressive torque (even more)

Aggressive bite (even more)

A massive amount of throughput

Smart sense technology

205 mm capacity
This diesel wood chipper really is the ultimate choice for tree surgeons, with minimal maintenance required, just grease a few points, conduct daily checks, and you'll be ready to go. While patented 'disc blade' system allows the cutting edge to rotate, which extends the sharpening period, meaning you only need to sharpen it roughly every 150 hours, to maximise performance, while reducing, maintenance, labour and downtime costs,
A generously sized hopper that measures 1250 mm x 700 mm allows bulky materials to free flow, negating the need to manually trim material to a more manageable size, while a chipping capacity of 205 mm means even larger items can be passed through with ease.
Find out more - Greenmech EVO 205D 8" diesel wood chipper.
All Greenmech chippers come with a 3 year manufacturer warranty.
For more information on any of our Greenmech chippers or other products please contact us.