At Balmers GM, we know that maintaining a beautiful lawn can be challenging, especially when you have a large area to look after. If you're tired of pushing a heavy mower around or spending hours maintaining your grass, a ride on mower may be the perfect solution for you. 
However, we know that choosing the right ride on lawn mower can be a daunting task, given the variety of options available today. We have put together a simple guide of our top picks and can help guide you through the factors to consider when buying a ride on lawn mower. From engine power to cutting width, you'll be sure to find the right mower to meet your specific needs and budget.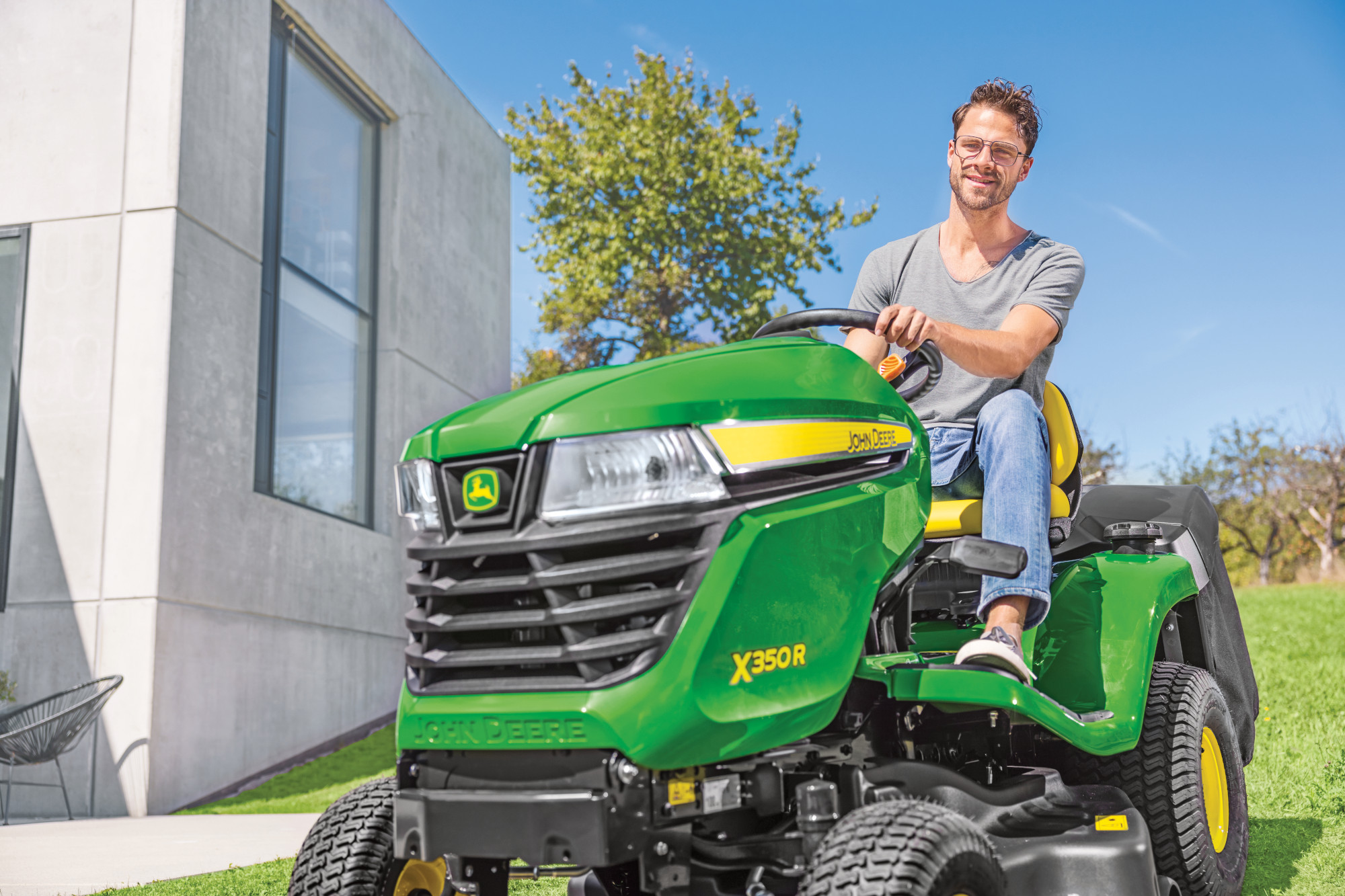 The benefits of using a ride on lawn mower / lawn tractor
Homeowners and landscapers with large grassed areas that require frequent maintenance can greatly benefit from ride on lawn mowers. These mowers offer various advantages, such as improved comfort and convenience, better performance, and increased safety. Time saving is also a significant benefit, as ride on mowers can cover more ground in less time than push mowers, saving time and energy for those maintaining a large lawn.
Choosing your ride on mower
When choosing a ride on mower, It can be a challenge to figure out which one is the perfect fit. With a large variety to choose from, we appreciate that choosing the perfect one for your needs and wants may be a little difficult to say the least. 
You should consider the size of your lawn, the mower's cutting width and deck size, and its comfort features. Look for attachments that may increase the mower's versatility and choose a reliable brand with good customer support and easy maintenance requirements. By considering these factors, it will be easier to find the perfect ride on mower.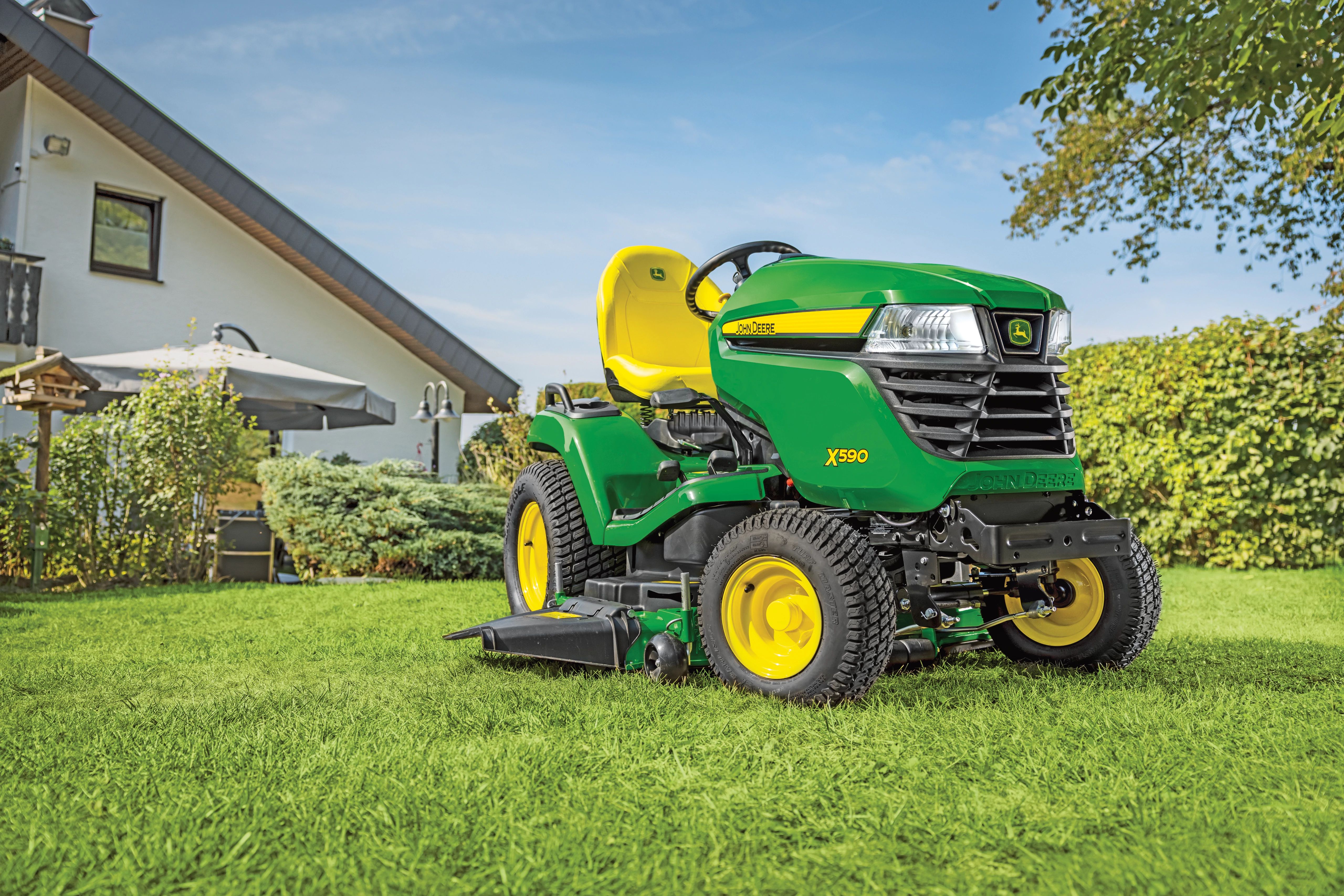 John Deere lawn tractors and & mowers
Balmers offers an extensive range of lawn tractors and mowers to choose from. Our commitment to providing a wide range of options means that you can find the perfect lawn mower to suit your specific needs and preferences. Amongst this comprehensive offering, John Deere's range is known for it's exceptional quality, durability, and performance. With a variety of John Deere lawn tractors and mowers to choose from, you can be confident that you'll find the perfect tool to keep your lawn looking beautiful and well maintained.
The best ride on mowers for smaller jobs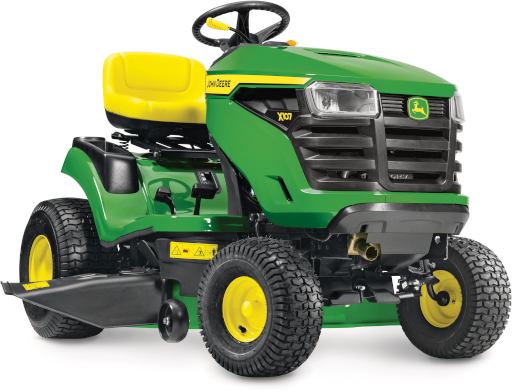 The John Deere X100 series of lawn tractors are a range of ride on mowers designed for homeowners with medium sized lawns. These mowers are built for superior performance, with powerful engines and easy to use controls that make lawn maintenance a breeze. The X100 series comes with a variety of features that make it a popular choice among homeowners, including the comfortable and ergonomic design, designed for maximum comfort and ease of use. The mowers come with adjustable seats, ergonomic controls, and comfortable grips that reduce fatigue during long mowing sessions. This range also offers a versatile cutting deck that allows you to choose from a range of cutting heights, so you can achieve the perfect lawn length for your needs. Teamed with high performance engines and easy to use, the X100 series is the perfect choice. 
The X107 tractor is a top-performing model that offers excellent value for its price. Equipped with a hydro-static transmission, a powerful overhead valve engine, and a 42" edge mower deck, it is designed to deliver superior performance and efficiency.
In addition, there is a wide range of optional equipment available for other lawn care tasks, as well as snow work, making this tractor an ideal choice for year-round use. Check out the range of accessories here.
The best ride on mowers for medium to large lawns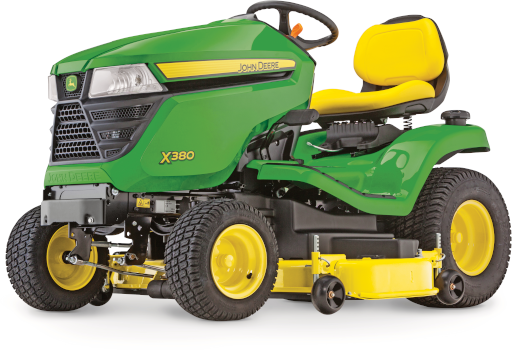 The John Deere X300 series of lawn tractors are ride on mowers designed for homeowners with medium to large lawns and more demanding mowing conditions.
Similar to the X100 series, this group of mowers are also designed with you in mind, providing a comfortable and ergonomic design as well as having the ability to add optional attachments. 
The X380 ride-on mower is a dream to drive and delivers exceptional cutting performance. With its convenient height adjustment dial, you can easily customise the cutting height without leaving your seat. The mower's twin touch hydrostatic transmission control pedals also provide easy and precise control over the direction and speed of travel, allowing you to operate without lifting your foot off the platform.
The best high performance lawn tractors for larger lawns
If you're looking for a high-performance lawn tractor, the range of John Deere X500 lawn tractors are the perfect choice. With the smooth running V-Twin engine and exceptional levels of comfort, these mowers are designed to deliver uncompromising performance, making them ideal for larger properties that require more extensive mowing. A little more expensive than the alternative series we have mentioned above, the models included in the X500 series offers you the highest quality for versatility, comfort and performance.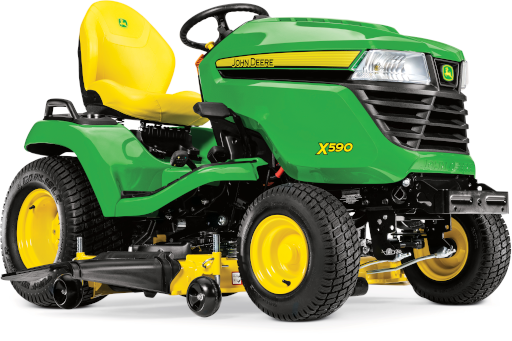 The X590 premium lawn tractor is unmatched for quality - with its 22hp V-Twin Kawasaki engine featuring the exclusive iTorque power system, it provides maximum output and performance. Complete with colour coded controls for ease of operation and powered steering with 5 position tilt steering wheel, it has everything needed for a seamless, comfortable operation.
Here to help
Balmers GM have one of the largest lawn and garden tractor displays in the North of England, stocking all the best ride on lawn mowers from top manufacturers. We have a team of product experts who can help guide you through the decision making process and offer valuable advice on all aspects of choosing the right ride on lawn mower for you and your needs.
With over 100+ machines in stock, you'll be sure to find the perfect one! And, for extra peace of mind, our ride on mowers come with 2-3 year manufacturer warranty to ensure your investment is safe. Find our range of ride on mowers here.