John Deere commercial mowers are some of the best on the market today and are the preferred choice of many professional landscapers, local authorities, contractors, caravan parks, the sports amenity sector and private estates (to name but a few) due to their robust design.
For this month, we are turning our attention to the unrivalled John Deere X950R mowing tractor - a favourite within the commercial mowing industry.
More specifically, we are putting the John Deere X950R in the spotlight due to its best-in-class cut and collect capability - you can be assured that this model is your new best friend when it comes to getting the most out of those larger mowing jobs, and smaller jobs for that matter.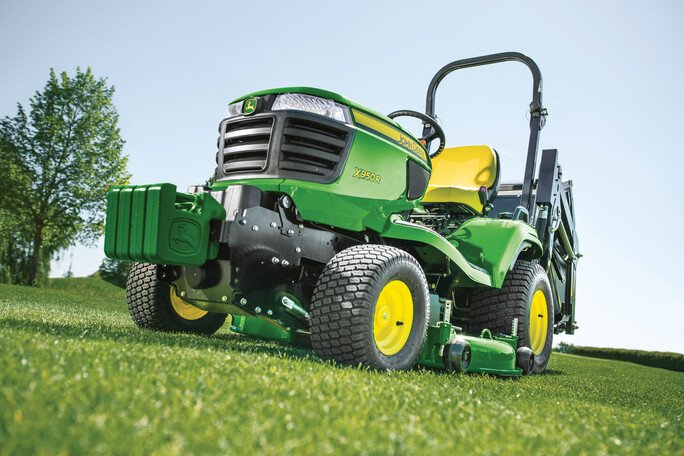 First off, lets take a look at what makes this model in particular so special.
To begin with, the X950R can be configured with a choice of either a 48" or 54" mowing deck which also includes rolled edges - the use of rolled edges on the mowing deck allows for a more even and clean-cut as well as providing extra strength and protection.
Unique to the other models in the X900 series, the X950R includes low-tip or high-tip options
for the grass collector. The outstanding 'tail follows trail' collection box design makes it easy to mow near fences, walls and obstacles meaning that you can get a precise cut every time.
In addition, the X950R provides the fastest collection hopper emptying process against its competition. Dismounting and installation is effortless when using the collection hopper lift hydraulics to put the hopper down.
The combination of a redesigned deck, a wide collection chute and large grass collector results in a best-in-class collection performance, not just for grass cutting and collection in the Spring and Summer months, many operators continue to use their X950R's through the Autumn and Winter seasons for their exceptional performance when collecting leaves and other Autumnal debris.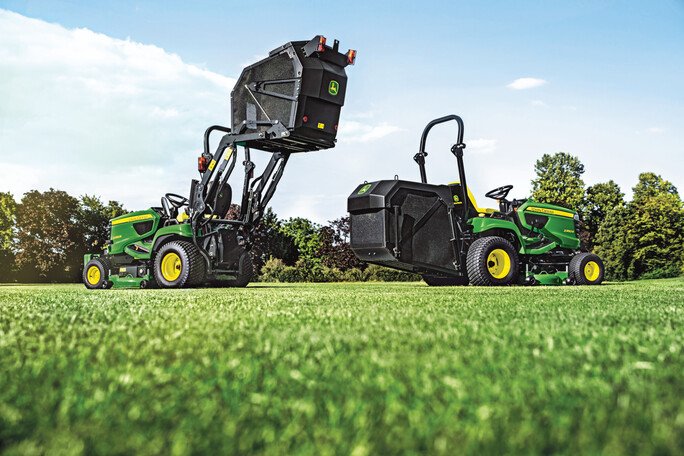 If comfort is a key factor in choosing your next commercial mower, we could not recommend the X950R enough. With its 2 piece professional high back seat, you can concentrate on getting the job at hand done without any discomfort.
Furthermore, the X950R was designed with ease of use in mind. With that being said, the controls on this model in particular are located within reach of the dashboard to allow the operator to focus on the task at hand instead of searching for the controls during operation. In addition, the contoured dash has clean, attractive styling and ergonomic controls for easy use with the controls being colour-coded for easy identification by the operator.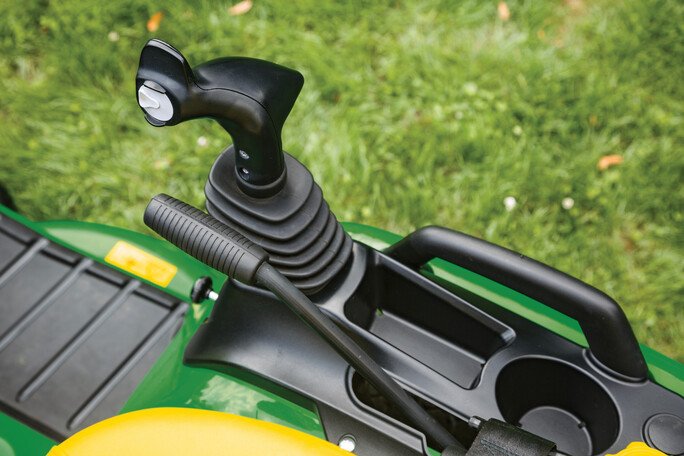 Another question that we get asked a lot when it comes to choosing the right commercial mower is the operating cost? - as it is one of the key decision drivers for commercial operators.
The X950R enables reduced service costs with simple machine health checks, good access to a limited amount of grease points, simple filter changes, and long operation intervals without mandatory maintenance. The air filter design and pressure sensor avoid increased fuel consumption that lower-quality filters would require. Cleaning the mower is easy due to the open design and industry-leading fast mower deck removal.
John Deere strongly recommends all operators request an overview of maintenance costs when comparing the X950R with competitive models to judge the full cost of ownership.
Overall, the X950R mowing tractor thrives on hard work. This rear discharge / rear collect model has a rugged steel frame and mower deck for years of trouble-free service. The high-torque diesel engine and heavy duty wheel motors can power across tough terrain all day. And thanks to great ergonomics and intuitive controls, so can operators!
Therefore we would recommend the X950R for any commercial mowing job due to its efficient long-day operation, unique features and strong components.