With the autumn season upon us, it's common to find leaves strewn all over the place, leaving your garden and pathways looking messy and landscapes covered in a cluster of foliage. When clearing leaves, many of us reach for a rake or broom to sweep away garden debris. However, raking can become tedious and time-consuming, especially when maintaining your garden at home or working on a large commercial landscape job.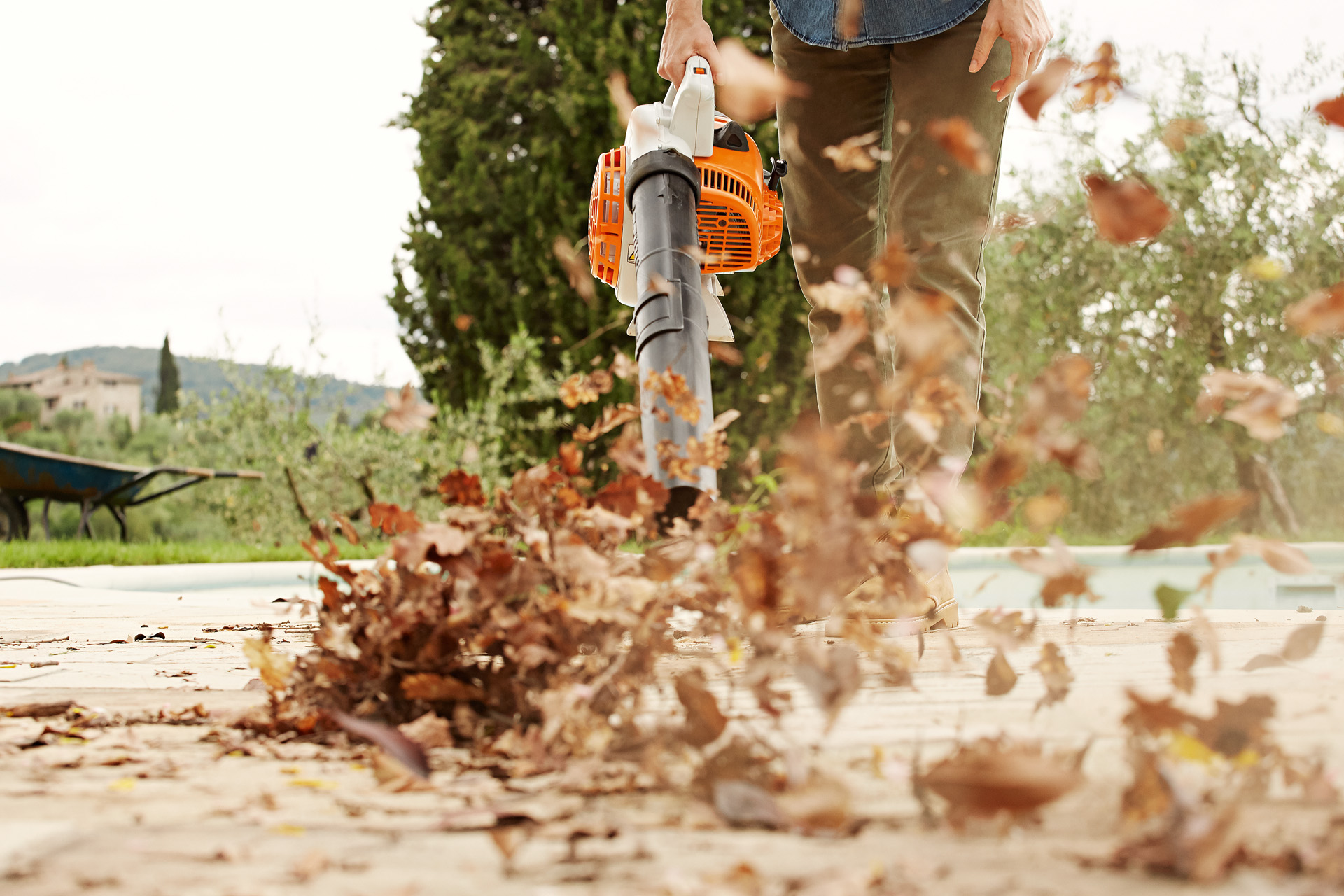 If you want to clear away those leaves in no time, then a Stihl Leaf Blower is the ideal choice. Leaf blowers are great for blowing leaves and other garden waste such as small sticks, dirt and debris into piles, ready to be gathered and composted. Some of our leaf blower models even have vacuum shredders, which shred the leaves into smaller pieces and suck up the bits to reduce the amount of garden waste. 
With Stihl leaf blowers, we have something for everyone, whether it's corded leaf blowers that are great for small jobs in the garden or cordless backpack blowers that are excellent for larger-scale jobs on commercial properties.





Stihl Leaf Blowers - The Options
Having explored what a leaf blower can do, let's look at some of our best options based on your specific needs.
A cordless leaf blower is ideal for clearing your driveway, deck or small patio. Battery-powered leaf blowers allow you to manoeuvre quickly, so you can move around without wires getting in the way. On the other hand, petrol leaf blowers are perfect for large gardens and commercial properties if you want something heavy-duty to tackle some commercial groundcare work.
POPULAR PETROL MODELS
PETROL POWERED FOR HOMEOWNERS - HANDHELD
Stihl BG 56 C-E Petrol Leaf Blower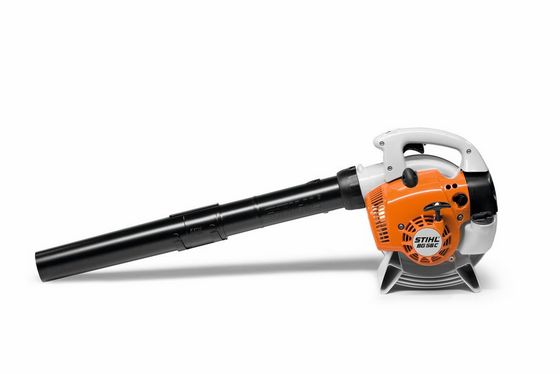 Get rid of those pesky leaves in your garden once and for all with Stihl BG 56 C-E. These powerful handheld petrol leaf blowers are ideal for home use or small professional tasks and will make short work of clearing garden pathways, driveways and debris. With the multi-functional handle, the BG 56 is easy to use as all controls are easily accessible with one hand. Combining these features results in smoother, effortless starts and operations, while its light weight allows you to work more extended periods.
PETROL POWERED FOR PROFESSIONALS - HANDHELD
Stihl BG 86 C-E Petrol Leaf Blower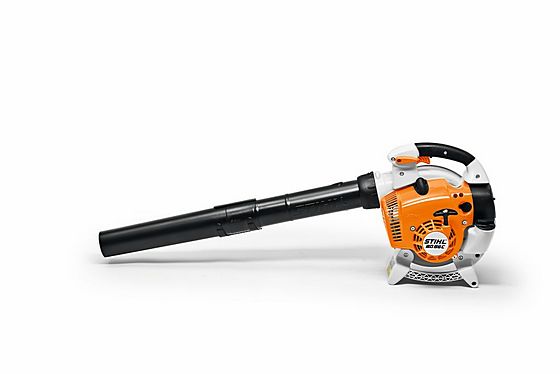 The Stihl BG 86 is a highly powerful petrol leaf blower that will make light work of a large yard or commercial landscape. With its robust engine design, the BG 86 C-E can clear large areas of leaves and grass, delivering more power for less weight and up to 20% lower fuel consumption than regular 2-stroke engines. As well as the anti-vibration system, the device has a locking throttle lever with a stop button, designed to maximise user comfort.
In addition to blowing leaves into a pile, the Stihl BG 56 C-E BG and 86 C-Ecan  also be converted into a garden vacuum with the vacuum attachment. 
PETROL POWERED FOR HOMEOWNERS - BACKPACK
Stihl BR 200 Backpack Blower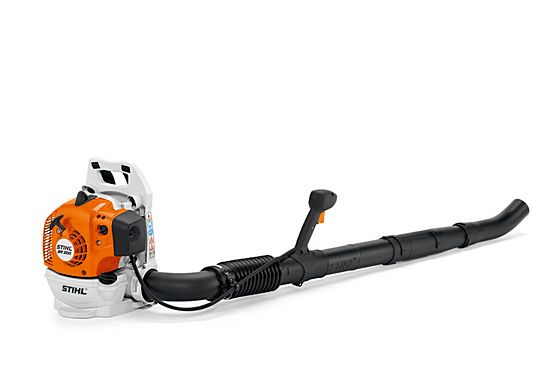 The Stihl BR 200 Backpack petrol leaf blower is ideal for tackling jobs of all sizes, bringing a professional touch to your garden. The lightweight design and ergonomic harness make it perfect for carrying on your back for prolonged periods, with an anti-vibration system to provide extra comfort and help reduce fatigue. It also features an easy, comfortable thumb-operated control, meaning your hand never leaves the handle.
PETROL POWERED FOR PROFESSIONALS - BACKPACK
Stihl BR 800 C-E Back-Pack Blower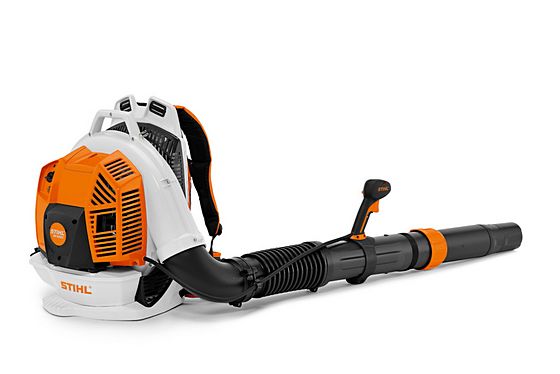 The Stihl BR 800 C-E is a powerful backpack blower designed with power and comfort. An ideal choice for landscapers and contractors as it's designed with enough strength to take on the most challenging jobs with ease. Its 41N blowing force makes light work of heavy foliage and wet mulch during autumn and winter, and thanks to the ergonomic carrying system, it's comfortable to use throughout the day. Starting the machine couldn't be easier thanks to the side-start pull cord. The blower can be quickly restarted when taking a break from work with a firm cord pull. The strain-reducing blower tube makes it easy to handle too.
POPULAR BATTERY CORDLESS MODELS
BATTERY POWERED FOR HOMEOWNERS
Stihl BGA 45 Compact Cordless Battery Blower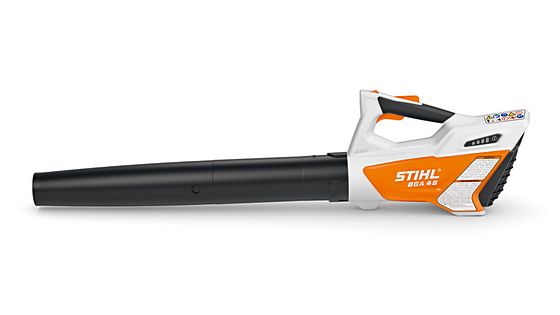 The BGA 45 garden blower is a compact, cordless blower that's lightweight and quiet, making it ideal for clearing leaves, twigs and mulch from smaller gardens and residential areas.  The Stihl BGA 45 is easy to operate with a comfortable, soft grip handle and easy-to-reach controls. The 18 Volt Lithium-Ion battery also provides around 10 minutes of run time, giving you plenty of time to banish the leaves from your yard.
Stihl BGA 57 Battery Blower
If you want to save time in the garden, the battery-powered BGA57 garden blower is the tool for you. Ideal for domestic users and perfect for clearing leaves from your yard and taking them with you. Portable and cordless, this leaf blower is easy to use and can be adjusted to suit you perfectly. In addition, the powerful blowing force means you can clear away debris from your gardens.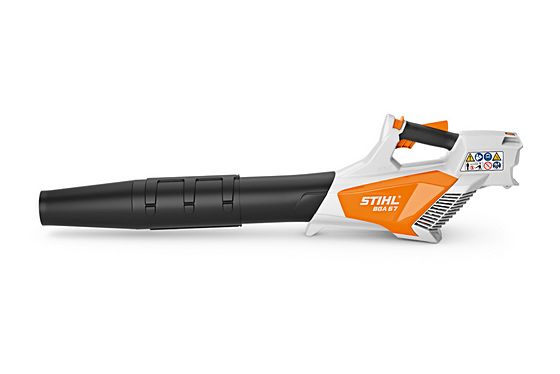 BATTERY POWERED FOR PROFESSIONALS
Stihl BGA 86 Battery Blower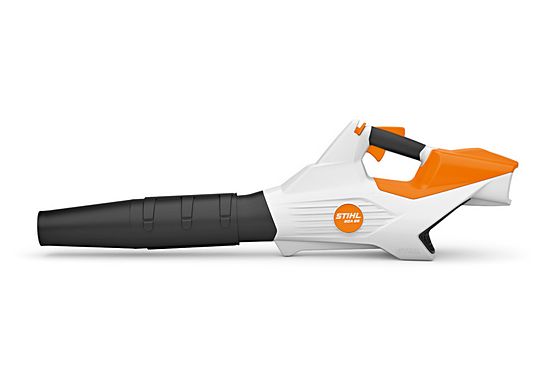 Stihl BGA 86 Battery Blower is a powerful, easy-to-use, and comfortable to operate cordless leaf blower. With 50% more blowing power than the previous BGA 85 model, this battery-powered backpack is ideal for professional use in large urban areas. Blowers come with a round nozzle, soft handle, and three-setting length-adjustable blower tube, which can be adjusted based on user size. The AR backpack battery is recommended for prolonged use.
KOMBI-SYSTEM TOOLS 
With Stihl's varied range of Kombi-Tools, you can accomplish all your garden chores in one go. From blower to brushcutter to pole pruner, the kombi-tools ensure that you can have everything under control in your garden. In addition, our Kombi-Tools are compatible with several attachments and accessories, including the Stihl Curved Flat Nozzle, which is consistent with BG-KM Kombi-Tool Blower.