Since the announcement of the Gator TH back in 1992, John Deere Gators have been the go-to utility vehicle for many customers and are often seen working at golf courses, local authorities, camping and caravan parks, construction sites, farms, private estates and parks, equestrian centres, race tracks, shopping centres…. the list is endless! With over 500,000 built, they've earned a reputation for durability and quality like no other.
John Deere has developed their utility vehicle range and created two series of Gators, each with different functions in mind; work utility vehicles and crossover utility vehicles.
The traditional John Deere Gators, or the work utility vehicles, provide all of the basic functions and amenities that you would expect in a UV. These models are known for being easy to use, hardworking, and providing unmatched productivity.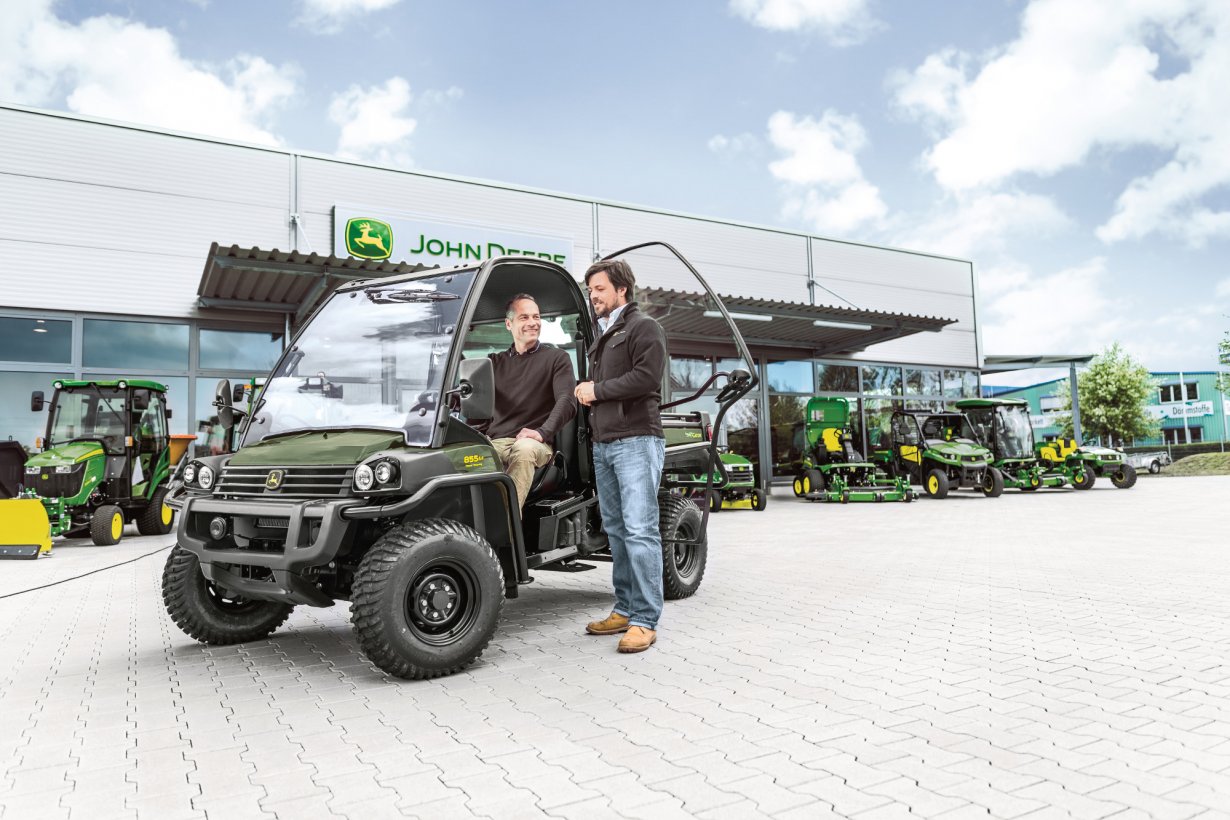 On the other hand, crossover utility vehicles provide functions and features that you'd normally expect to see in a car. These are known to offer great off-road performance and work capability on the toughest terrain.
As the two Gator series were created with different functions in mind, sorting through all the different Gator models can get a little overwhelming, so for this month we are turning our attention to the more popular Gators from each series; the XUV815E work utility and the XUV855M cross-over utility vehicle.
HPX815E / Work Utility Vehicle
The work utility Gators were designed and built for getting out and about worksites, a variety of landscaping tasks, golf course upkeep and turf maintenance. These John Deere Gators weren't originally meant for the heavy-duty lifting and shifting that the cross-over Gators are designed for, but instead to help with general maintenance jobs around the workplace.
When it comes to everyday use the HPX815E has plenty to offer – a powerful diesel engine, a large payload and towing capacity, a heavy-duty deluxe cargo box with a power-lift tipping kit and pick-up style tailgate for easy cargo storage and transportation. 
The HPX815E is one of the best John Deere models and also features enhanced 4-wheel suspension and a continuously variable transmission (CVT) to help handle all kinds of terrain. A low centre of gravity provides stability whilst remaining light on the surface and having the strength and power to drive over muddy, rocky and other rough ground conditions. The HPX815E has a top speed of 40 km/h (25mph), a cargo capacity of 454 kg (1000 lbs) and a towing capacity of 590kg (1300 lbs).
These are just a few of the features that make the HPX815E stand out against other models in the work utility range and which is why people choose John Deere Gators over other available competitive brands.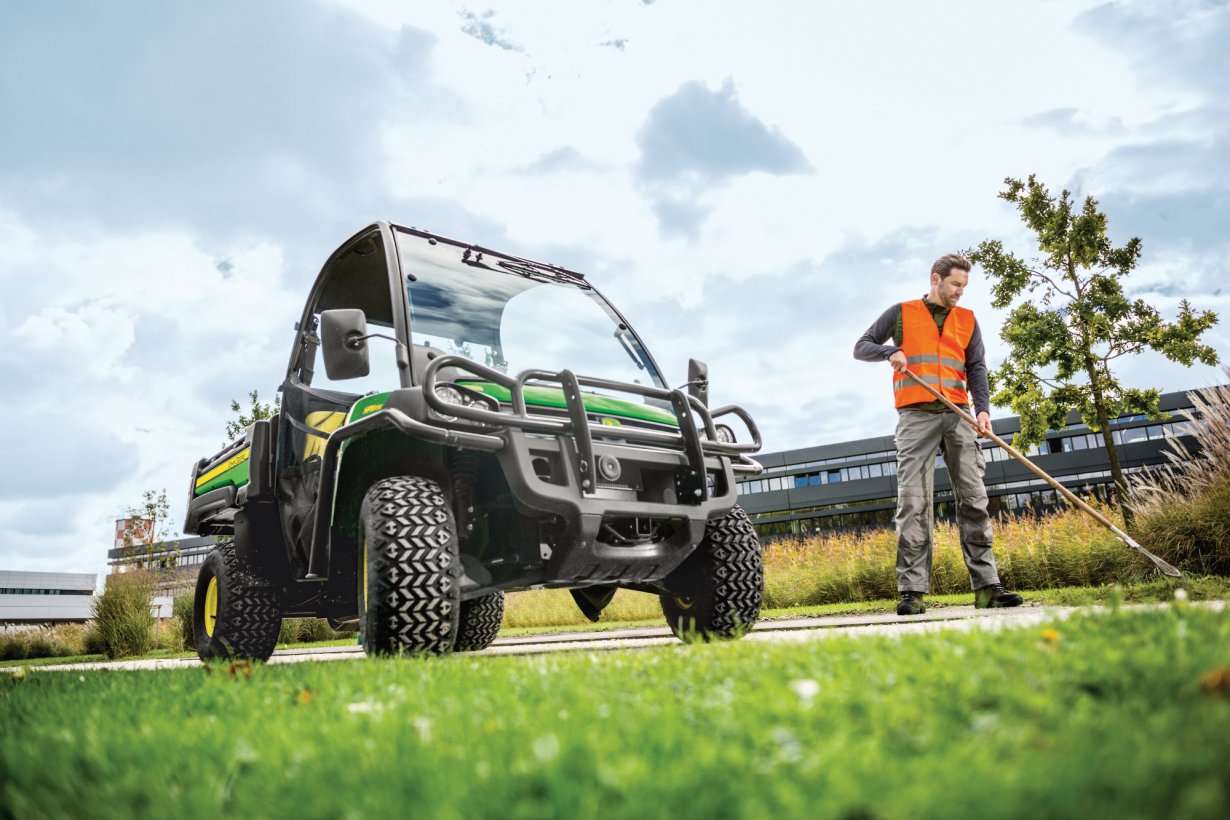 XUV855M Crossover Utility Vehicle
John Deere decided to take their work utility vehicles to the next level when designing the Gator crossover utility vehicles! The XUV range is built to work, but they also have operator comfort and safety in mind with an occupant protective structure certified cab, an auto-motive style dash with an LCD screen and LED warning lights, power-steering and come fully homologated for use on public roads. 
The XUV855M features true on-demand 4-wheel drive so that you can power through demanding terrain with confidence and it also comes equipped with four-wheel independent suspension to complement its comfortable operator station. This unique set-up makes for a smooth ride over rough spots and gives excellent handling through corners.
The rear cargo box can handle a massive 635kg (1400 lbs) payload and consists of a high-density polyethene copolymer composite material that eliminates dents and rust, it can also be opened or removed for easier cleaning or to carry longer items. The towing capacity of the XUV855M is an impressive 680kg (1500 lbs) and has a top speed of 40km/h (25mph).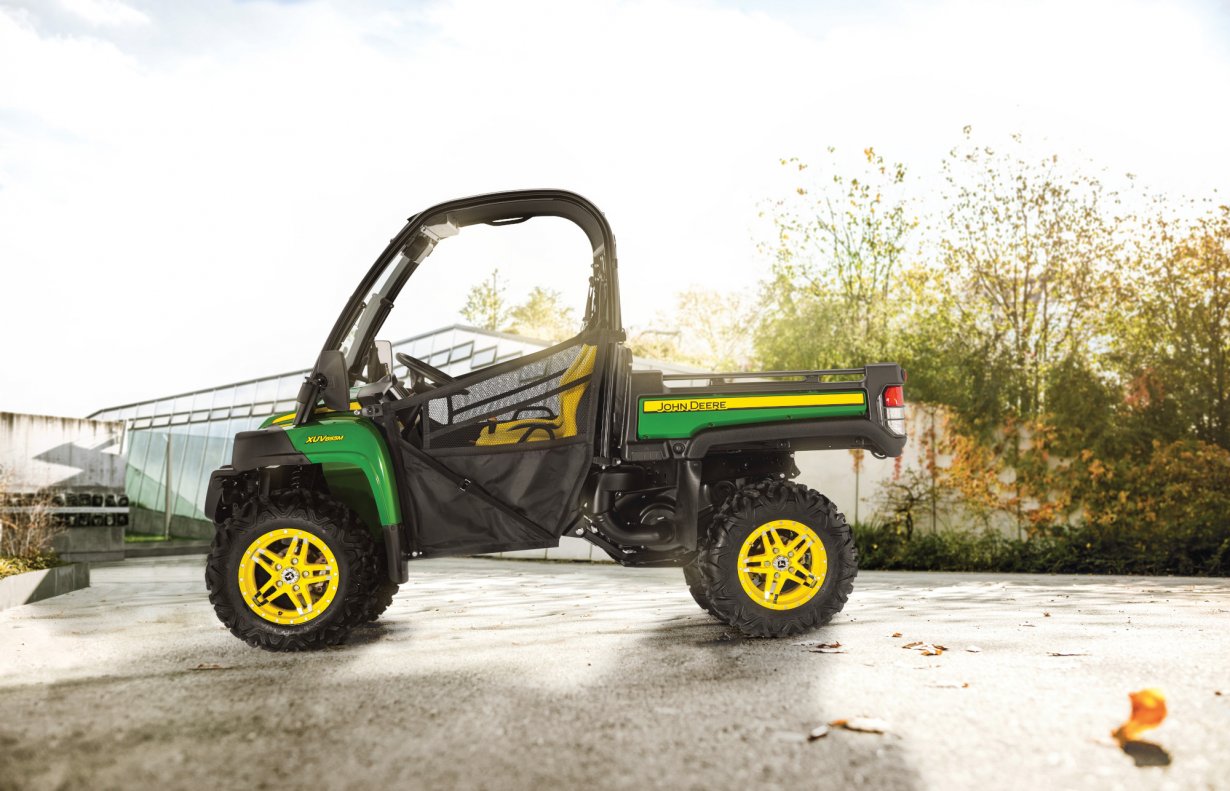 Gator Attachments
To get the most from your Gator, John Deere has many attachments and additional functions to improve the operator experience and increased functionality:
•    Front blades
•    Winch
•    Drawbar / ball hitch
•    Polymer doors for the deluxe cab
•    High back seats
•    Cab heater
•    Radio kit
•    Horn kit
•    LED work lights
•    Flashing beacon lights
•    Choice of tyres
•    Cargo box tool rack
•    Cargo box side extensions
•    Cargo box tool rack
•    Front & rear bumpers
For a complete list of John Deere Gator attachments, follow this link: https://bit.ly/3gAHgTC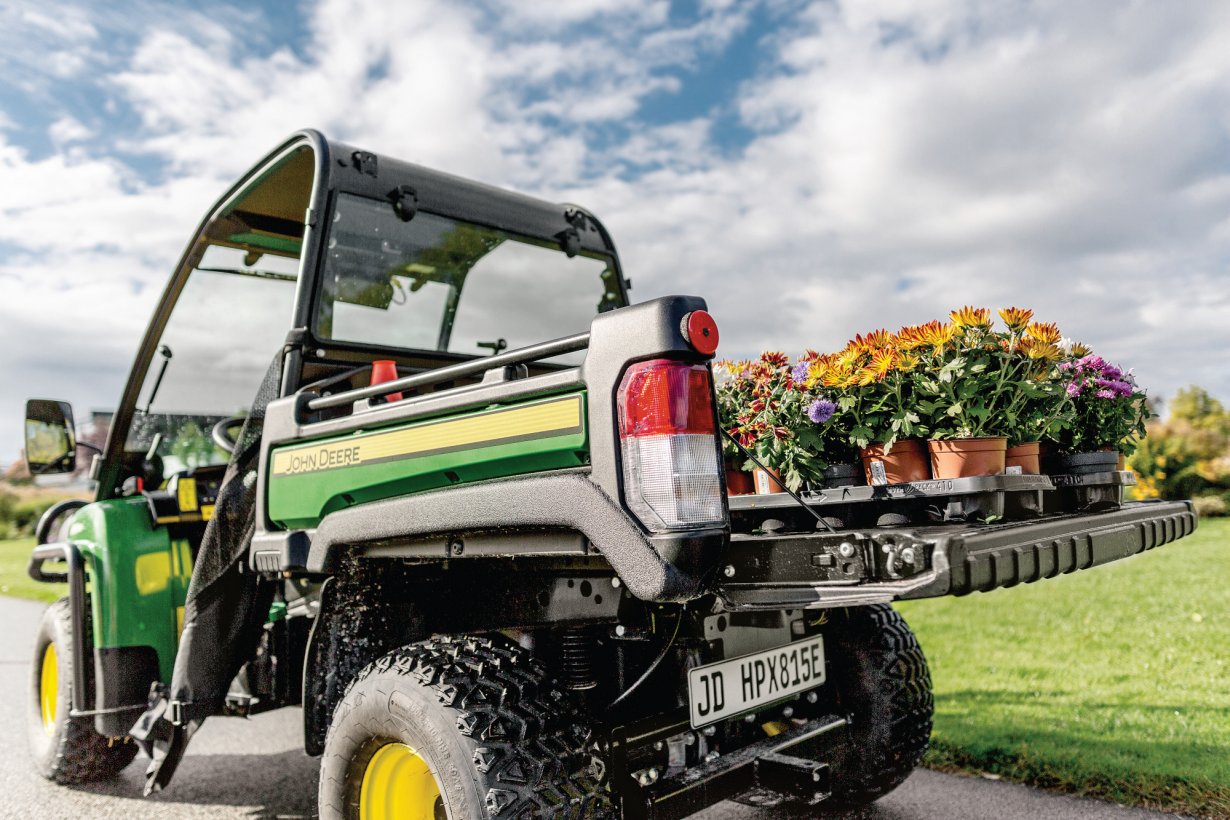 All John Deere Gators are built with a specific task in mind, and it is up to you to decide which features you need the most. Both the HPX and XUV's cover all the basics with payload and towing capacities, but John Deere also have models specifically for more delicate sports turf areas. No matter what your requirements are, John Deere Gators are designed to offer all of the functions, features and attachments you'll require – you won't find a wider choice of utility vehicles to meet your needs!
Now is a better time than ever to buy your new John Deere Gator. Call in to Balmers GM and take one for a test ride to really feel the difference!