A good workman appreciates good tools, and the range of John Deere commercial mowing equipment here at Balmers GM certainly fits under the good tools category. And while bad work is not derivative of bad tools, exceptional quality equipment definitely aids in getting work done well.
If you're the type of professional who gives your best every day, and someone who goes the extra mile to get the job done to your high standards. Then you're in the right place. That eye for quality you possess had led you here, and John Deere commercial mowing machines are the turf care machines you need to get the job done. And to get it done right.
Here we'll be looking at four particular pieces of commercial mowing equipment, that your customers will not be able to get enough of.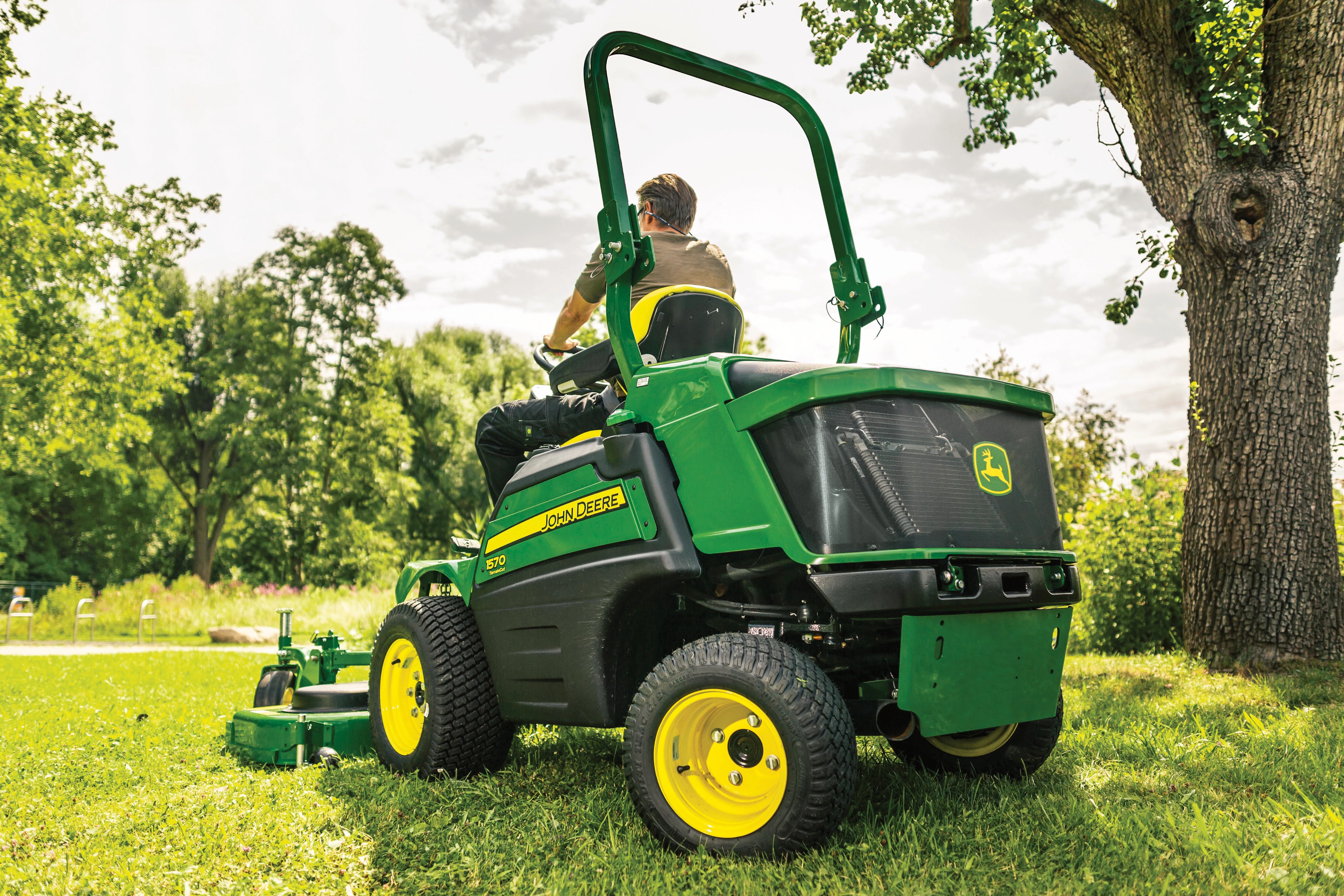 Image: The John Deere 1570 commercial front mower at work.
John Deere 1500 Series - Flexible & Dependable
Boasting 4-wheel drive, high-performance and 3-cylinder diesel engines John Deere front rotary mowers have the power to carve a path and mow on even the toughest terrain, quickly. With a 60-litre fuel tank, you'll be able to mow for up to 10 hours continuously, meaning you will tire before the mower will!
This commercial mowing range is designed to give an enviable cut quality, even when mowing thick grass at high speeds, these versatile lawn care machines excel in the world of commercial mowing, but they don't stop there! With a range of extras that can be fitted the 1500 series can tackle a whole range of additional activities.
Two of our favourite models from the 1500 series are the 1550 TerrainCut - Front Rotary Mower and the 1580 TerrainCut - Front Rotary Mower.
When undertaking commercial mowing you need a comfortable ride, and the 1550 and 1580 TerrainCut models bring that in abundance. With a tilt steering wheel and adjustable seats, operators will be able to find their optimal driving position in seconds. And you have the option of choosing either the Air Ride suspension seat with armrests or the ergonomic mechanical seat, for peak productivity even on those long days.
The 1500 series are the 1550 TerrainCut - Front Rotary Mower operates at 3000rpm and at 24.7 HP and coming with 3 deck sizes available you'll find the ideal setup for your needs here. Whereas the 1580 TerrainCut - Front Rotary Mower operates at 2800rpm with 32.8 HP and a dual speed range, unlike the 1550 which operates on a single range speed.
Each unit boasts a high-strength frame, with a self-reinforcing design that spreads the stress and strain over a larger area and allowing components to be placed closer to the ground for a better centre of gravity. The high-strength, 7-Iron deck is made from a single piece of stamped and reinforced steel, making the 1550 and 1580 ideal for tackling those big, heavy jobs! If you're looking out for a new piece of commercial mowing equipment, the 1550 and 1580 have to be high on your list!
Diesel Mowing Tractors
John Deere have a great range of diesel mowing tractors that make wonderful pieces of commercial mowing and lawn care equipment. Well built and innovative, they provide a professional cut with a host of easy-to-use features.
The high-torque and yet fuel-efficient diesel engine allows you to finish the job quickly, while the dashboard dial allows you to conveniently adjust your cutting height. Our favourite John Deere diesel mowing tractor has to be the X950R, thanks to its supreme comfort and reliable operation.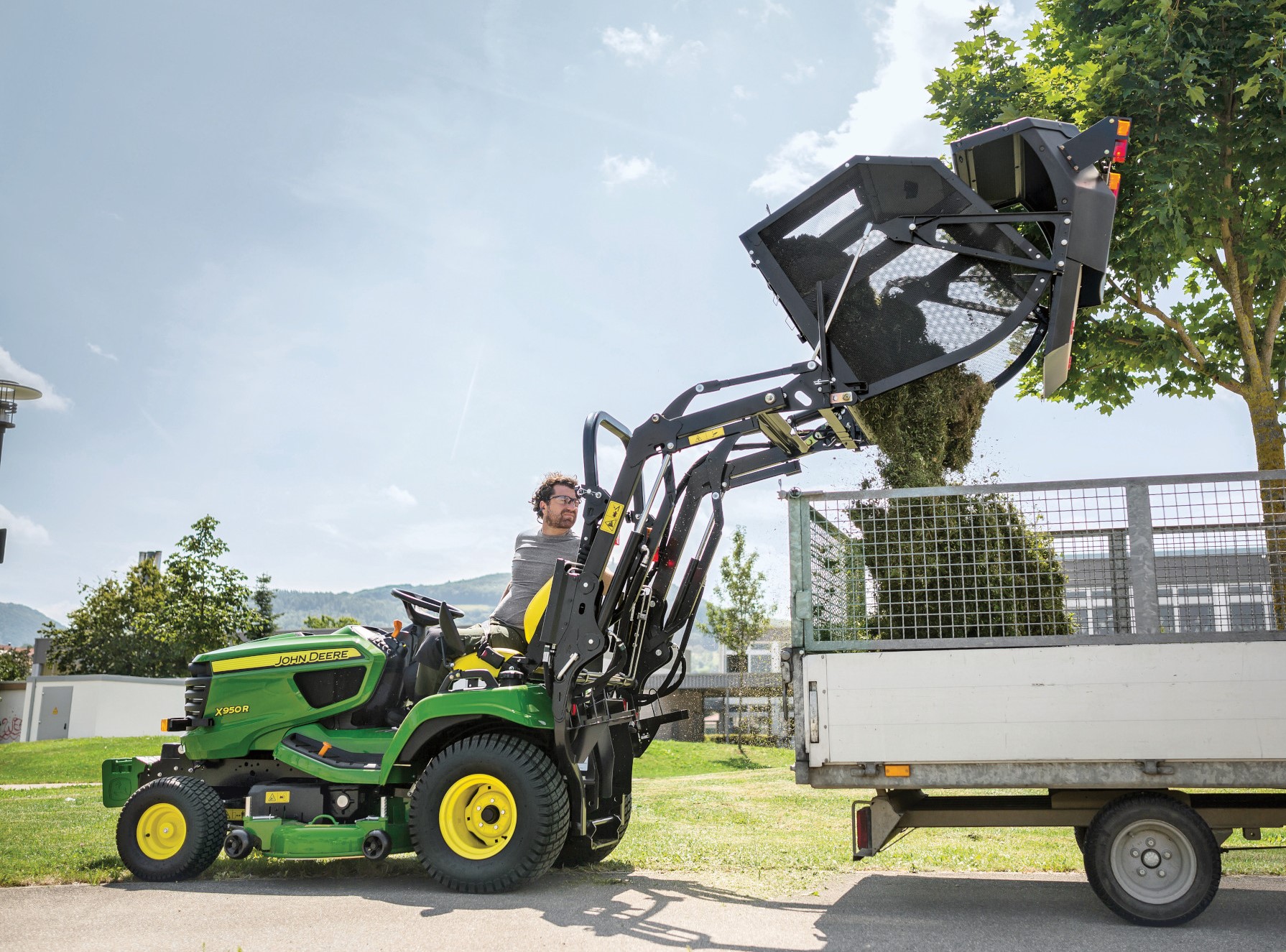 Image: The John Deere X950R shown here with the hi-lift grass collector, also available with a low-tip collector and a choice of mowing deck cutting widths.
John Deere X950R diesel rear collect commercial tractor mower
With a fully welded steel frame, coupled with a commercial-grade, stamped steel mower deck plus a high-torque, diesel engine, the X950R is a piece of commercial mowing equipment that is pure power. Its unrivalled performance comes from its strength, the hydraulic power steering and the ergonomic controls that make it easy to operate.
It is also highly customisable in its nature, with two mower deck widths to work with, plus the choice of high or low dump collectors that have a 650 litre and 570 litre capacity respectively. This, combined with the precise nature of the steering ensures total peace of mind and gives you everything you need to handle a wide range of tasks smoothly and profitably.
The X950R also boasts intuitive features that ensure the operation is smooth and simple. From being able to control the deck and collection hopper from a multi-function lever handily placed, to the digital dashboard that is designed to improve visibility and diagnostics. And don't worry if you've ever been caught out with a full hopper, the ultra-sonic fill detection monitors your capacity in real-time, while you work, giving you plenty of notice to get yourself back to the unloading area.
Why not take your mower to new levels of performance and productivity? As even the most robust machines need a little boost every now and then, the selection of John Deere accessories allows the X950R to deal with virtually any job.
Compact Utility Tractors
The compact utility tractors that John Deere manufacture are truly ready for anything. The 1R, 2R and 3R series are the tool of choice for professionals who take pride in their work, with superb engineering, legendary build quality and a host of uniquely innovative features, these are truly excellent models.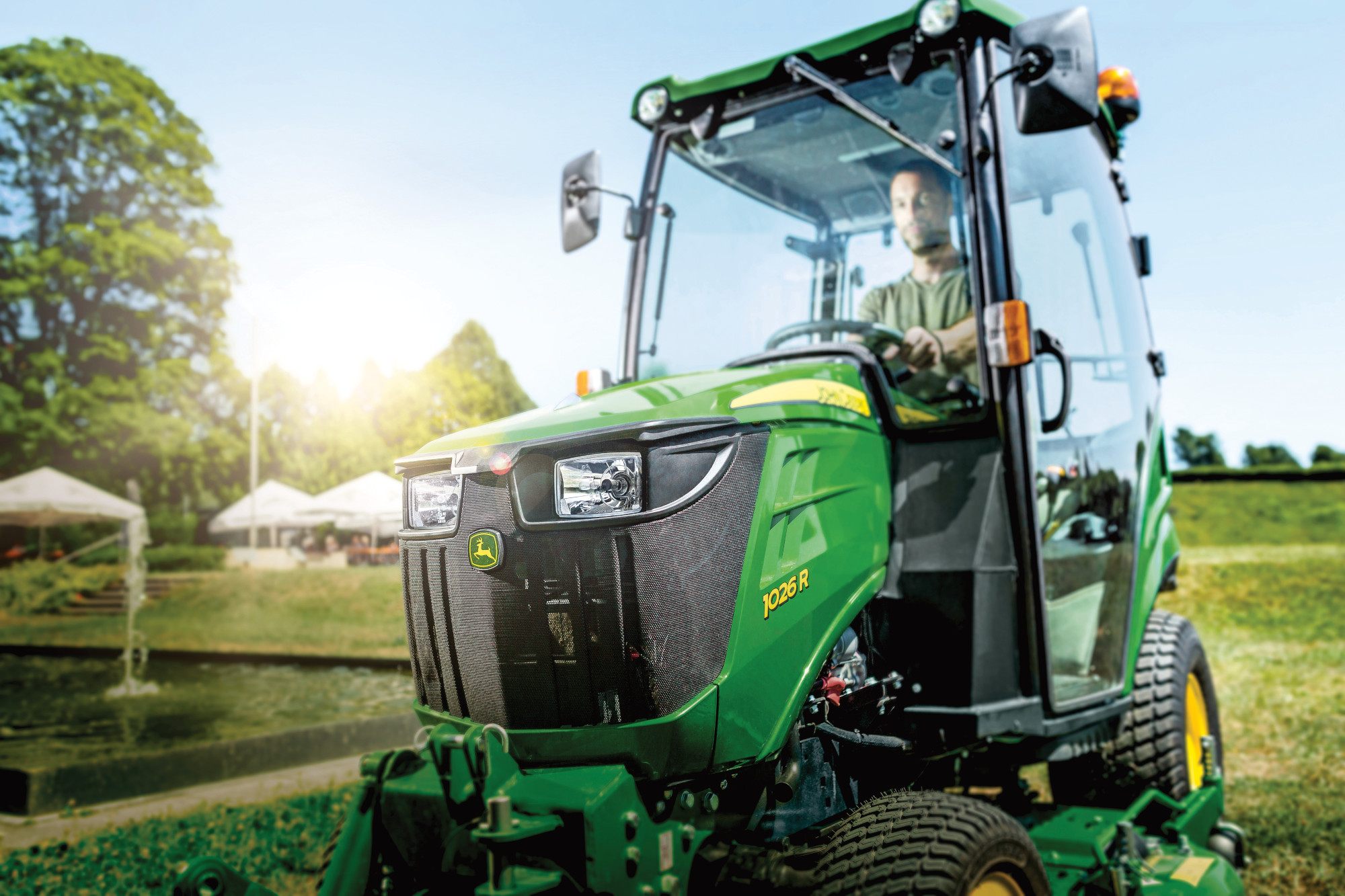 Image: The John Deere 1026R is known as the 'swiss army knife' of compact tractors due to the versitility of the tractor.
John Deere 1026R Compact Tractor
Our pick of the range is the 1026R Compact Utility Tractor. Designed for a wide range of tasks, this subcompact tractor makes it easy and fast to switch tools or attachments, while offering the perfect comfort and stability, and also being easy to park and store.
With 4-wheel drive and power steering being standard on the 1026R, you have the perfect combination of excellent mobility and manoeuvrability, whilst retaining easy operation. For jobs where productivity is a must, the Twin Touch controls allow you to select your speed and directions with a simple touch of your toe, so when you've got a large loading or mowing job, why look past the 1026R.
There is even an environmental touch, with the durable and efficient Yanmar TNV Series diesel engine not only providing high torque through its 3-cylinders but also meets the IT4 Environmental Protection Agency Standards.
So, when you're looking for your next piece of commercial mowing equipment, the John Deere range here at Balmers GM is an excellent place to look.

Contact us or visit our website to find out more!