Lawn Care Solutions:
Husqvarna Ride On Mowers vs Husqvarna Robotic Mowers
For any homeowners looking to keep their lawn well maintained and manicured, the right lawn mower has a large bearing on the ease and quality of lawn care. In this article, we will be examining the benefits of Husqvarna's ride-on mowers and AutoMowers, otherwise known as robotic mowers. 
Husqvarna is one of the leading brands in the world of lawn care, with a comprehensive range of solutions for different applications.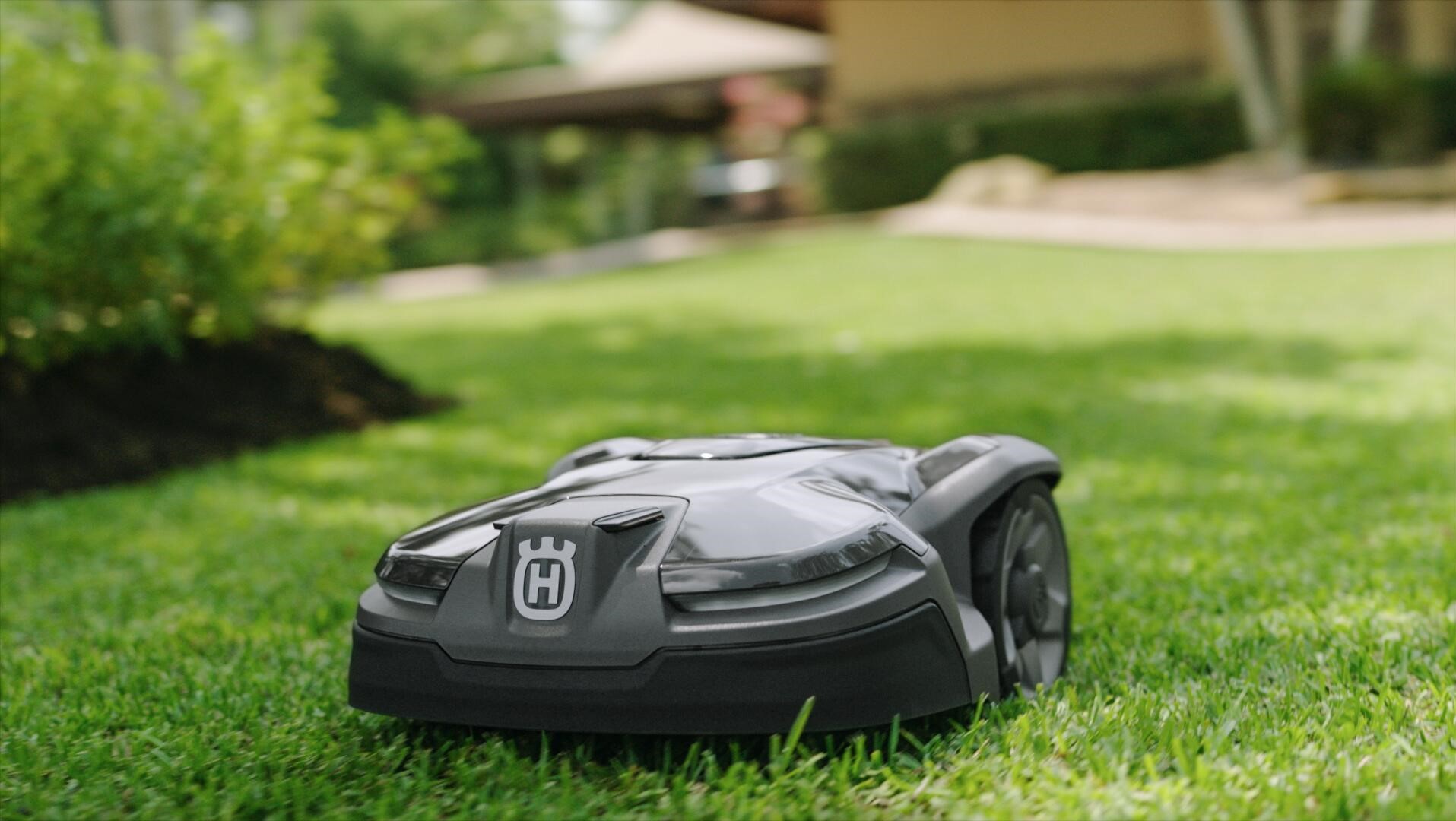 The cutting edge of innovation
As a leading brand, it is of little surprise that Husqvarna has been, and remains at the forefront of cutting-edge lawn care technologies. They have been continuously introducing innovative and state-of-the-art technologies which really make old-fashioned reel mowers feel like the 19th-century device that they are. 
Husqvarna AutoMowers and ride-on mowers feature the latest in lawn care technology, such  as smart connectivity, superior cutting performance and GPS navigation. In addition to this, the Husqvarna name is synonymous with outstanding build quality, which ensures that they offer long-lasting performance, even in the most demanding of conditions. 
Their comprehensive range of AutoMowers and ride-on mowers feature robust components and undergo exhaustive and rigorous testing to ensure that they withstand the test of time. With a broad range of options to suit various lawn sizes and customer preferences,  whether you have an extensive estate or a small urban garden, Husqvarna will have a solution for you. 
You can view the ranges of Husqvarna AutoMowers and ride-on mowers available at Balmers below.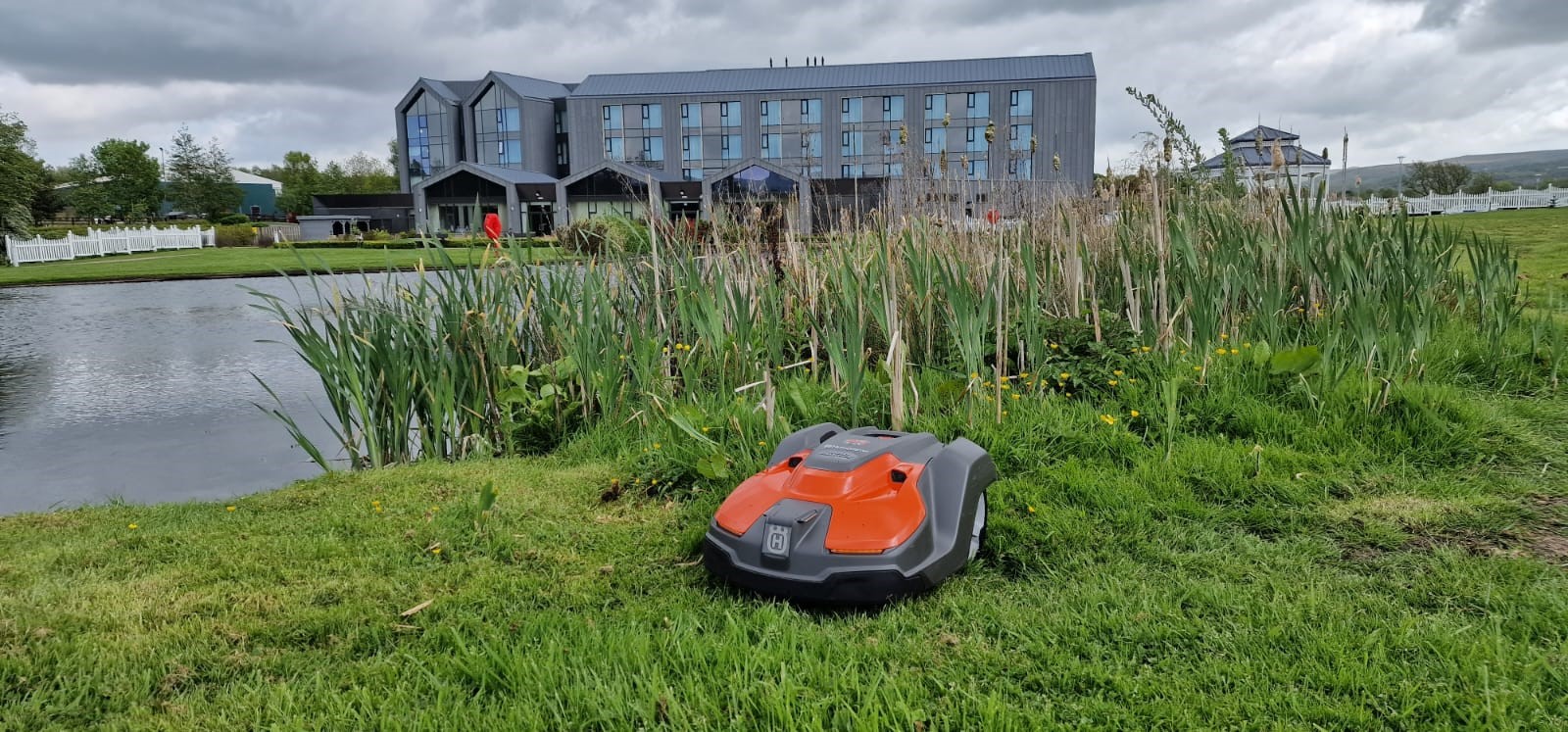 Image: A recent installation by Balmers GM of a Husqvarna 550 EPOS AutoMower at the award winning Crow Wood Hotel & Spa Resort which has an area of approx. 11,000m² of grassed areas to maintain
The benefits of Husqvarna robotic mowers
Husqvarna robotic mowers, otherwise known as AutoMowers, provide an efficient and convenient way to care for lawns, making them an attractive choice for homeowners. These mowers boast a variety of advantages, including but not limited to:
1. Autonomous Operation: Husqvarna robotic mowers are made to take care of lawns without any help from humans. They can be set up and programmed to cut grass at a specific time, so people don't need to be there to operate it. This allows people to save time and not worry about manually taking care of the lawn.
2. Precision Cutting: Husqvarna robotic mowers are designed to provide a precise and consistent cut. Utilizing sharp blades and advanced navigation systems, they are able to map out the lawn and adjust their cutting patterns accordingly, achieving even grass height and a neat look. They are able to handle complex lawn shapes and obstacles with ease thanks to their navigation systems to ensure the grass has a uniform finish.
3. Weather Resistant: Husqvarna robotic mowers are engineered to be able to handle different weather conditions, such as rain, and still operate effectively. This allows them to provide consistent lawn care, regardless of the weather. Their tough construction and ability to withstand outdoor conditions mean they are reliable and have long-term performance.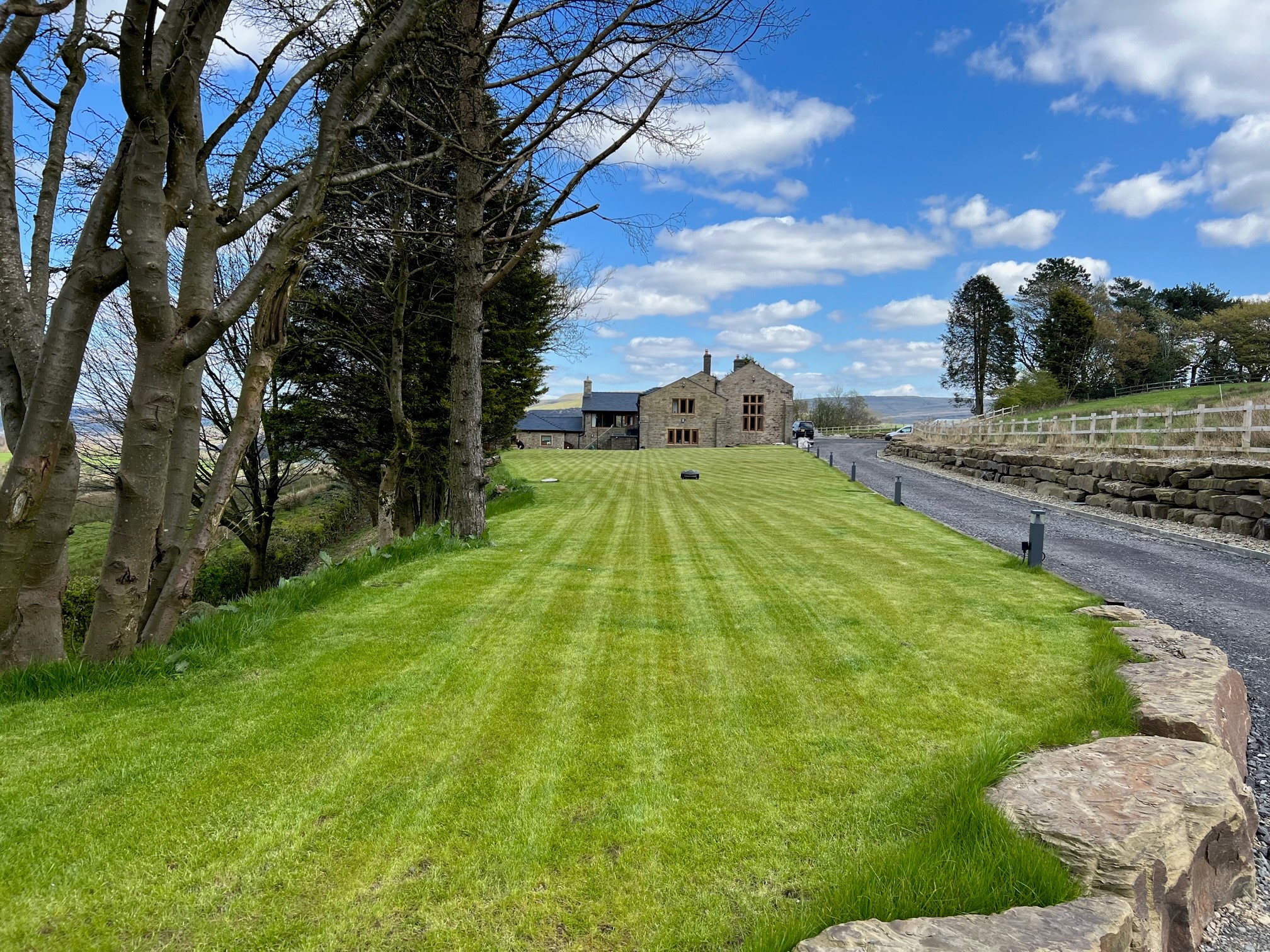 Image: One of our Husqvarna EPOS demo units at a private home demonstrating the features and advantages of making the switch to a robotic mower
4. Quiet Operation: Husqvarna robotic mowers are advantageous due to their quiet operation, as they are powered by electric motors which make them much quieter than gas-powered mowers. This makes them ideal for areas with noise restrictions or in suburban areas.
5. Efficient Mulching: Husqvarna's robotic mowers use a mulching process that chops the grass into tiny pieces and distributes them around the lawn. These grass pieces act as natural fertilizer, providing nutrients to the soil and helping the grass to grow healthily. This gets rid of the need for manual gathering or bagging of grass clippings and lessens the amount of outside fertilizer needed.
6. Smart Connectivity and Control: Husqvarna provides convenient ways for people to control their robotic mowers from their phones or computers. This allows them to set up cutting times, make adjustments, and guide the mower's direction, as well as stay informed about the mower's progress.
7. Low Environmental Impact: Husqvarna robotic mowers are much more eco-friendly than traditional gasoline-powered mowers. They use electric motors which are more energy-efficient, meaning there are no direct emissions released when they are in use. This, combined with the mulching technique, leads to a more sustainable and environmentally friendly lawn care approach, reducing the need for chemical fertilizers.

You can browse all of the Husqvarna robotic mowers available at Balmers here. 
---
The benefits of Husqvarna ride-on mowers
Husqvarna ride-on mowers are the perfect option for homeowners who have large lawns or need to do a lot of mowing, as they are packed with advantageous features, including: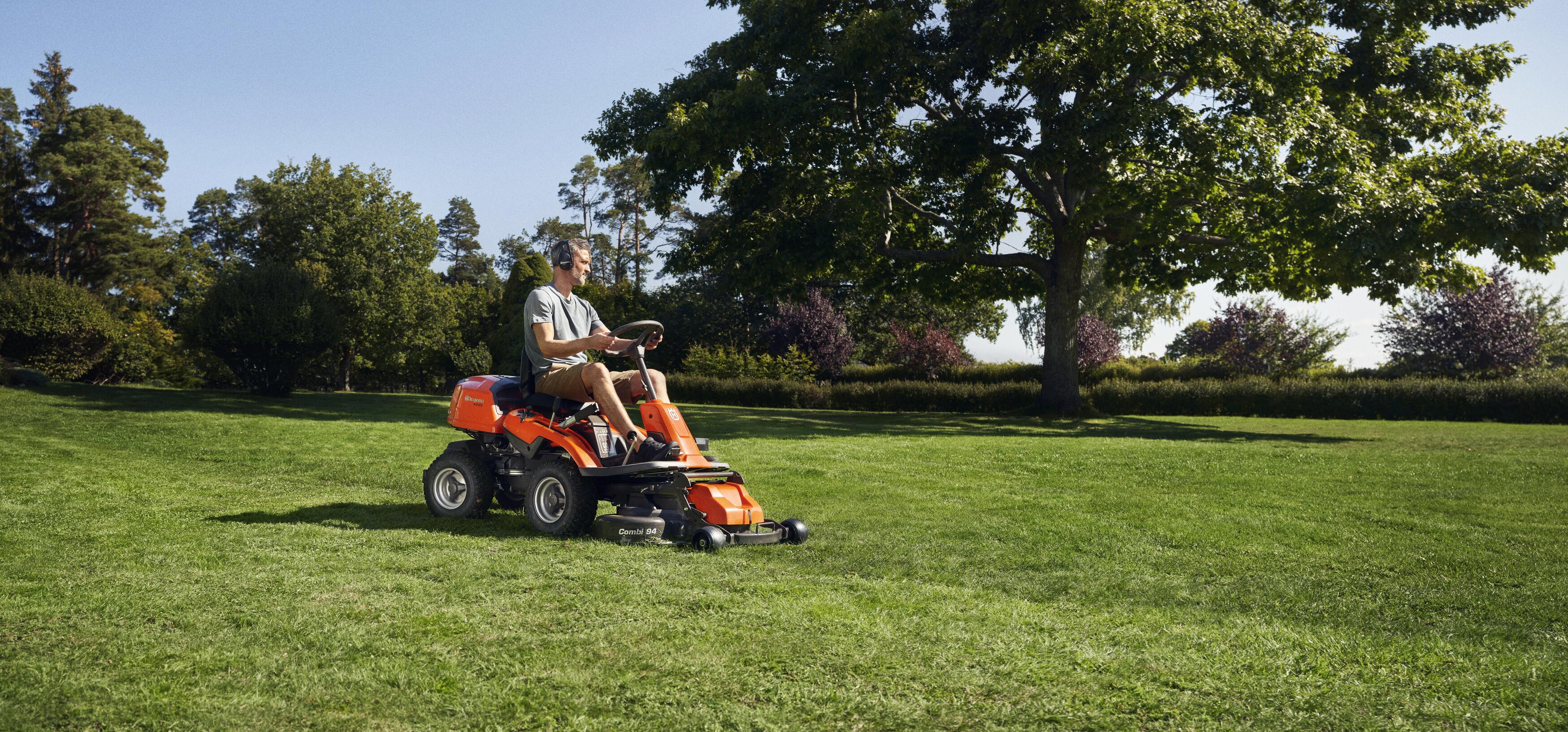 1. Efficient and Time-Saving: Husqvarna ride-on mowers are designed with powerful engines and wide cutting decks, making them ideal for tackling large areas in a shorter time than traditional walk-behind mowers, offering homeowners a time and energy-saving solution.
2. Manoeuvrability on Various Terrains: Husqvarna ride-on mowers are built to handle a variety of terrain and are highly manoeuvrable. The robust construction and advanced traction and steering systems make them great for navigating hills, unsteady terrain, and any other obstacles on your property. They are perfect for those with difficult lawns to maintain.
3. Comfortable Operation: Husqvarna puts comfort at the forefront of its ride-on mowers, providing adjustable controls and suspension systems to make the mowing process more enjoyable and easier for the user. This is especially helpful for those with bigger yards or those who need to mow for extended periods of time.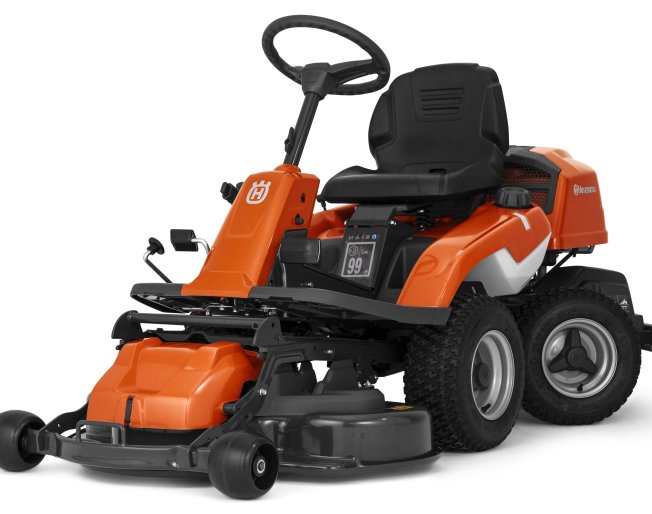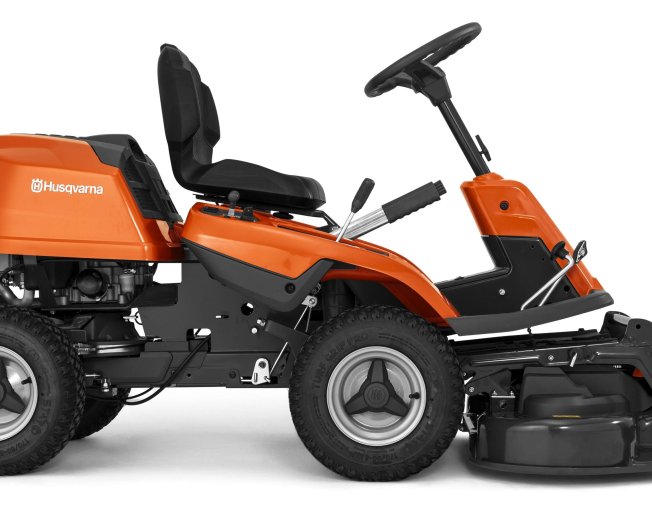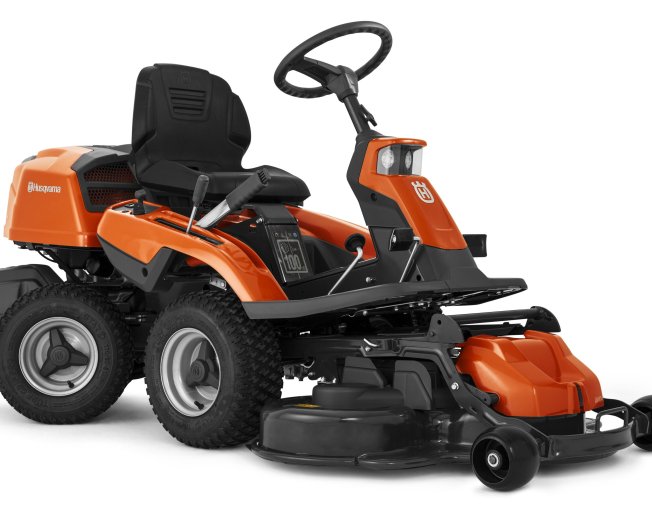 4. Versatile Attachments: Husqvarna ride-on mowers are incredibly versatile due to the availability of a variety of optional accessories. From collecting grass clippings with a bagger to spreading fertilizer or seed with a spreader, these mowers can be tailored to complete a variety of lawn maintenance tasks, making it unnecessary to acquire extra equipment.
5. Efficient Grass Collection: Husqvarna ride-on mowers are equipped with efficient grass collection systems that capture clippings and store them for disposal or use as mulch, allowing lawns to stay tidy and well-maintained without additional tasks such as raking. 
6. Durability and Reliability: Husqvarna is known for making tough, dependable outdoor equipment, and its riding mowers are a prime example. Constructed to handle tough terrain, they provide lasting strength and durability. With proper care and upkeep, a Husqvarna ride-on mower will be your go-to mower for years to come. 
You can browse all of the Husqvarna ride-on mowers available at Balmers here. 
If you have any questions about the variety of Husqvarna lawn mowers available at Balmers or are unsure which type and model of mower will best suit your needs, please feel free to get in touch with us. 
https://www.balmersgm.com/contact
Wakefield - 01924 679400
Burnley - 01282 453900