As a Turf Care Professional, choosing the correct commercial mower is essential for maximising your productivity, performance and profitability whilst still maintaining a consistent, quality finish on each and every job.
John Deere's comprehensive range of commercial mowers include all types of machines for all types of jobs. Your choice will depend on a number of factors such as the size of the area you have to mow, how frequently the area requires maintaining, how intricate the mowing area is with any obstacles you may have to navigate around, plus the type of finish that's required. Of course there will be many other things to be considered, but the ones we have already mentioned are a good starting point.
The full range of John Deere commercial mowers start off with their professional line-up of walk-behind mowers, moving up to their powerful diesel mowing tractors, zero-turn mowers for fast and efficient mowing, front rotary mowers for more challenging terrain, wide-area mowers for larger areas and their compact tractor series with a range of attachments to give you ultimate versatility. 
All John Deere commercial mowers are easy to operate with their comfortable, intuitive, ergonomic controls, and depending which model you choose, most come with powerful 3-cylinder diesel engines, hydro-static transmissions, power-steering, 2WD or 4WD options and larger fuel tanks for longer periods of continuous mowing.
Other great features include simple cutting height adjustment, drive over mowing decks, hi-tip grass collectors and the superb Michelin X Tweel turf airless tyres which are immune to sharp objects and last three times longer than conventional pneumatic tyres.
Above all else, a John Deere commercial mower will leave a professional, class-leading cut whilst increasing your businesses' productivity, performance and profitability.
There are 4 key models in the John Deere commercial mowing range…
The John Deere X950R is a powerful rear discharge, rear collect diesel mowing tractor and is a popular choice with landscapers, estates, holiday parks and all the other turf professionals that need to mow larger areas whilst collecting the grass clippings.
Featuring a fuel efficient high-torque 3-cylinder diesel engine, heavy-duty wheel motors, hydraulic power-steering, ergonomic controls and a high-back seat for operator comfort all day long.
The X950R can be configured with a choice of either a 48" or 54" mowing deck and a choice of high or low tip grass collector – the outstanding 'tail follows trail' design makes it easy to mow near fences, walls and obstacles with the collection box fitted. Alternatively, a rear deflector chute can be easily fitted to the tractor for those jobs where grass collection isn't necessary.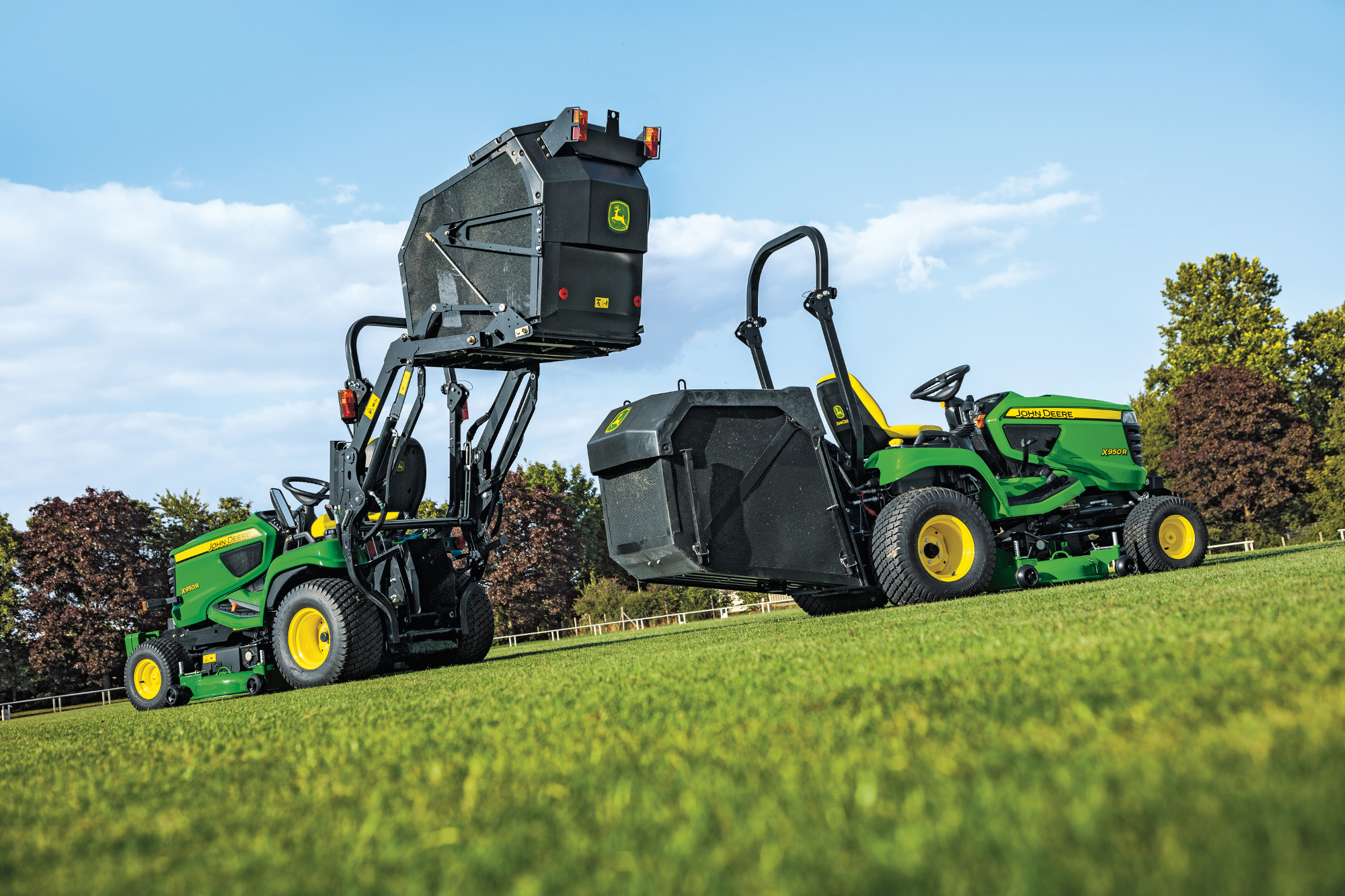 If its speed and efficiency you're after, nothing compares to the manoeuvrability of a zero turn mower. Their ability to turn 360° means navigating around obstacles can be done easily and without slowing down, saving you time and money - making them a popular choice with landscapers and contractors alike.
The Z997R can be configured with either a 72" side discharge deck or a 60" side or rear discharge deck, which can all be easily converted to mulching deck if required.
Another popular option for zero turn mowers are the Tweel Turf Tyres. As they are airless, it's impossible to lose tyre pressure (one of the main reasons operators are often left with an uneven cut due to loss of tyre pressure causing the mower deck to tilt) and of course are puncture proof too!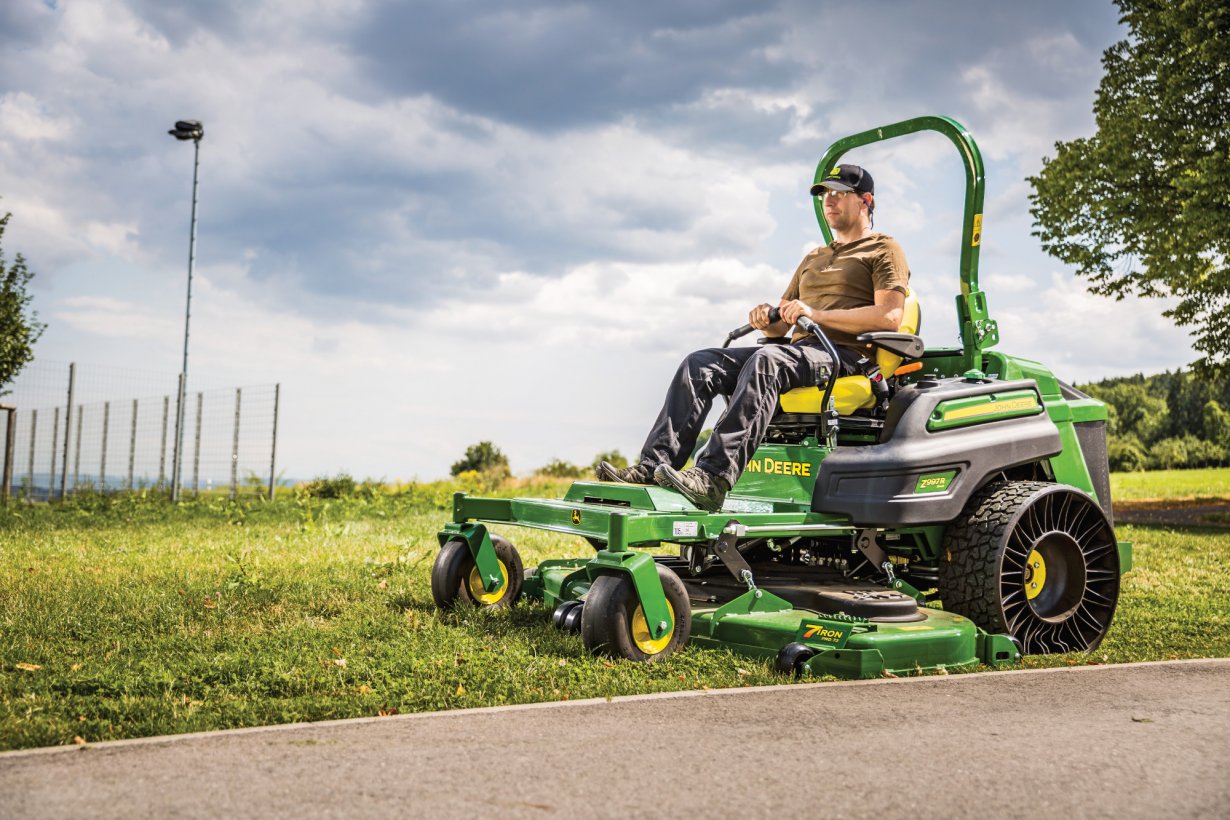 For those larger contract mowing jobs, a commercial front rotary mower is certainly worth considering as they're specifically engineered to mow through thick grass at high speed for longer periods of time – up to 10 hours of continuous mowing for some models!
The John Deere 1500 series of commercial front rotary mowers come with 4WD as standard and are fitted with high performance 3-cylinder diesel engines with direct injection to increase economy and mowing performance.
All models are available with a choice of mowing decks; the 7-Iron Pro side discharge deck is designed for more challenging areas and is available in either a 60" or 72" width of cut or in areas where people may be present the FastBack rear discharge deck is available in either a 62" or 72" width of cut.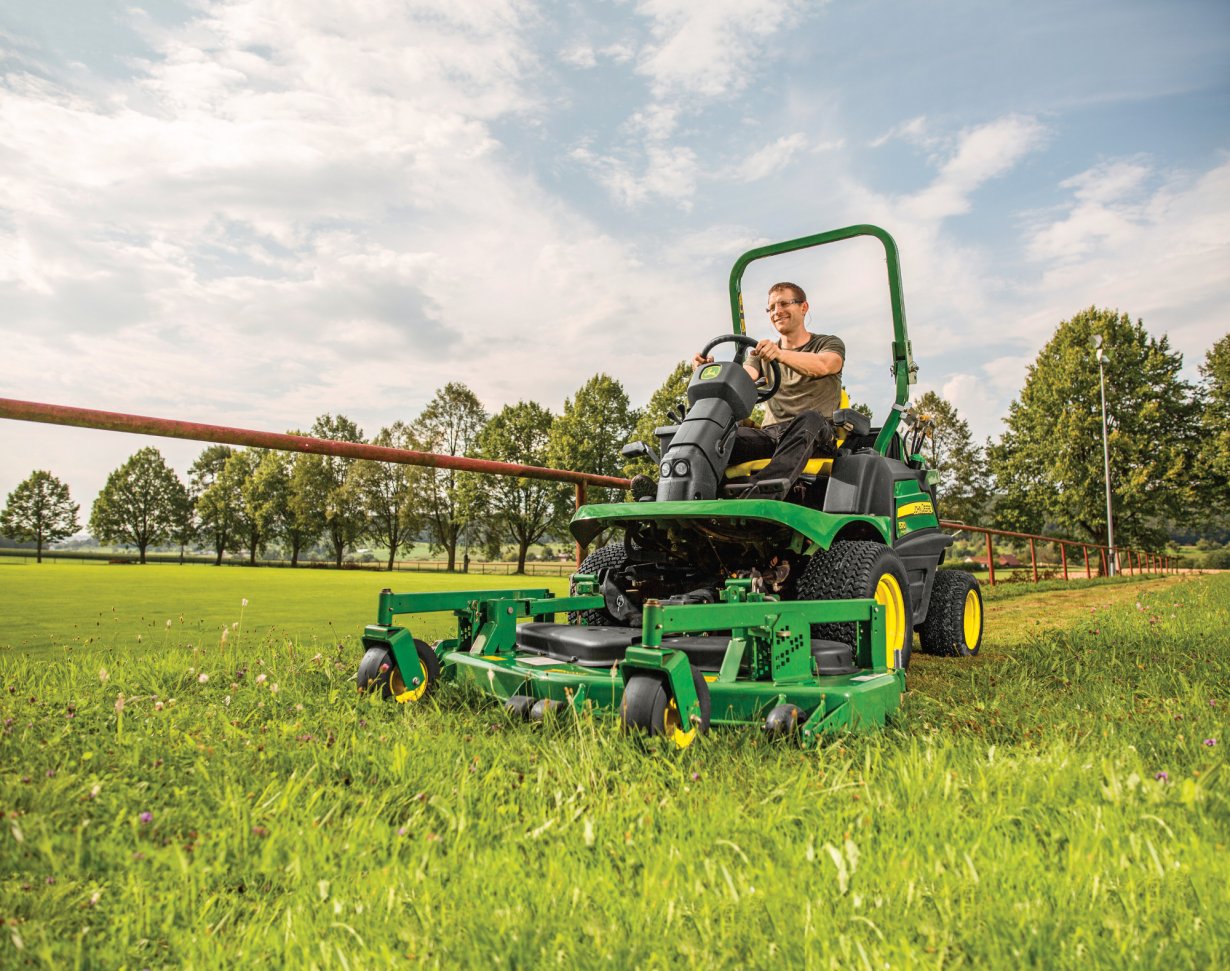 For many turf professionals, a good option is a compact tractor.
Not only will it easily tackle those seasonal mowing jobs, a compact tractor is a sound investment for all sorts of ground-care jobs all year round.
The rear PTO can operate a whole range of attachments such as leaf blowers, chippers and log-splitters for Autumnal work, and when Winter comes - snow brushes, blades and gritters can be attached quickly. Other attachments include front loaders, buckets and pallet forks and to the rear of the tractor accessories such as transport boxes and trailers are quickly attached to a 3-point hitch.
The John Deere 1026R is the smallest compact tractor in the range and is designed to let the operator switch tools and attachments quickly. Standard features include hydro-static transmission, 4WD and power-steering for smooth operation – plus a deluxe seat and suspension, tilt steering and a lighting kit for all-day, all year round work.
The AutoConnect mower deck connects to the tractor without you having to leave your seat. Simply drive over the deck ramps, listen for the two clicks as the deck attaches and you're done. Yes it's that easy. And quick!
For a limited time only, purchase the John Deere 1026R and get the 54" AutoConnect mowing deck for just £1 – a saving of over £3,000!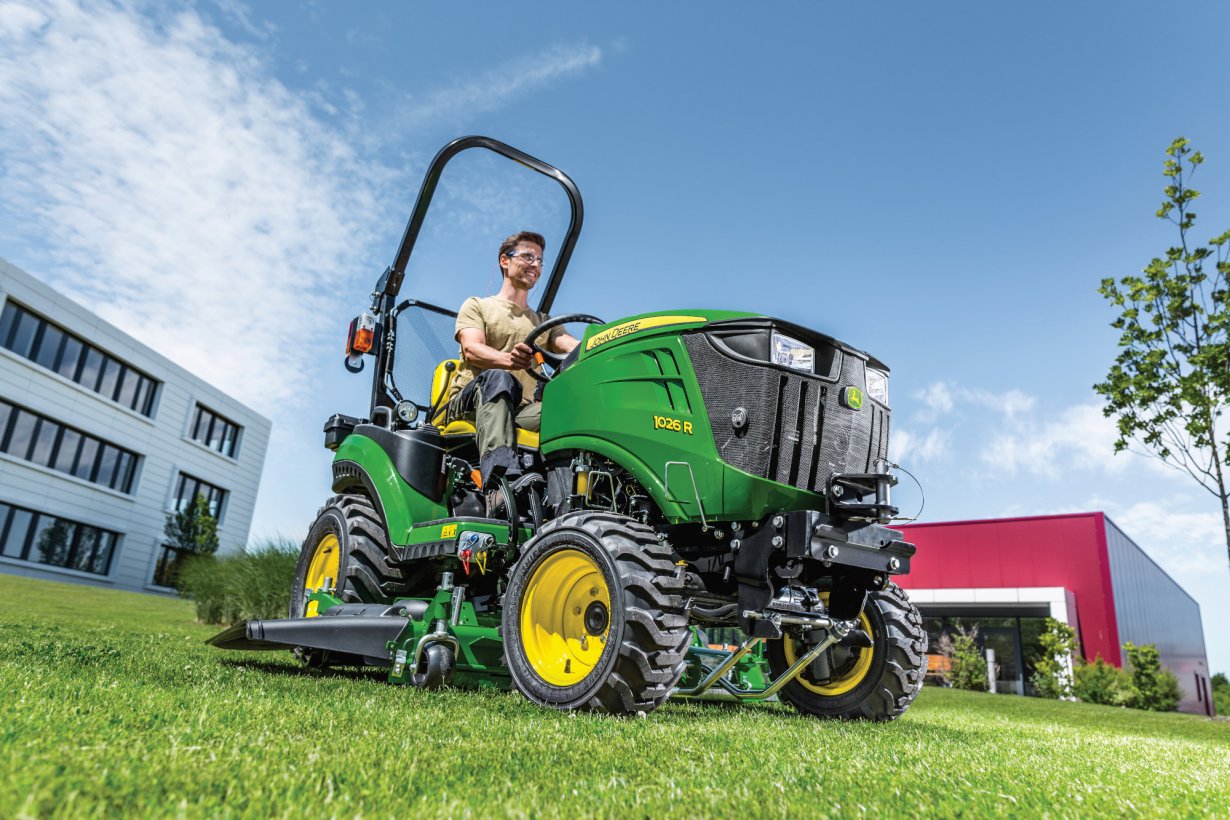 If you're still unsure on which type of commercial mower is the right one for you, contact our Sales Team who will be happy to drop by and offer advice, guidance and machinery demonstrations to help you through the decision-making process.
Balmers GM are one of the largest dedicated turf machinery dealers North of England's and are John Deere main dealers for golf and turf machinery covering Lancashire, West and South Yorkshire.